SD-SEED Fresh 2020-21 Matoshri Premabai Jain Higher Education Scholarship : sdseed.in
You can now ask your doubts / questions.
Please go to the the bottom of this page for comments section.
Organization : SD-SEED Suresh Dada Scheme for Educational and Entrepreneurial Development
Scholarship Name : Matoshri Premabai Jain Higher Education Scholarship 2020-21
Applicable For : Student Passed 10th and above exams, resident of Jalgaon District
Application Last Date : 30/09/2020
Website : http://www.sdseed.in/Scholarship/default.aspx
SD-SEED Scholarship 2020
We are happy to announce applications can be submitted online from August 15 to September 30 on www.sdseed.in.
Related / Similar Scholarship : SD-SEED Scholarship Renewal 2020-21

Objective:
To provide financial assistance to help economically challenged students who have demonstrated great academic potential.
Eligibility Criteria
For NEW applications:
** Student should be resident of Jalgaon District
** Passed Std. 10th and above exams in the first attempt
Eligibility Percentage
** Std. 10th: Rural Area – Min 85% & Urban Area – Min 90%
** Std. 12th: Rural Area – Min 70% & Urban Area – Min 75% OR
** Students appeared for MH-CET or equivalent Exam: Min 120 Marks
** Combined annual income of the family should be less than Rs.1.5 Lacs
** Physically challenged students will get special preference
For RENEWAL applications:
** Student who has given scholarship in previous years including drop-out.
** Beneficiary who have an ATKT in only one subject.
Eligibility Percentage:
** Std 12th to Degree (1st year): Min 75%
** Diploma (3rd year) to Degree: Min 75%
** Degree to Post-Graduate: Min 75%
How To Apply?
** The Online application process starts in the month of August and continues till end of September every year.
** Students can apply for the Scholarship on our Website : http://sdseed.in/Scholarship/
** Students applying for the first time register themselves on the Website and proceed to submit their online application.
** Beneficiaries, who are applying for renewal, update their educational details in their online account and submit their application.
** On completion of the online application for NEW & RENEWAL applications, an acknowledgement receipt to be generated and to be sent along with copies of required documents to SD-SEED Office.
** The Selection Committee thoroughly scrutinizes and screens each application, in order to ascertain eligibility.
** Committee Members also visit the students' residence for verification, thus ensuring that the right student is awarded the scholarship.
** Selected students are conferred the scholarship, at the Annual Scholarship Distribution Ceremony held in November and for the remaining students the scholarship amount is transferred to their bank accounts.
** Beneficiary Identity Cards are issued to all beneficiaries, which serves as a Login ID to get discounts on other SD-SEED benefits, the details available on SD-SEED Website.
** As and when Beneficiary's Mobile Number, E-mail ID, Present Address is changed, it should be updated on Website entering Beneficiary Code in Log-in.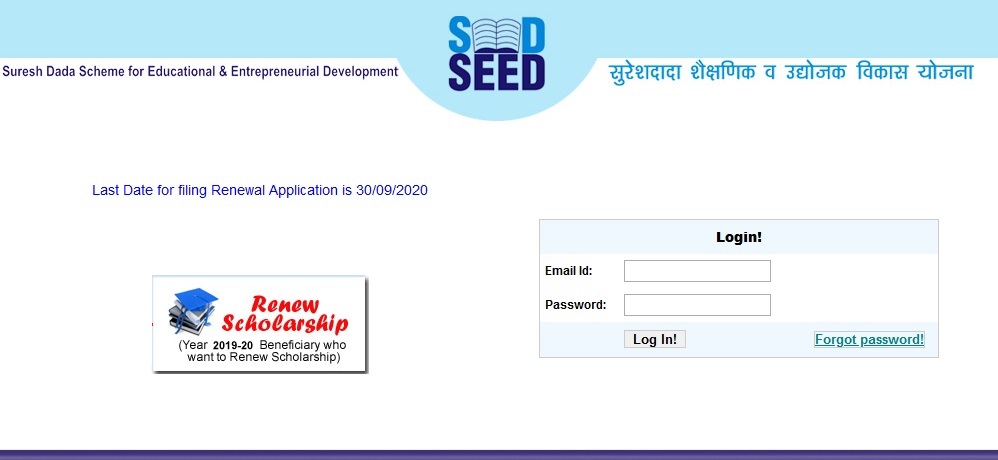 Contact
If you have any problems, please visit the SD-SEED office or call 0257 2235254
About SD-SEED:
Our inspiration Shri Sureshdada Jain is a renowned personality of Maharashtra. Dada, as he is fondly called, has been tirelessly working for the last four decades to bring about a transformational change in the field of politics, education, social harmony, health including culture and holistic development, etc.