Vidyasaarathi 2020-21 Schindler Igniting Minds Scholarship Renewal
You can now ask your doubts / questions.
Please go to the the bottom of this page for comments section.
Organisation : Vidyasaarathi, Schindler Igniting Minds (SIM)
Scholarship Name : Schindler Igniting Minds Scholarship Renewal 2020-21
Applicable For : B.E./B.Tech Students
Applicable State/UTs : All India
Application Last Date : 02/10/2020
Website : https://www.vidyasaarathi.co.in/Vidyasaarathi/resources/112/263_5.html
Vidyasaarathi SIM Scholarship Renewal
Schindler Igniting Minds (SIM) Renewal Scholarship for B.E./B.Tech (20-21)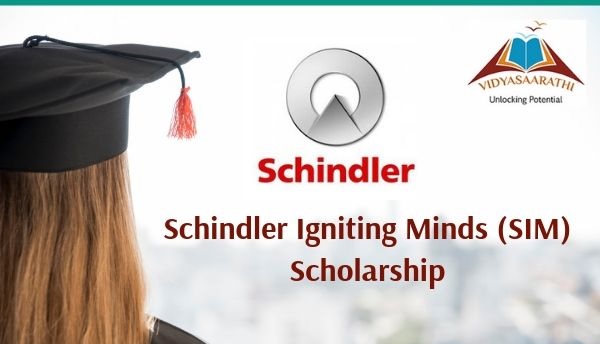 Schindler India,one of the leading manufacturers of escalators, moving walkways and elevators worldwide. Through its flagship program SIM,it aims at supporting meritorious and needy students to pursue their education and thus empower them with a sustainable career in future.
Eligibility Criteria
Minimum 70% in Class 10, Minimum 70% in Class 12,
Course Details
Course Level : Under Graduate
1) Course Name : B.E./B.Tech. (BE/BTech)
2) Course Name : B.Ch.E.-Bachelor of Chemical Engineering (BChE)
3) Course Name : B.C.E.-Bachelor of Civil Engineering (BCE)
Gender : All Gender
Scheme is available to only student whose family income is less than 300000.00
Scholarship Amount
Rs. 75000.00
How To Apply?
Go to the below link and apply online

Apply Here : https://www.vidyasaarathi.co.in/Vidyasaarathi/login

List of Document Required
1)Proof of Identity
2)Proof of Address
3)Class 10 and Class 12 Marksheet
4)Current year college fees receipts
5)Latest Academic Marksheet
6)Student Bank passbook / Kiosk
7)Income Certificate
Note:
All documents uploaded shall be clear and must be in .jpeg .png file only
Frequently Asked Questions
1) Who should apply ?
Student pursuing any 4 year full time B.E. / B.Tech. course and who has availed SIM Scholarship in the previous year
2) What mandatory documents are required ?
Refer Certificate Instruction
3) Whether compulsory to have a bank account ?
Yes
4) Any preference given to specific colleges?
Yes, preference will be given to the students from following mentioned colleges:
College Of Engineering Pune (COEP)
Veermata Jijabai Technological Institute (VJTI)
5) What is the maximum scholarship amount that will be awarded?
Maximum Upto Rs 75000
6) What is Vidyasaarathi helpdesk number and how to raise queries?
Helpdesk Number – 022-40904484
Steps for raising query as below
Step 1 – Login
Step 2 – On your dashboard click on My Grievance tab
Step 3 – Click on New Grievance
Terms and Conditions
Hereby, I confirm that the funds provided towards my education by Schindler India Pvt Ltd under their CSR expenditure will be used for education purpose only. And all the information provided above is true to the best of my knowledge.
Important Dates
Start Date From : 03/09/2020
Valid Upto : 02/10/2020
Contact
For grievance related queries : vidyasaarathi@nsdl.co.in