FIITJEE FTRE 2020 Talent Reward Exam : fiitjee-ftre.com
Organisation : FIITJEE
Scholarship Name : FTRE 2020 FIITJEE Talent Reward Exam Cash Scholarship
Applicable For : XII Appeared/ Pass Students
Applicable State/UTs : All India
Exam Date : 4th October 2020
Registration Last Date : 3rd October 2020
Website : http://www.fiitjee-ftre.com/
FIITJEE FTRE
FIITJEE Talent Reward Exam is a platform to help Students know their true standing at National Level.
Related / Similar Scholarship : FIITJEE Scholarship cum Admission Test 2020

Eligibility
XII Pass Students committed to secure a Top Rank in JEE Main & JEE Advanced 2021 are eligible to apply.
How to Register?
Just follow the below steps to apply for FTRE 2020.
Offline Registration
Step 1 : Fill in your complete details in the Paper Application Form and submit it in person at the nearest FIITJEE Centre along with the prescribed test fee in cash, two passport size photographs and a copy of Student's Aadhaar Card. Your Hall Ticket will be issued to you in person.
Step 2 : You may also post / courier your Paper Application form along with a DD / Pay Order* with two passport size photographs and a copy of Student's Aadhaar Card to the nearest FIITJEE Centre and your Hall ticket will be e-mailed to You.
Online Registration
Step 1 : Log on to our online services portal www.fiitjeelogin.com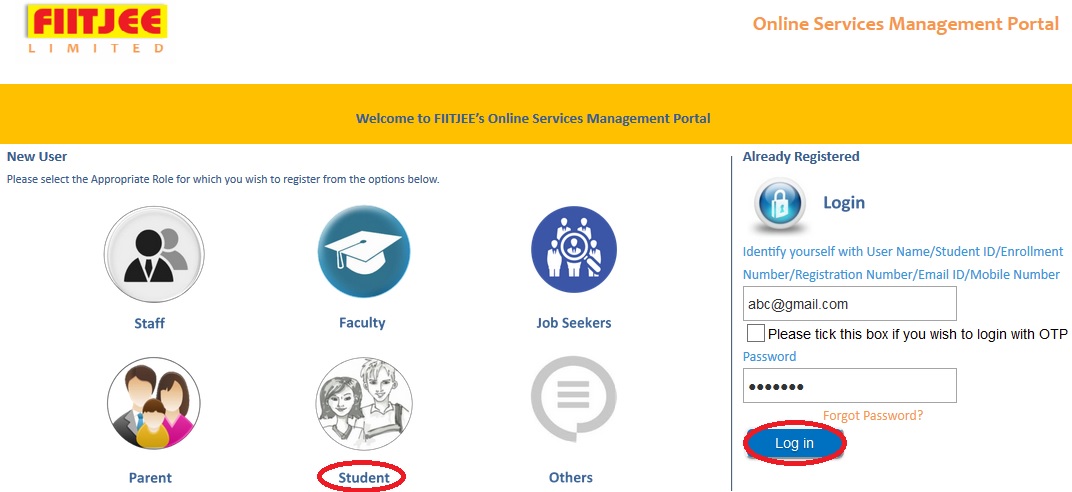 Step 2 : Create a new Account if this is your First Registration at FIITJEE. Update your profile (If not done earlier) and proceed for online registration.
You have following Test Fee Payment Options here.
1. Any Bank Credit / Debit Card or Net Banking.
2. NEFT / IMPS through Bank Portal / App / Branch
3. Print a challan and deposit in person with Test Fee in Cash / through Courier with Test Fee by DD or Pay Order to your nearest FIITJEE Centre.
Once your payment is successful, you can download the Hall ticket from the same online portal.
Registration through Mobile
Step 1 : To Register through Mobile portal www.fiitjeelogin.com/Mobile
Step 2 : This utility is similar to that of Online Registration however here you can complete your registration a little faster as there is no need to update user profile.
Registration Fee
** For Students registering for FIITJEE Test for the first time – Exam Fee : 300/- *(inclusive of Tax as applicable)
** For Students who had registered for any FIITJEE Test in the past – Exam Fee : 200/- *(inclusive of Tax as applicable)
Exam Schedule & Pattern
Objective Paper I –
Aptitude Test
8:45 am – 10:30 am
Objective Paper II – JEE Main Level
(Physics, Chemistry & Mathematics)
11:00 am – 1:00 pm
Objective Paper III – JEE Advanced Level
(Physics, Chemistry & Mathematics)
2:15 pm – 5:30 pm
Important Dates
Exam Date : Sunday 4th October 2020
Result Declaration Date : 9th October 2020
Last Date to Register :
Paper Application Mode :
** In person by paying cash – 3rd October 2020
** By Post / Courier through DD / Pay Order – 26th September 2020
Online Payment Mode : 3rd October 2020
Rewards & Scholarships
(a) Students securing a Rank in Top 500 in the Exam will get a Certificate of Achievement and will also get Free Online Doubt Removal Support to help them in their preparation even without joining FIITJEE.
(b) To further support these 500 meritorious students, FIITJEE has decided to give Cash Scholarships to outstanding performers + Tuition Fee Waivers on FIITJEE Program + Hostel Fee Waivers on the basis of their performance and subject to scoring above minimum cut-off marks in each subject in the test.
FTRE Rank
Total Cash Scholarship
(in Rs.)
Tuition Fee Waiver on
FIITJEE Program* (in %)
Hostel
Expenses Support
1
1,50,000
100%
Students who show a clear Potential to secure a Rank in Top 200 in JEE Advanced, 2019 will be given Hostel Expenses Support.
FIITJEE will pay their Room Rent. However, Students will have to bear the food and other personal expenses.
2
90,000
100%
3
60,000
100%
4 to 10
45,000
100%
11 to 20
36,000
90%
21 to 50
30,000
75%
51 to 100
24,000
65%
101 to 300
15,000
50%
301 to 500
10,000
50%