bcdd.kerala.gov.in OEC Lumpsum Grant 2020 : Backward Communities Development Department
You can now ask your doubts / questions.
Please go to the the bottom of this page for comments section.
Organization : Backward Communities Development Department
Scholarship Name : OEC Lumpsum Grant 2020
Applicable State : Kerala
Last Date : 31.07.2020
Website : http://www.bcdd.kerala.gov.in/
BCDD Kerala OEC Lumpsum Grant
Applications are invited for OEC Lumpsum Grant for the year 2020.
Related / Similar Scholarship : BCDD Kerala Overseas Scholarship 2020-21
OEC Prematric Educational Assistance
Educational Assistance for OEC Students studying in Govt/Aided/Unaided schools from standard 1 to 10
Eligibility :
Lump sum Grant is allotted to the OEC. Students of Govt./Aided/Recognised Un-Aided/C.B.S.E/I.C.S.E Affiliated Schools and Kendriya Vidyalayas in the state
Income limit :
** No income Limit for OEC Communities.
** Other Equivalent Communities upto Rs.6 lakhs.
Beneficial Amount :
** STD I-IV – Rs 320/-
** STD V-VII- Rs- 630/-
** STD VIII- X Rs-940/-
OEC Postmatric Educational Assistance
Educational Scholarship for OEC Postmatric students in the State and OEC students obtained admission to courses outside the State and allotment from Central agencies.
Eligibility Criteria :
Students should be included in the State O.E.C. list and got admission through merit or Reservation
Beneficial Amount :
Lampsum grant, Monthly stipend and legitimate fees are allotted to OEC students who are enrolled in +2 to Ph.D courses
How to Apply?
Eligible students apply the scholarship through e-grantz 3.0 portal.
Apply Online : https://www.egrantz.kerala.gov.in/
Steps :
Step 1 : Go to the official website of Kerala SC/ST Development Department provided above.
Step 2 : Then click on the One Time Registration link at the end of the page.

Step 3 : Enter your Aadhaar Number and Name of the Student to Validate your Aadhaar.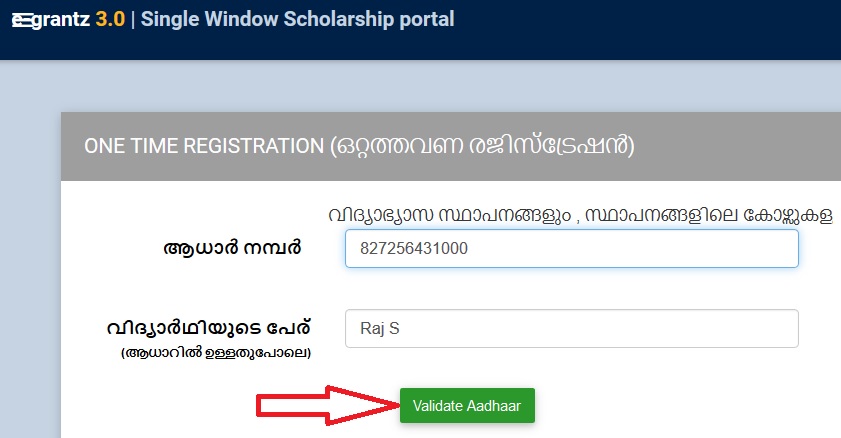 Step 4 : After validate your aadhaar enter the remaining details to complete your One Time Registration.
Step 5 : After a one-time registration, log in using the username & password.
Step 6 : Next enter your personal information by clicking "Profile" link and fill the five stages of application.
Step 7 : After submitting these 5 stages of information, you can get educational qualifications by clicking on "Add Qualification".
Step 8 : Select the scholarship, which you want to apply for the list of schemes.
Step 9 : You can also Print your application after submitting the application.
Step 10 : The applications can be tracked by entering the Aadhaar number and Date of Birth of the student.
About e-grantz 3.0
Online Centralised System for Disbursement of Scholarships/Schemes for all Pre-matric and Post-matric Students of SC, ST& OBC community in the state of Kerala.
The system is an integrated online software solution for the disbursement of the various educational assistance schemes of the Scheduled Castes Development Department.
The beneficiaries of any educational assistance scheme have to first register by giving their basic details such as Name, Address, Date of Birth, Gender, Mobile Number, Bank Account details and Aadhar Number. Such registered students can apply through the same application for various schemes.
Notification : https://www.scholarships.net.in/uploads/pdf2020/43976-OEC.pdf
Terms & Conditions
** Username and password provided for this purpose in the previous year and log in to the e-grants portal.
** List of communities eligible for OEC education benefit Appendices 1 and 2 are appended
** The caste according to the school records should be entered online.
** If necessary, the headmaster, from the revenue authorities, caste certificate income certificate can be requested.
** Below are the amounts eligible for one year for each class of students