mhrd.gov.in Japanese Government MEXT Scholarship 2021 For Indian Students
Want to comment on this post?

Go to bottom of this page.
Organization : Ministry of Education, Culture, Sports, Science and Technology
Scholarship Name : Japanese Government Mext Scholarship 2021
Applicable For : Indian Students who wish to study at Japanese Universities
Last Date : 17.08.2020
Website : https://mhrd.gov.in/scholarships
MHRD Mext Scholarship
The Japanese Ministry of Education, Culture, Sports, Science and Technology (MEXT) is offering scholarships to Indian students under the Japanese Government Scholarship Program for 2021 to study as Undergraduate Student, College of Technology Student and Specialized Training College Student.

Field of Study
The Program-wise Field of Study is as under:
(i) Undergraduate Students :
The application can be made in the field of Social Sciences and Humanities or Natural Sciences,
(ii) College of Technology Students :
Under this programme, the preferred fields of studies are
(A) Mechanical Engineering
(B) Electrical and Electronic Engineering
(C) Information, Communication and network Engineering
(D) Materials Engineering
(E) Architecture
(F) Civil Engineering
(G) Maritime Engineering
(H) Other Fields
(iii) Specialized Training College Students :
Under this programme, the preferred fields of studies are
(A) Technology
(B) Personal Care and Nutrition
(C) Education and Welfare
(D) Business
(E) Fashion and Home Economics
(F) Culture and General Education.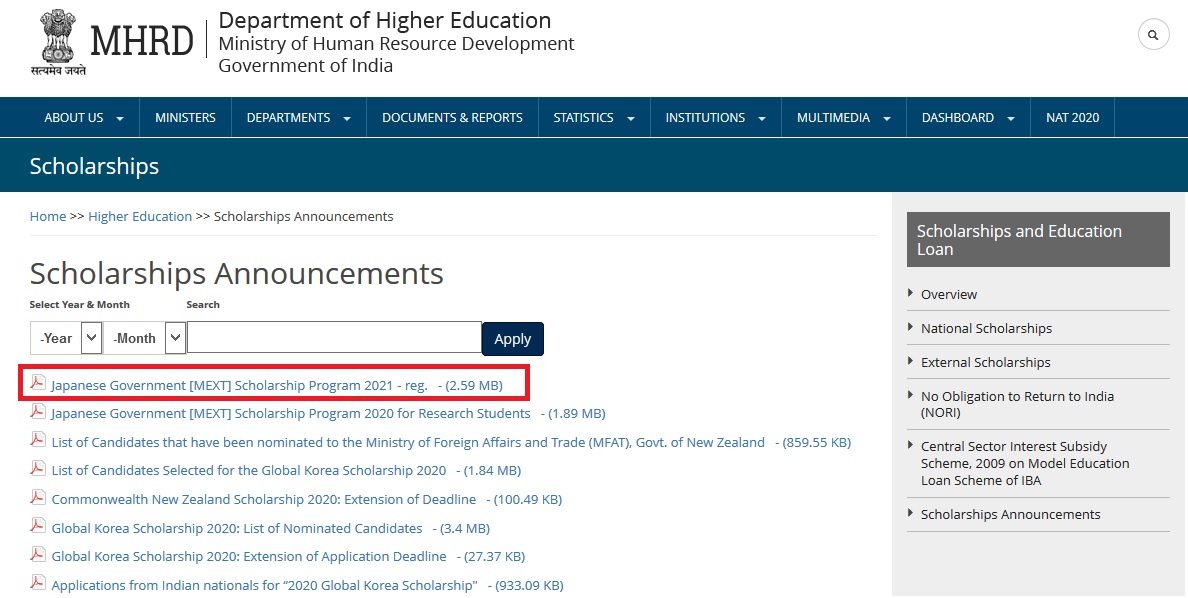 Qualifications & Conditions
MEXT accepts applications from international students for study in Japan who satisfy the following qualifications and conditions.
Nationality :
Applicants must have the nationality of a country that has diplomatic relations with Japan.
Age :
Applicants, in principle, must be born on or after April 2, 1996.
Academic Background :
Applicants must satisfy any one of the following conditions
i. Applicants who have completed 12 years of schooling in countries other than Japan.
ii. Applicants who have completed their studies at a school equivalent to a Japanese upper secondary school in countries other than Japan.
iii. Applicants who have successfully passed an academic qualification examination that is equivalent to the completion of 12 years of schooling in countries other than Japan.
Japanese Language :
Applicants must be willing to learn Japanese. Applicants must be interested in Japan and be willing to deepen their understanding of Japan before and after arriving in Japan.
Health :
Applicants must submit a health certificate in the prescribed format signed by a physician attesting that the applicant has no physical or mental conditions hindering the applicant's study in Japan.
Arrival in Japan :
In principle, applicants must be able to arrive in Japan between April 1, 2021, and April 7, 2021. Departure from the home residence should be on or after April 1, 2021
Visa Acquisition :
Applicants should, in principle, acquire "Student" visas before entering Japan and enter Japan with "Student" residence status. The visas should be issued at the Japanese diplomatic missions located in the country of applicants' nationality.
Download Application Form :
https://www.in.emb-japan.go.jp/Education/japanese_government_scholarships.html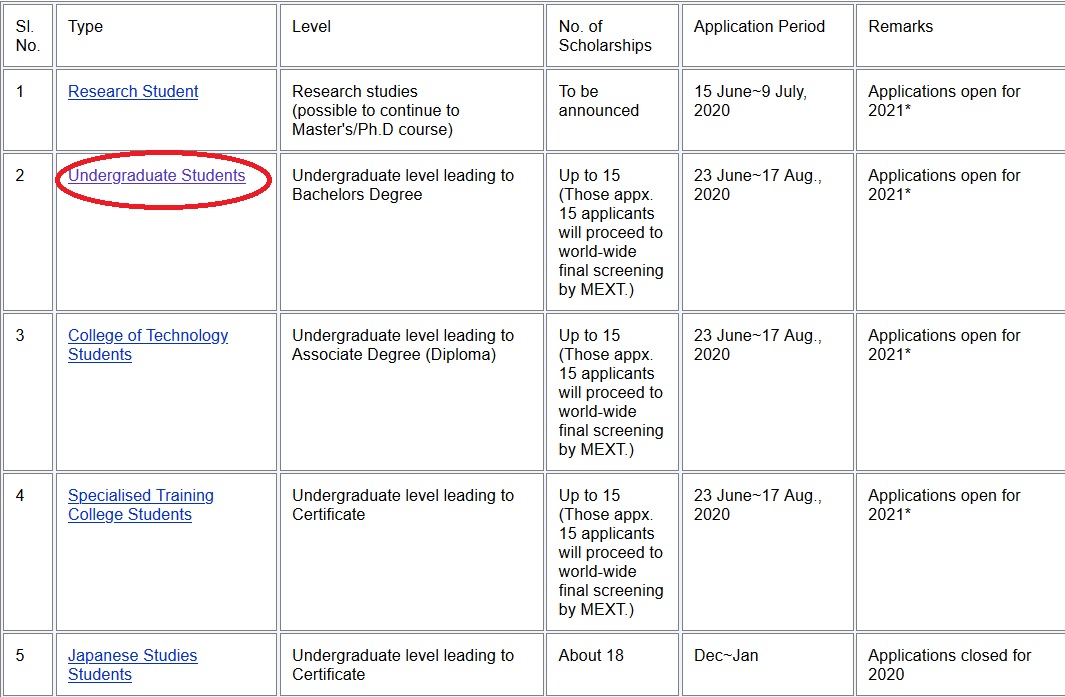 Application Documents
Applicants must submit the following documents to the Japanese diplomatic mission in the country of the applicant's nationality by the designated deadline. The submitted documents will not be returned.
** Application Form
** Direct Placement Preference Form
** Academic transcript(s) for all school years of school/university attended
** Certificate(s) of graduation of school/university attended
** Recommendation letter from either a class teacher or principal of last school attended
** Medical certificate
** Certificate of enrollment
** Certificate of university enrollment qualification examination
** Certificate of language proficiency
Scholarship Benefits
Allowance :
1, 17,000 yen per month. A supplemental regional allowance of 2,000 yen or 3,000 yen per month will be added to the monthly scholarship amount for the grantees studying or conducting research in specially designated regions.
Education Fees :
Fees for the entrance examination, matriculation, and tuition at universities will be paid by MEXT.
Traveling Expenses :
Transportation to Japan : MEXT will stipulate the travel schedule and route, and provide an airline ticket to grantees who will arrive in Japan during the specified period
Transportation from Japan :
Based on the application by the grantee, MEXT will provide an airline ticket to grantees who shall graduate the accepting university and return to the home country by the end of the final month of the period of scholarship designated by MEXT.
Notification :
https://www.scholarships.net.in/uploads/pdf2020/43968-Mext.pdf
Last Date
The last date for submitting applications under all three programs is 17th August 2020.
Contact/ Helpdesk
For any further clarifications, please get in touch with
Mr. S. Sinha, Tel:99530-18030
Ms. Anshula, Email – jpemb.anshula [AT] nd.mofa.go.jp
Please also mention your telephone number, with area code, while sending your query by email.
Japan Information Centre (JIC),
Embassy of Japan,
50-G, Shantipath, Chanakyapuri,
New Delhi – 110021.