ALLEN Online Scholarship Admission Test ASAT 2020-21
Organisation : ALLEN Career Institute
Scholarship Name : Online ALLEN Scholarship Admission Test (ASAT) 2020-21
Exam Date : 5th & 12th July 2020
Website : https://www.allen.ac.in/kota/admissioninfo/online-asat.asp?utm_source=allen_website&utm_medium=popup
ALLEN Online Scholarship Test
To help students during this Lockdown period, ALLEN has taken a new initiative to support students' study from home through ALLEN Digital Classes.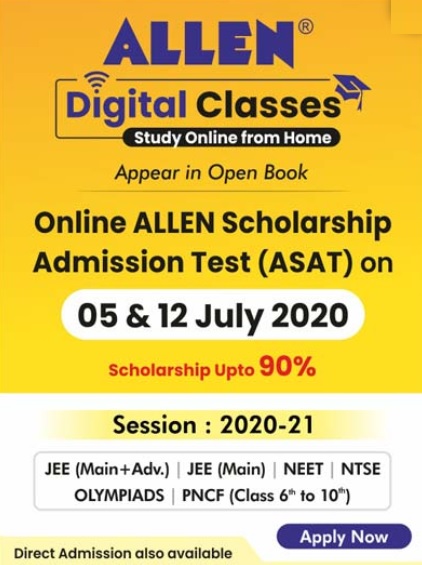 Under this initiative students will be allowed to study and take online classes from home for IIT-JEE, JEE Main, NEET (UG), Classes 6th to 10th, 11th and 12th.
Courses Offered
** JEE Main + Advanced
** JEE Main
** NEET-UG
** Pre-Nurture and Career Foundation
Course Features
** Direct Admission & Online Orientation
** Online Lectures by Experienced ALLEN Kota Faculties
** Regular Classes
** Exhaustive Study Material
** Part and Full Syllabus Test Series
** Daily Assessments
** Intelligent Testing System
** Doubt Clearance Support
** Individual Mentors
How to Apply?
You can fill Online Application Form through ALLEN Info & Admission App for Rs. 350/- OR through ALLEN website for Rs. 500/-
Steps :
Step 1 : Visit the official website of ALLEN Career Institute through provided above.
Step 2 : Read the instructions carefully and Click on "Apply Now" link.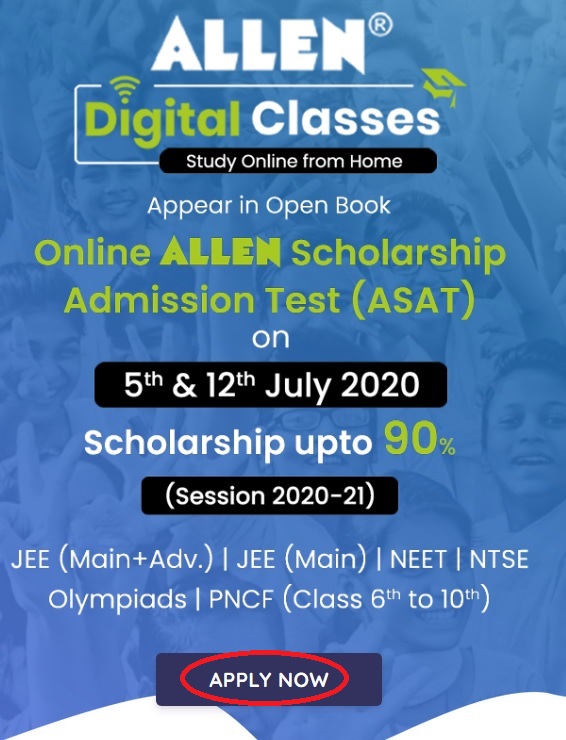 Step 3 : Fill the application form with the required details and Pay your exam fee through online. (i.e Debit Card/ Credit Card/ Net Banking)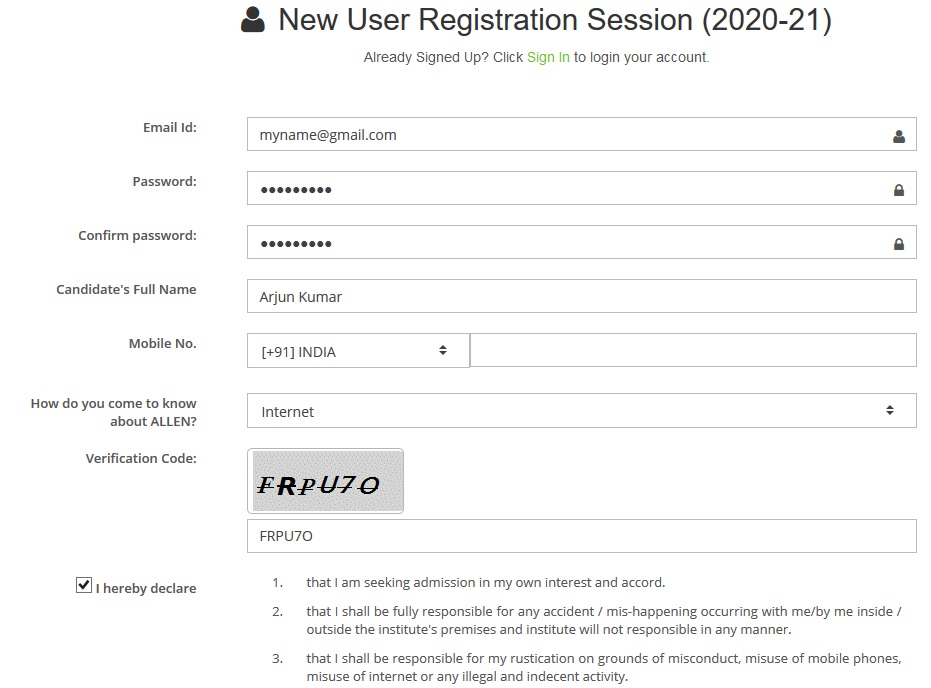 Step 4 : Finally click on "Submit" button to complete your registration.
How to Take Online Test?
To appear in Online ASAT, student needs to follow these steps at asat.onlinetestseries.in
Step 1 : Enter your ALLEN Form Number and then has to click on continue.
Step 2 : Enter DOB

Step 3 : On the next window, student will be having options to select any mobile number to receive OTP for mobile number verification.
Step 4 : Enter the 6 digit OTP in the space provided on screen.

Step 5 : After successful verification through OTP, you will be able to see your Academic details.
Step 6 : Before proceeding, kindly check your ASAT details. For any discrepancy in details contact to your study center.

Step 7 : Read all the instructions carefully to appear in ONLINE ASAT and then click the check box.
Step 8 : Click on Attempt, at the time of Test and YOU ARE READY TO BEGIN.
FAQs
1. Students who have already appeared in previous ASAT & deposited full fees, Can they appear in online ASAT?
No
2. Does ALLEN provide any set of sample paper for Online ASAT?
Yes, ASAT Sample papers are available on ALLEN website.
3. How much Scholarship will be rewarded to student in Online ASAT?
Students can get Scholarship Up to 90% in Online ASAT.
4. Will online ASAT conduct in English or Hindi both?
Yes, available in both mediums.
5. Can I switch my screen and go to another tab during ONLINE ASAT?
Switching device/minimizing Test Window during Online ASAT is not allowed. Doing this will submit your Test and Exit you from Online ASAT.
6. Can I pause or suspend the ONLINE ASAT?
No, once test is started you cannot pause or suspend it.
7. Can I download my ONLINE ASAT paper?
No, question paper is not downloadable.
Helpline
You can contact us at our Helpline Number 0744-2757575 if you face any issue while appearing ONLINE ASAT.