IDFC FIRST Bank MBA Scholarship 2020 : buddy4study.com
Organisation : IDFC FIRST Bank & Buddy4Study
Scholarship Name : IDFC FIRST Bank MBA Scholarship 2020
Applicable For : First Year MBA degree Students
Applicable State / UTs : All India
Application Last Date : 31.07.2020
Website : https://www.buddy4study.com/page/idfc-first-bank-mba-scholarship?utm_source=HomeBanner&utm_medium=Web&utm_campaign=IDFCFirstbrand
You can ask questions or answer questions about this scholarship.
Please go to the bottom of this page.
IDFC FIRST Bank MBA Scholarship
IDFC FIRST Bank MBA Scholarship is a scholarship programme to financially support MBA students enrolled into the first year of a two-year full-time MBA course in the academic session 2020-22.
The scholarship programme is an initiative of IDFC FIRST Bank, an integrated infrastructure finance company. It offers a range of financial solutions to individuals, small businesses and corporates. The scholarship programme forms part of its CSR initiative for the year of 2020-21.
Eligibility
IDFC FIRST Bank Scholarship applicants must fulfill the following eligibility criteria
** Open for Indian Nationals residing in India only.
** Gross annual family income from all sources should be less than or equal to INR 6 Lakh per annum
** Applicable for students enrolled in first year batch of 2020-22 of MBA degree (or its equivalent)
** Applicant should be enrolled in any of the MBA colleges mentioned in the list attached in the FAQ section
Benefits
INR 1 lakh per annum (2 years)
How Can You Apply?
Eligible candidates can apply for the scholarship through the following steps
Steps :
Step 1 : Visit the IDFC FIRST Bank MBA Scholarship 2020-22 application link by clicking on 'Apply Now' button.


Step 2 : Login/Register using Facebook, Gmail or Buddy4Study E-mail account.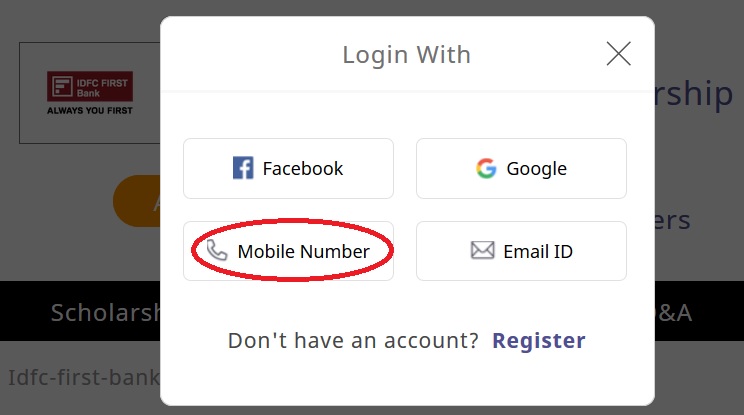 Step 3 : Once signed in, click on 'Start Application' to start filling the form.

Step 4 : Fill in all the details and upload the required documents.
Step 5 : Finally, click on 'Submit'.
Documents Required
Below is the list of documents that need to be uploaded before the final submission of the application form
1. Personal Information documents
** Applicant's photograph
** Identity Proof (Aadhar Card, Voter ID Card, Driving License)
2. Admission related documents
** Admission Proof (Admission Letter/ID Card/Fee Receipt)
3. Academic record documents
** Copy of Class 10th Marksheet
** Copy of Class 12th Marksheet
** Copy of Graduation Marksheet
4. Income Proof (any one)
** Copy of Salary Slip (Parents)
** Copy of Income Tax Returns (Form 16A)
** Income Certificate issued by relevant government authority (Tehsildar or Magistrate)
Selection Process
The scholarship will be awarded based on the financial needs of the applicants. The scholars will be selected based on first-level shortlisting of candidates followed by telephonic/personal interview.
Terms & Conditions
** Candidates will be required to upload documents, e.g. Income Tax Returns of their parents/guardian(s) or in the alternative, Bank Statements of parents/guardian(s).
** The final acceptance of the proposed candidates shall be on the basis of internal due diligence and checks done by the IDFC FIRST Bank Selection Panel and will be at all times subject to its management decision.
** The final disbursement of Scholarship amount to the applicant's college/university shall be on the basis of the fee receipt evidencing part payment, submitted by the applicant.
Receipt of the balance amount paid towards fees out of the Scholarship disbursed, shall be produced to the IDFC FIRST Bank immediately on payment thus being made.
Further, these fee receipts shall be retained with the beneficiaries and submitted along with other documents for availing the Scholarship for the consecutive academic year, as the case may be.
** The candidates who are selected for the Scholarship will be intimated by the IDFC FIRST Bank via email.
** The scholarship application is open to only those desirous candidates who have all the requisite certificates and mark-sheets at the time of making the application.
No provisional application will be entertained on any undertaking to the effect or otherwise that certificates and/or required documents will be furnished at a later stage.
** As there shall be only 150 beneficiaries granted the scholarship under this program
FAQs
1. Can MBA students of 2019-21 batch apply for this scholarship?
No. Only students who are enrolled into the 1st year of their full-time MBA/PGDM programme in the academic year 2020-22 are eligible to apply for this scholarship.
2. I want to pursue MBA through distance education. Am I eligible for this scholarship?
No, the scholarship is only available for students who are already enrolled in 1st year of their 2-year full-time MBA programme.
Note : Applicants pursuing executive MBA are not eligible to apply for this scholarship.
3. Is there any application fee for this scholarship programme?
There is no application fee to apply for this scholarship.
4. What will be the process of the interview?
All the shortlisted applicants will have to undergo a telephonic interview process. If required, this will be followed by a face-to-face interview for the final selection of scholars.
5. Where do I apply for this scholarship?
The scholarship application is only hosted on Buddy4Study. The scholarship application link is officially available on IDFC FIRST Bank website as well.
Contact Us
In case of queries. please reach out to us
Call : 011-430-92248 (Ext- 124) (Monday to Friday – 10:00AM to 6PM)
Email : idfcfirstbankcsr [AT] buddy4study.com