Insights IAS All India Scholarship Test 2020 : insightsonindia.com
You can ask questions or answer questions about this scholarship.
Please go to the bottom of this page.
Organisation : INSIGHTSIAS
Scholarship Name : INSIGHTSIAS All India Scholarship Test 2020
Applicable State/UTs : All over India
Exam Date : 21.06.2020
Website : https://scholarship.insightsonindia.com/
Insights IAS Scholarship Test
INSIGHTSIAS is conducting a Scholarship Test for the much awaited InstaClasses – Integrated Foundation cum Guidance Course- 2021, a full-fledged course for UPSC CSE 2021 (Prelims + Mains + Interview).
Related / Similar Scholarship : eSaral Crackoo Scholarship Test 2020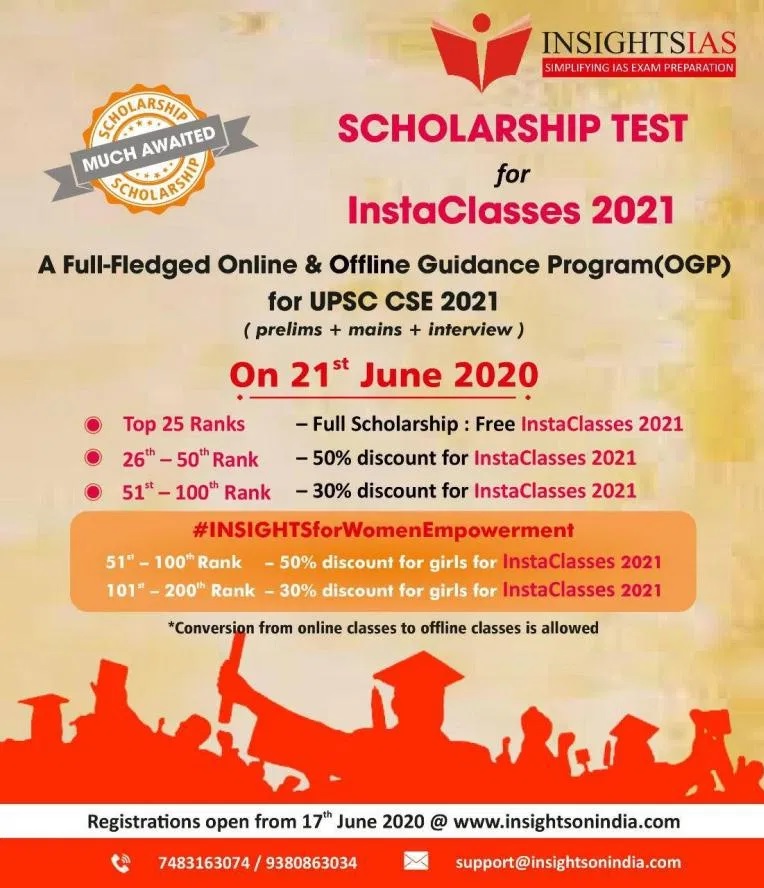 How to Register?
Steps :
Step 1 : Go to the official website of INSIGHTSIAS through provided above.
Step 2 : Read the instructions carefully and click on the "Register Now" button.


Step 3 : Fill the registration form with the required details
Step 4 : Finally click on "Subscribe" button to complete the registration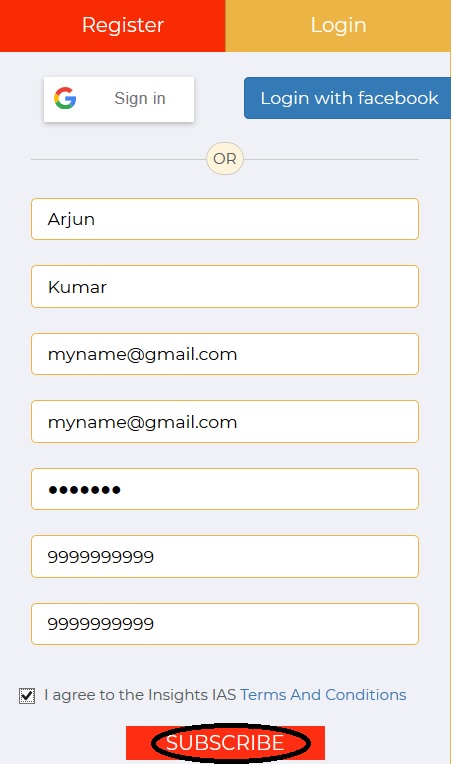 Details of Scholarship Test
** INSIGHTSIAS Scholarship Test will be conducted on 21st June 2020 from 10am to 12 noon
** It will be an Online test consisting of MCQs similar to a full-length Prelims test. There will be 100 questions covering the entire syllabus of Prelims.
** Questions will test basic understanding of static part (from NCERTs) of the UPSC Prelims syllabus (Paper-1) and also General Awareness vis a vis Current Affairs of past 7 months.
** Since this is a Scholarship test for InstaClasses, emphasis will be on Basic questions and Basic general awareness.
Scholarship Details
** Top 25 Ranks – Complete Scholarship – Free InstaClasses 2021
** Rank 26 to 50 – 50% discount for InstaClasses 2021
** Rank 51 to 100 – 30% discount for InstaClasses 2021
About InstaClasses 2021
** InstaClasses 2021 will be conducted in BOTH Online as well as Offline mode. However, considering the uncertainty in lifting of restrictions for operating Offline classes, we will initially begin with Online classes. Students will have complete flexibility to convert to Offline mode subject to Government guidelines.
** This Scholarship Test is for both InstaClasses – Online as well as InstaClasses – Offline.
** The main objective of this course is to provide personalized learning by empowering serious aspirants to establish strong foundations of basics and conceptual clarity, build on it by inculcating analytical skills, interact with and be mentored by trusted faculty at every step and adapt their preparation to the dynamic nature of this examination.
** Working Professional or a Student, the unique time-table of InstaClasses – Online benefits both equally and gives a flying start to your preparation.
** InstaClasses comprises of classes for every subject ensuring exhaustive coverage of entire syllabus for Prelims and Mains, Daily Revision Tests, Weekly Revision Tests for Prelims, Fortnightly Mains Revision Tests, Full Length Prelims and Mains tests after every subject is covered, All India Prelims Test Series, Doubts clearance session with faculty, Mentor-ship (Every student is assigned a mentor who will be your trusted personal advisor to keep continuous track of your progress and help with your preparation at every step) and most importantly – a Success and Mindset coach for every student ensuring impeccable mental health to endure this arduous journey of Civil Service preparation.
** We have ensured that Online students get ALL the facilities that are being offered in Offline mode, so as to make your preparation holistic and hassle free even at the comfort of your homes/offices with our ALL NEW InstaCourses Portal.
** InstaClasses comprehensively covers the Entire Syllabus (GS + CSAT) with ETHICS and ESSAY integrated in the timetable.
1. Current Affairs will be covered in every class as well as in our most promising and ardently followed initiative – ICAN
2. Detailed Analytics of your Prelims score as well as comprehensive parameters considered for your MAINS answers evaluation will help you improve your scores immensely.
3. Most importantly, TEAM INSIGHTS is going to be your constant companion in this preparation and we will EQUIP you with all the necessary knowledge and skills to clear this exam.