Gradeup National Scholarship Test GNST 2020 For Mechanical Engineering
Organisation : Gradeup
Scholarship Name : GNST 2020 Gradeup National Scholarship Test for Mechanical Engg.
Applicable For : Students preparing for their ESE, GATE & other PSU exams
Online Exam Date : 20th Jun – 21st Jun, 2020
Website : https://gradeup.co/scholarship-test/mechanical-engineering
You can ask questions or answer questions about this scholarship.
Please go to the bottom of this page.
Gradeup GNST for Mechanical Engineering
Gradeup National Scholarship Test 2020 GATEway to your dream career
Related / Similar Scholarship : Gradeup GNST For SBI PO 2020
About GNST
Gradeup National Scholarship Test (GNST) is a talent search cum scholarship exam, being conducted at a national level to appraise the right talent. The GNST will be conducted for Mechanical Engineering branch exams like ESE & GATE.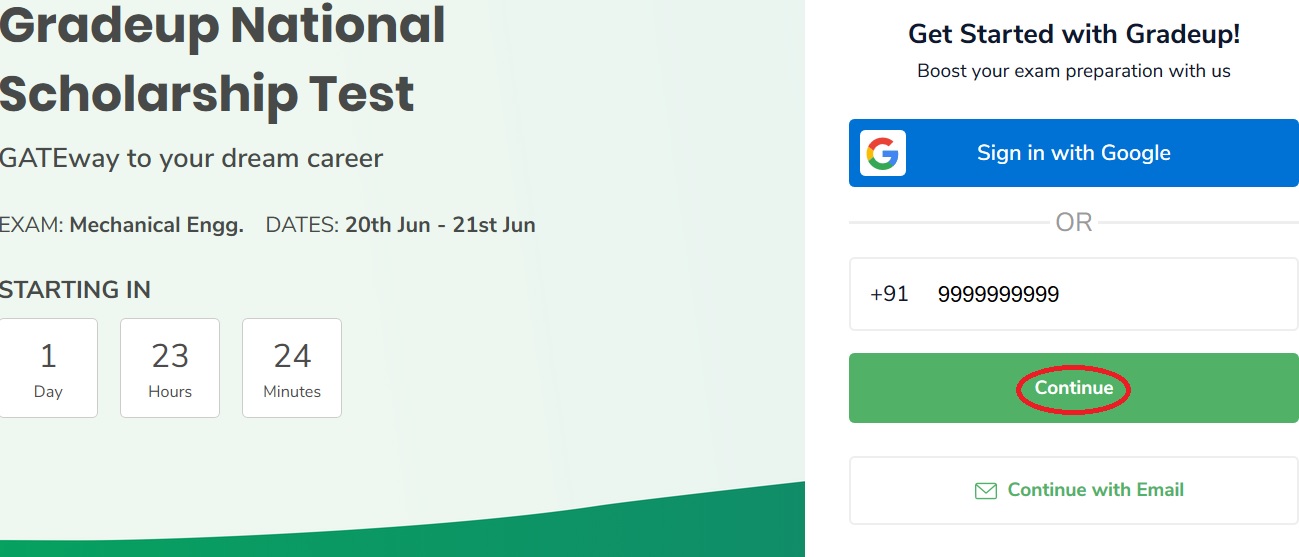 GNST 2020 is an online-based exam for the students preparing for their ESE, GATE & other PSU exams. Around 580 candidates will be shortlisted to be entitled for scholarship and other rewards & prizes.
Eligibility
All the students who are preparing for ESE, GATE & other PSU Exams are eligible for GNST.
Exam Details
Exam : Mechanical Engg.
Dates : 20th Jun – 21st Jun
Slot Details :
June 20th :
Slot 1 : 11 AM – 12.30 PM
Slot 2 : 7 PM – 8.30 PM
June 21st :
Slot 3 : 9.30 AM – 11 AM
Slot 4 : 8 PM – 9.30 PM

Test Pattern
** The exam duration will be of 90 minutes and the total questions asked will be 50.
** The GNST for ESE & GATE Mechanical will be a 100 marks test.
** Below mentioned is the marking scheme
i. Correct Answer +2 Marks
ii. Incorrect Answer -2/3 Marks
Syllabus
The test will contain questions from the following Subjects
** Strength of Materials – 10 Questions
** Fluid Mechanics – 10 Questions
** Production – 10 Questions
** Thermodynamics – 10 Questions
** Engineering Mathematics & Aptitude – 10 Questions
Important Instructions
** The mock will be conducted in a controlled environment, i.e., it will be proctored. Hence, you are required to complete the test in the given time. Additionally, your device must have a WebCam.
** The result of the Mock Test will be declared on 22nd June at 5 PM.
** The marking system will be the same as the actual SBI PO Prelims examination.
** Gradeup reserves the right to declare the winners on the basis of the test attempt data.
GNST Result
Gradeup will announce the final result of Gradeup National Scholarship Test for ESE & GATE (ME) Exam on 22nd June 06:00 PM through the community blog and on the respective YouTube Session. The top 580 students who qualify will receive an assured scholarship for higher studies.
Terms & Conditions
** The selection of the model for every gift is the sole discretion of Gradeup.
** Actual product may vary from the image shown.
** Winner's selection is at the sole discretion of the company.
** Any information shared by the student if found invalid will lead to disqualification.
** Fake attempts will be monitored through our AI-based algorithm.
** Any information shared by the student, if found invalid, will amount to disqualification.
** Gifts will be delivered within 60-90 days of the announcement of the final result
FAQs
1. What happens in case I am unable to take the exam in the ongoing selected slot?
If you are unable to take the test in the ongoing slot, you can always attempt the test in any of the future available slots. The test will be available in the following 4 slots:
** 20th Jun – 11:00 AM to 12:30 PM
** 20th Jun – 07:00 PM to 08:30 PM
** 21st Jun – 09:30 AM to 11:00 AM
** 21st Jun – 08:00 PM to 09:30 PM
2. Will I get a reward for attempting GNST for ESE & GATE Mechanical?
All students who attempt the test and clear the cut-off will get assured scholarship on Vision 2021 Course for ESE & GATE Mechanical (Batch 3).
3. Where and how will I be able to attempt GNST for ESE & GATE Mechanical?
GNST for ESE & GATE Mechanical is completely Online. You will be able to attempt the test by logging in to Gradeup website through your smartphone, laptop or desktop.
4. I am an existing Gradeup student. Will I be eligible for the scholarship?
Yes, you are eligible for the scholarship only for new courses. If you perform well in the test, and score the marks required for the scholarship, you will get scholarship for new courses
Contact
Please email us at help [AT] gradeup.co or call us at +919650052904 in case you face any issues. We will be glad to help you as soon as possible.