sje.rajasthan.gov.in 2019-20 Post Matric & CM Scholarship : Social Justice & Empowerment Department
Rate this post:
[ Votes=

0

, Average =

0

]
Organisation : Social Justice and Empowerment Department
Scholarship Name : Post Matric & CM Scholarship 2019-20
Applicable For : SC/ST Students
Applicable State : Rajasthan
Application Last Date : 15.07.2020 (Date is Extended)
Website : http://www.sje.rajasthan.gov.in/Default.aspx?PageID=346
SJE Rajasthan Post Matric & CM Scholarship
Students who belong to Rajasthan state and have domicile can apply for the scholarship for the academic year 2019-20
Related / Similar Scholarship : SJE Rajasthan Scholarship Online Application 2020-21
How to Apply?
The registration of paperless application form online through scholarship.rajasthan.gov.in for filling up the application form. Just follow the below steps to apply for the Scholarship 2019-20.
Apply Online : https://scholarship.rajasthan.gov.in/index.html
Online Registration
To apply for the Scholarship first you have to register your account. Follow the below steps for Registration.
Step 1 : To start with, applicant i.e. student visits the Unified Scholarship Portal by opening the URL mentioned above.
Step 2 : First-time applicant clicks on the REGISTER button to register on RajSSO portal to get his/ her one-time SSOID/ Password.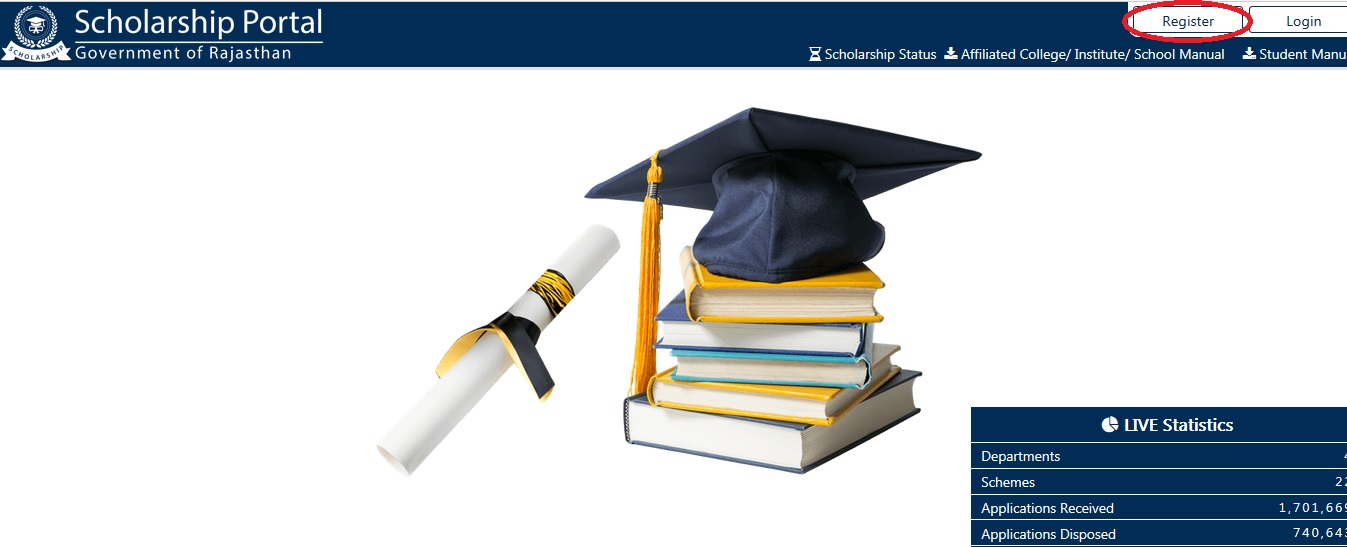 Step 3 : Upon clicking the REGISTER button, following appears on screen and applicant is prompted to choose a mechanism for creation of SSOID/ Password.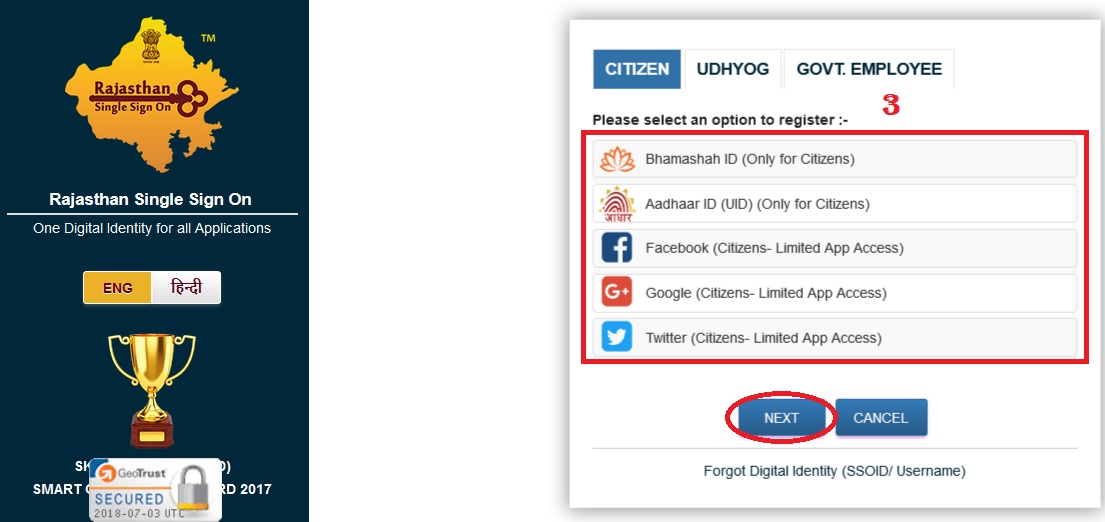 Note :
If the applicant is already registered on RajSSO portal i.e. already have his/ her SSOID and Password then he/ she can directly click on LOGIN button at Scholarship portal to continue.
Login
Step 4 : After Login with your User Id and Password, following screen is presented to the first-time applicant i.e. student and he/ she must select STUDENT option only and click the OK button to continue.
Note :
** Since the scholarship schemes are delivered using BHAMASHAH DBT platform, it is mandatory for the applicant to have BHAMASHAH FAMILY ID or Enrollment ID updated in his/ her SSO Profile.
** If the applicant does not have BHAMASHAH FAMILY ID/ ENROLLMENT ID i.e. have not enrolled under BHAMASHAH scheme, it can be done online at http://bhamashah.rajasthan.gov.in or at nearest EMITRA KIOSK across Rajasthan)
Step 5 : Then, the applicant is required to select his/ her name then specify his/ her 12 digit AADHAAR/ UID Number for verification using OTP/ Fingerprint.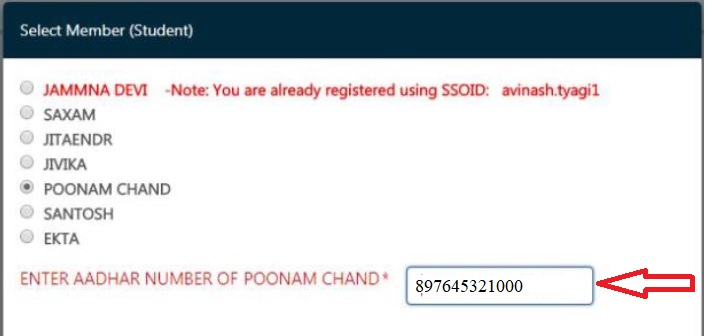 In such cases, it is required that applicant first update his/ her AADHAAR in Bhamashah and then continue with Scholarship portal.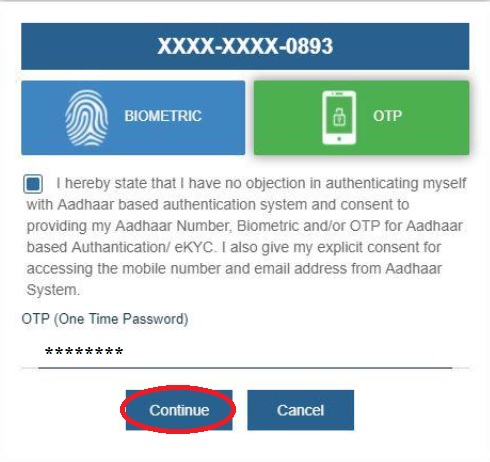 Step 6 : After successful AADHAAR/ UID verification, the applicant need to fill the one-time PROFILE form. Only few fields and few mandatory documents are required to be filled/ uploaded.
Step 7 : After filling all the required profile information, the applicant clicks the SUBMIT button and a confirmation message will be displayed indicating that applicant profile (one-time) has been created successfully on Scholarship Portal. SMS/ Email Notification is also sent to the applicant.
Step 8 : Applicant is presented the STUDENT DASHBOARD as shown below. He/ She click on the NEW APPLICATION option in the Menu to submit Scholarship Application.

Step 9 : Upon clicking the NEW APPLICATION in the menu, AADHAAR/ UID authentication/ verification takes place.
Step 10 : After successful AADHAAR/ UID authentication/ verification, applicant is present with the list of schemes he/ she is eligible for as per his/ her profile information.
Step 11 : The applicant selects the desired scheme and clicks the NEXT button. Then fill the Scholarship Application Form.
Step 12 : Upon successful application submission, system displays the confirmation message which includes the unique application number (SCHOALRSHIP/2018-19/XXXXXX)
Step 13 : Since the application submission is complete, the system redirects the applicant back to the STUDENT DASHBOARD where he/ she can track the current status of all the applications submitted by him/ her.
Required Documents
Students who are eligible for the scholarship kindly consider below points, All the necessary documents should be uploaded on the portal after scanning the original copy.
1. Domicile Certificate (As per Govt of Rajasthan rules, Moolniwas will be uploaded, not institute bonafide)
2. Income certificate in revised format (In case of government employee "Form No. 16" to be attached with new format)
3. Caste Certificate (As per rules)
4. Course codes
5. Fees Structure (Student are advised to enter fees detail head wise given by the SJE department from your fees structure).
Notification :
https://www.scholarships.net.in/uploads/pdf2020/43701-Advt.pdf
FAQs
1. While filling the form, my name is shown in striked RED color and unable to select the same.
This means that you have already created profile using different SSOID or at EMITRA KIOSK. Please continue using the earlier one.
2. I have submitted some wrong/ incorrect information in application form and same is not editable.
If you have, by mistake, submitted wrong/ incorrect information in application form and form is not editable then please contact your school/ college for doing OBJECTION on your application. Later, you can EDIT the application form (limited fields only).
3. I forgot my SSOID/ Username and/ or Password.
Please visit https://sso.rajasthan.gov.in and click on "Forgot SSOID/ Username" or "Forgot Password" to recover the same.
Last Date
Last date of objection removal and forward from institute (for academic year from 2016-17 to 2018-19) is 15th July 2020