Adda247 National Talent Search Scholarship Exam 2020 : bankersadda.com
Organisation : Adda247
Scholarship Name : National Talent Search Scholarship Exam 2020
Applicable For : Mechanical, Civil, and Electrical Engineering students
Online Exam Date : 15 June 2020
Website : https://www.bankersadda.com/national-talent-search-exam-by-adda247/
You can ask questions or answer questions about this scholarship.
Please go to the bottom of this page.
Adda247 NTSE
Adda247 is conducting National Talent Search Exam and winners will receive 100% scholarships for SSC JE / AE Exams. Mechanical, Civil, and Electrical Engineering students must participate in the exam on 15 June 2020.
Related / Similar Scholarship : Disha Academy D-SAT 2020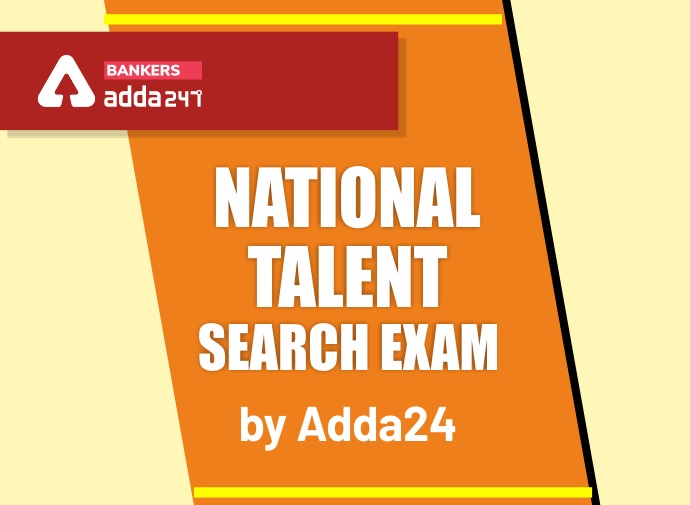 About NTSE
Every year a large number of deserving candidates are deprived of performing to their potential in the competitive examinations. This is due to the lack of guidance and assistance from experts, which costs thousands if not lakhs of rupees.
This is highly unjust for the students who have the potential to excel, only if they receive proper mentoring. This is why we at Adda247 have decided to change the status quo.
How to Register?
Just follow the below steps to apply for the National Talent Search Scholarship Exam 2020.
Steps :
Step 1 : Visit the official website through provided above.
Step 2 : Read the instructions carefully and click on "Register for Examination" link.

Step 3 : Fill the Registration Form with the required details
Step 4 : Finally click on "Submit" button to complete your registration.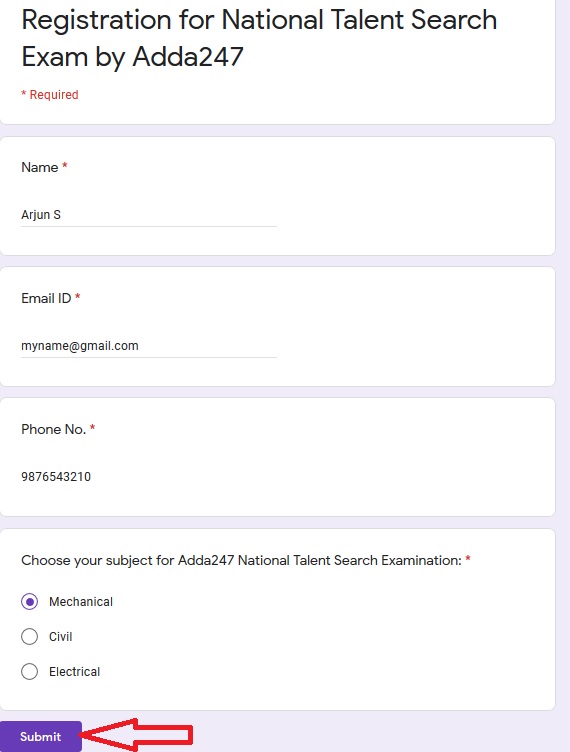 Note :
Students who are interested in appearing for the Adda247 National Talent Search Examination, must log-on to our official website @ www.adda247.com and complete the free registration process. For any further details or queries, contact our online support team.
Exam Details
Adda247, the leading e-learning platform for competitive entrance examinations, is conducting the National Talent Search Exam by Adda247.
This exam is being conducted to help all the deserving students who hail from weak economic backgrounds but have the talent to excel at the big stage. Here are the essential details regarding the Adda247 National Talent Search Examination.
Examination Pattern
** Examination Date – 15th June 2020
** Examination Mode – Online (Computer Based Test)
** Examination Duration – 30 minutes
** Examination Topics – Mechanical, Civil, and Electrical Engineering
** Total questions – 50 questions
** Total marks – 100 marks
Note :
** Correct answers will be awarded 2 marks.
** Incorrect answers will attract a penalty of 0.25 marks.
Benefits
** Students who will qualify the exam will be eligible to receive up to 100% scholarships for SSC JE / AE Exams from Adda247.
** Qualifying students will receive access to the exclusive Adda247 SSC JE/AE preparation resources absolutely free.
** All our programs are curated by renowned experts to enhance the efficiency of your preparations and increase the chances of your selection manifolds.
** Students will also receive mentorship and guidance from our expert faculty.
** The scholarships will be available for Mechanical Engineering students, Civil Engineering students, and Electrical Engineering students.
About Us :
Adda247 houses multiple platforms such as Adda247 mobile app, Adda247 Youtube channels, bankersadda.com, sscadda.com, teachersadda.com and Career Power. With more than 1 million video-views daily on adda247 platforms, more than 0.5 Million Daily Active Users on App, 2.5 million Daily Active Users on web, Adda247 is one of the largest and fastest growing education technology platform in India.