Pradhama Shiksha Yojana 2020 Post Matric Scholarship : pradhamashikshayojana.com
Rate this post:
[ Votes=

0

, Average =

0

]
Organization : IBG Ventures
Scholarship Name : Pradhama Shiksha Yojana Post Matric Scholarship 2020
Applicable For : Students of Class Plus 1 & Plus 2
Applicable State : Kerala & Tamilnadu
Last Date : 01.07.2020
Website : https://pradhamashikshayojana.com/page/postMatric
PSY Post-Matric Scholarship
Pradhama Vidhya Yojana Post matric scholarship is a CSR Initiate of IBG Ventures in partner with Child Fund for the Welfare of Minorities and economically backward student.
Related / Similar Scholarship : PSY Pre-Matric Scholarship 2020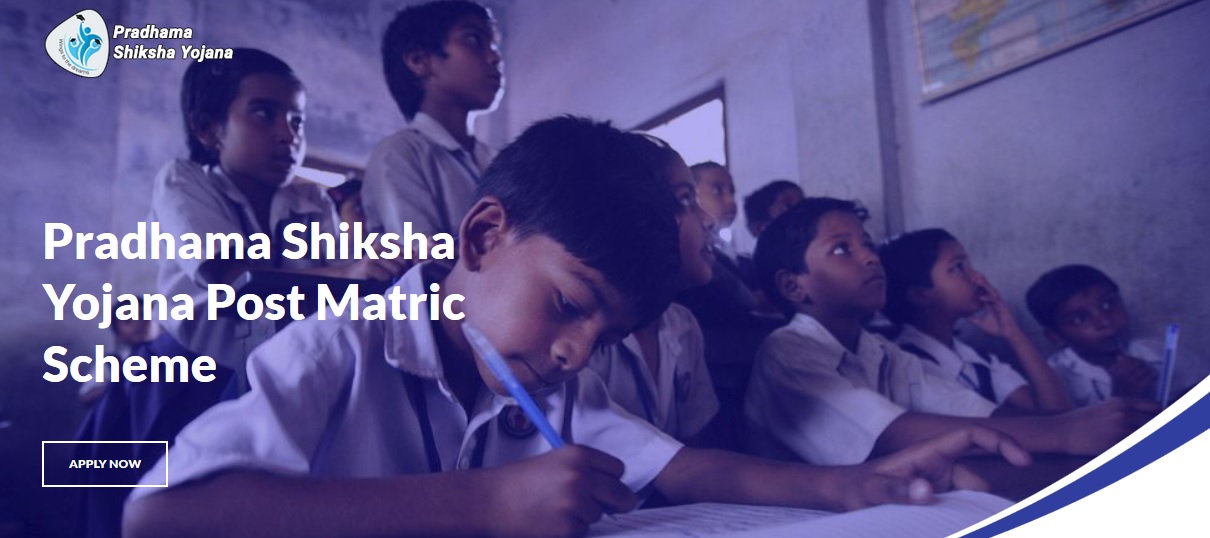 Eligibility
Eligibility for Pradhama Shiksha Yojana Post Matric Scholarships in India. 2020
** The scholarship is open to Indian nationals.
** The scholarship is now open for Kerala and Tamilnadu only
** Applicants pursuing their class Plus 1 and Plus 2 are eligible for PSY Post Matric scholarships.
** Candidates should have passed a qualifying exam in the current year
2019-20.
** Applicants who have passed earlier are not eligible.
** Students receiving a scholarship from any other sources are not eligible for the Scholarship.
** 30% of Scholarship is reserved for girl students.
** 20% of Scholarship is reserved for disabled students.
Rate of Scholarship
Admission + Tuition Fee :
** Admission Fee for Class XI to XII – Rs. 20000/- per annum subject to actuals (both Hosteller & Day Scholar)
** Tuition Fee for Class VI to X – Rs. 1200/- per month subject to actuals (both Hosteller & Day Scholar)
Maintenance Allowance :
For Class XI to XII:
** Rs. 3000/- per month for Hosteller
** Rs. 2000/-per month for Day Scholar
* For 10 months in an academic year.
How to Apply?
Just follow the below steps to apply for the Pradhama Shiksha Yojana Post-Matric Scholarship 2020.
Steps :
Step 1 : Visit the official website through provided above.
Step 2 : Read the instructions carefully before you are applying.
Step 3 : Fill the application form with the your Basic Information & Academic Details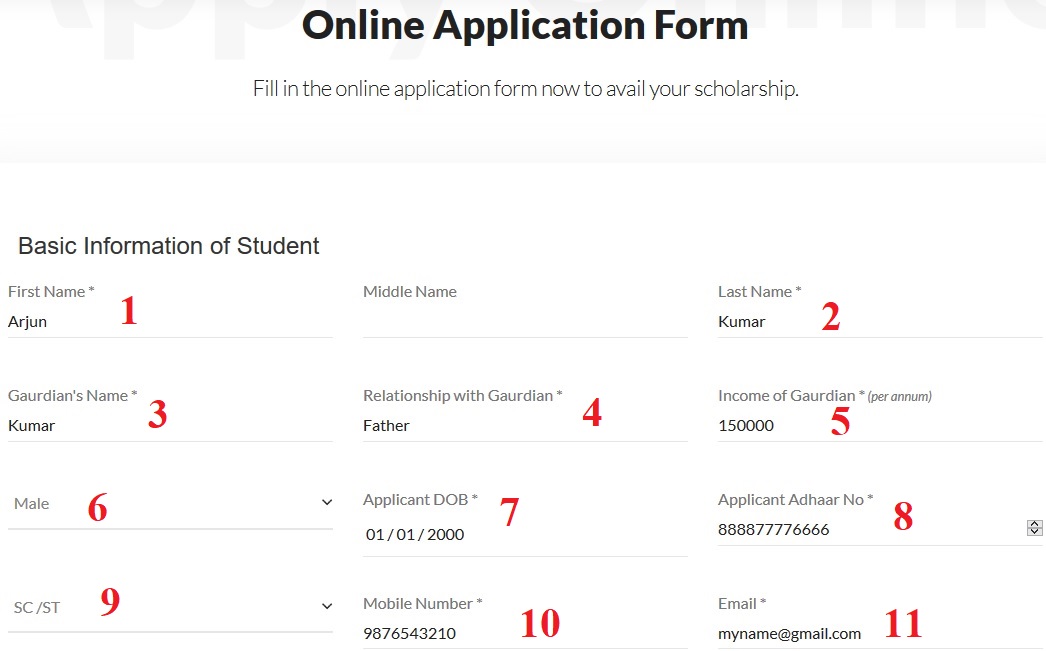 Step 4 : Attach the following documents
** Candidate Id Proof ( Adhaar Card / School ID)*
** Gaurdian's Id Proof *( Any Valid Proof Except Pancard)
** Income Proof * ( Income Certificate / Ration Card )
** Disability Certificate (If available)
** Mark list (If available)
** Recommendation Letter (If available)
Step 5 : Accept the terms and conditions & finally click on "Send" button.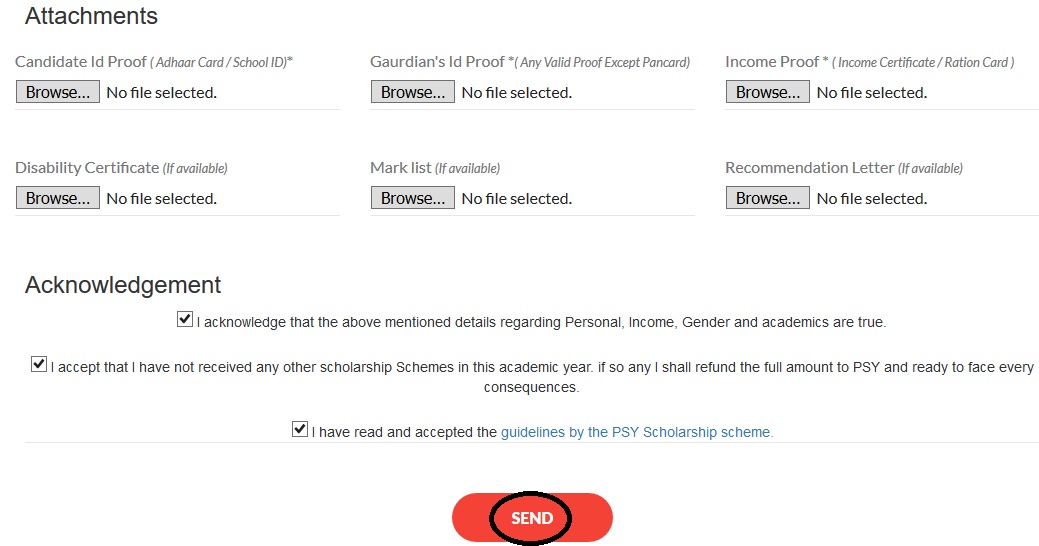 Selection Criteria
1. Applicants enrolled in a full-time study program will be considered.
2. The scholarship is open in 3 categories, and the qualifying academic qualification is as follows
** Category A – 50% aggregate in class XI
** Category B – 60% aggregate in class XII
** Category C – 50% aggregate for Children with disabilities
3. Applications are verified Online
Conditions For Scholarship
** An Income Certificate, issued from a Competent Authority in the State/UT Government is required in respect of parent/guardian of the student.
** The continuance of award (for Renewal applicants) will be subject to securing 50% marks in the Postvious years examination.
** Maintenance allowance will be provided to hostellers and day scholars.
** Scholarship will not be given to more than two students from a family
** The school/institute will certify the claim of student of being an outstation student not residing in hostel of the school/institute concerned on the basis of permanent address and parents' address.
** The student obtaining benefits under this scheme shall not be allowed to avail of benefits under any other scheme for this purpose.
** A student shall be eligible for only one scholarship out of all the available Scholarships PSY meant for SC/ST/OBC/minority.
Guidelines :
https://www.scholarships.net.in/uploads/pdf2020/43547-PSY.pdf
Instructions Related To Bank Account Details
(i) Students must select their bank/branch name carefully from the drop down list.
(ii) Thereafter the complete account no. must be entered correctly. Students are suggested to get their account number verified by their concerned Bank Branch including Bank account number and IFS Code.
(iii) Disclaimer (*If bank details entered by students are found incorrect or not validated by the student's bank, the scholarship will be cancelled/amount will not be transferred even though the application is approved for scholarship).
(iv) Bank Account holders must check their 'Know your Customer' (KYC) status from bank and if required the KYC must be done for successful transaction of scholarship amount.
(v) Bank Account must be operational/active till the scholarship is disbursed.
(vi) Bank Account must be Postferably in any scheduled Bank with core banking facility and proper IFS Code.
(vii) Bank Account must be in the name of either the student or a joint account of student with either mother or father or a legal guardian only.
Deadline
The last date to apply for Pradhama Shiksha Yojana Scholarship is 1st July 2020.