Rai Publication Scholarship Examination 2021 : raipublication.com
You can ask questions or answer questions about this scholarship.
Please go to the bottom of this page.
Organisation : Rai Publication
Scholarship Name : Rai Publication Scholarship Examination 2021
Applicable For : Students of Class 10th and 12th
Applicable State : Rajasthan
Exam Date : May 2021
Website : https://www.raipublication.com/
Rai Publication Scholarship Exam
Rai Scholarship exam will be conducted in 2021 as the examination was scheduled for this summer vacation session but due to the pendamic of COVID 19 Lockdown is going on and it's unpredictable till when the situation will be under control.
So we made decision to conduct the Rai Scholarship in summer of upcoming year which is 2021. Rai Publications has published desk work by taking its new initiative in the field of school education from November 2018.
In the first time, we have received a good response, and with the thought of furthering this and bringing the talented children forward with Boot, the publication announced a scholarship .In this Examination CBSE and RBSE Students can take part .
Eligibility
Students of class 5th, 8th, 10th and 12th are eligible to apply for Rai Publication Scholarship Examination 2021.
How to Apply?
Candidates have to perform 4 major steps- Filling Online Application Form, Uploading Images, Fee Payment and Downloading Confirmation Page. Just follow the below steps to apply for the Rai Publication Scholarship Examination 2021.
Steps :
Step 1 : Go to the official website of Rai Publication through the URL provided above.
Step 2 : Read the instructions carefully and click on the "Register Now" button.

Step 3 : Fill the registration form with the following details
** Student Information
** School Information
** Acadmics Qualification – Fill Passed Examination Only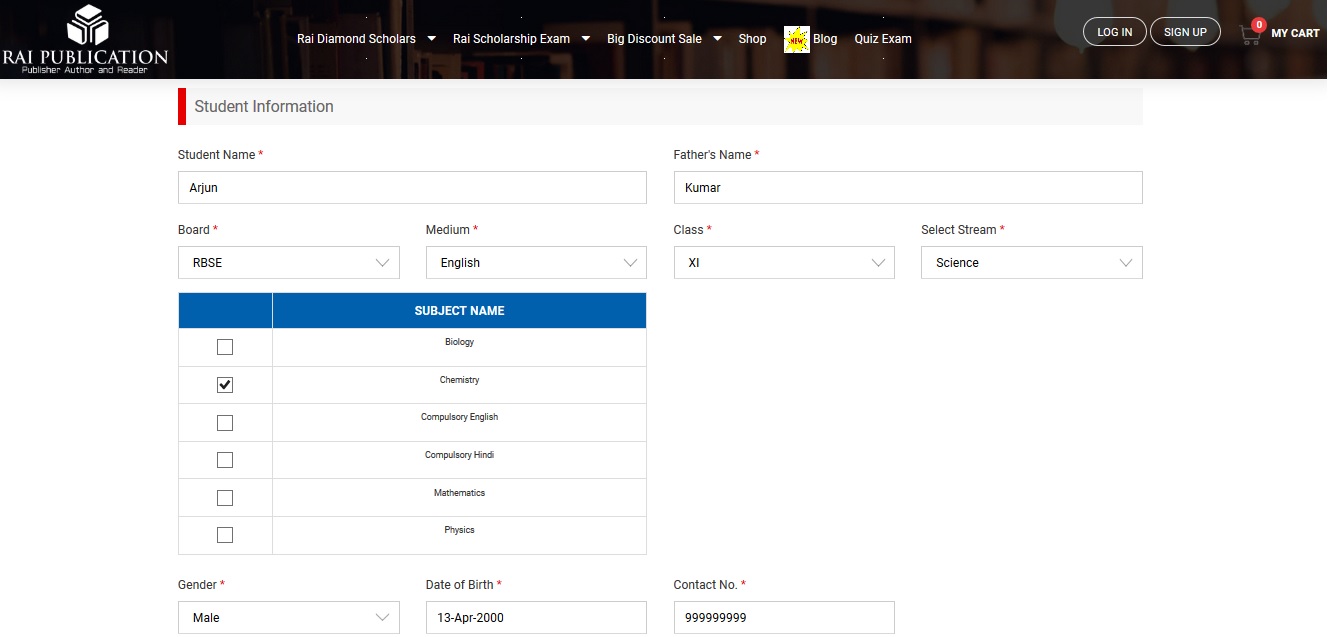 Step 4 : Upload your Proof of ID, Photo & Candidate Signature
Step 5 : Finally click on "Submit" button to complete your application.
Note :
Rai Publication has opened last few day Scholarship application online link window for candidates to fill the application form to make any changes in the form students may contact on 7230030378 .
Instructions
** Candidates must check eligibility before filling the application form.
** Payment of INR 200 will have to be made .
** Fees can be paid by debit/credit card or through paytm .
** Offline form correction will not be entertained by the authority.
** For candidate who have been mentioned as physically challenged they must upload their certificate .
** Soon details will be updated on website regarding admit cards and examination centers.
Exam Pattern
There will be 100 Multiple Choice Questions (MCQ) Type in the paper. Same procedure will be followed in the class 5th, 10th & 12th. The questions paper of these classes will also be prepared on the same method.
Why Choose Us?
Rai Publication is the Leading Book Publication of Rajasthan. In Reet, 1st grade , 2nd grade and 3rd grade books published by us have always been the first choice of aspirants. Since, on average, 80% of the questions in these have come from our books.
We are pleased to be the only publication house in our segment whose books are sold at a premium and command high recall value and word of mouth publicity among aspirants of various competition exams as well as the retailers.
Contact Us :
Rai Publication
Shop No-24 & 25, Bhagwan DAS Market,
Chaura Rasta Jaipur,
Rajasthan 302003