FAEA Scholarship 2020-21 Foundation for Academic Excellence & Access : faeaindia.org
Rate this post:
[ Votes=

0

, Average =

0

]
Organisation : Foundation for Academic Excellence and Access (FAEA)
Scholarship Name : FAEA Scholarship 2020-21
Applicable For : Class XII Passed & 1st Year UG Students
Last Date : 25.07.2020 (Date is Extended)
Website : http://www.faeaindia.org/StudentZone.asp
FAEA Scholarship
FAEA invites applications for scholarships sponsored by TATA's and other donors for the year 2020-2021 to pursue undergraduate studies in Arts/Commerce/Science/Engineering and other technical and professional disciplines at any university/institution/college in India.
Scope of Scholarship
FAEA, on selection of student for the FAEA scholarship, provides financial aid for completion of undergraduate courses which includes tuition fee, maintenance allowance or hostel/mess charges and other allowances to cover travel, clothing and book purchase as per our norms.
The continuance of scholarship and amount of scholarship is, however, subject to good academic performance and availability of funds.
Eligibility
(i) Students who have passed Class XII from a recognized Board of Secondary Education in India or 1st year under-graduate students on roll
(ii) Students belonging to socially and economically disadvantaged sections (SC/ST/BPL Category).
(iii) Further we have some special scholarships for Girls Students belonging to socially and economically disadvantaged section in the BPL category from Karnataka, Kerala, Maharashtra, Tamil Nadu
(iv) In addition we have some need cum merit based financial grants for General Category students especially for those students who have obtained above 90% marks in their Higher Secondary Exam and/or have been able to get admission in the first rate Institutions of Excellence in the country.
How To Apply ?
Just follow the simple steps mentioned below to apply for FAEA 2020 scholarships.
Apply Online :
http://www.faeaindia.org/Registration2020/default.aspx
Steps:
Step-1 : Go to the official website of FAEA via URL http://www.faeaindia.org/index.asp.
Step-2 : Then go to the 'Student Zone' link in the 'Home Page'.


Step-3 : Click on the 'Apply Online For FAEA 2020-21 Scholarships' link under 'New Scholar'.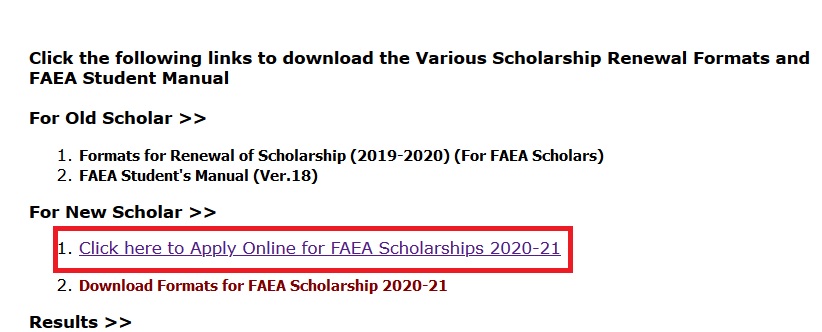 Step-4 : The following page will appear. Click on the 'Fresh Candidate' link to register.


Step-5 : Fill all the fields in the online registration form and Click on the 'Submit' button.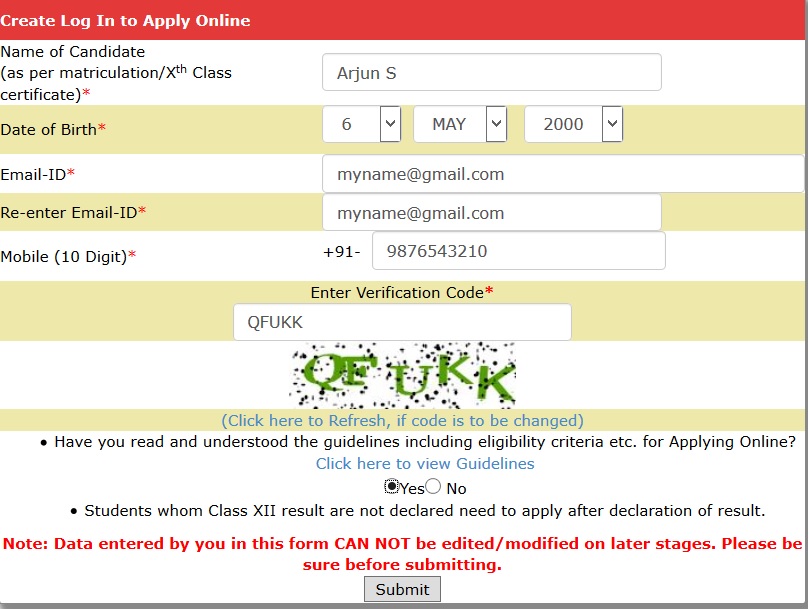 Step-6 : After successful registration, go to the 'Registered Candidate' link.
Step-7: Login page will appear. Enter your Email ID, Date of Birth and enter the Verification Code displayed on the screen in the space given and press the 'Submit' button.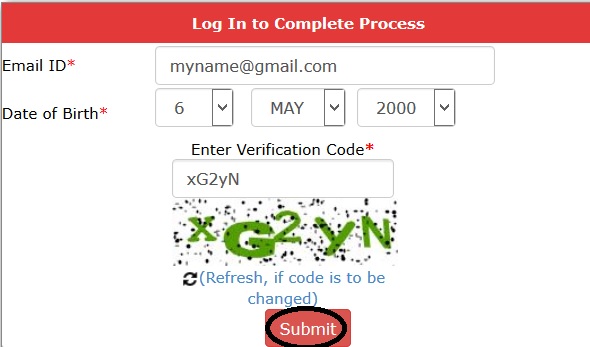 Step-8 : After Login to your account, fill the form and proceed further to complete the process.
Important Instruction
** After filling the application form online successfully, you will be allotted 9 digit auto generated "Confirmation Code" which should be kept note of for future correspondence with FAEA.
** Please do NOT send any document/certificate at this stage of applying. If you are shortlisted in the preliminary round of selection you will be advised to appear for an interview and bring along with the original documents. Failure to attend the interview and to present the original documents will result in disqualification for award of scholarship.
** Incomplete application form shall not be considered.
** In case you require any clarification regarding the online application, please send e-mail at inquiry [AT] faeaindia.org. Please note that no other form of communication will be entertained including telephone call, conventional mail, fax etc.
References
Candidates should choose at least one person out of the 2 given options who is known to them extremely well and has been in a position to observe and evaluate their work skills and academic ability.
At least one of the referees must be from a formal academic institution. FAEA shall write to the referees directly if you are short listed to appear for the interview.
Selection Process
Shortlisted candidates will be invited for interviews across India in the metropolitan city. Thereafter, a national panel will make the final selection and results will be declared. The support granted shall be subject to the candidate being accepted by the host university/institution/college.
Application Deadline
Last date for submission of application online is 25th July 2020.