Career Launcher Admission & Scholarship Test 2020 : careerlauncher.com
Want to comment on this post?

Go to bottom of this page.
Organisation : Career Launcher
Scholarship Name : 8th Admission & Scholarship Test 2020
Applicable For : Law, IIM-IPM, and BBA Aspirants of Classes X to XII
Exam Date : May 27, 2020
Website : https://www.careerlauncher.com/ug/scholarship/
Career Launcher Admission Scholarship Test
Career Launcher invites applications for 8th Admission & Scholarship Test for Law, IIM-IPM, and BBA Aspirants of Classes X to XII.
Related / Similar Scholarship : Career Launcher's CAT 2021 Scholarship Test 

8th Admission & Scholarship Test is the perfect platform for you to evaluate where you stand vis-a-vis your peers, who share your dream. What's more, you also stand a chance of winning up to 100% scholarship on a Career Launcher program (online & offline) of your choice!
Exam Details
Exam Date : May 27, 2020 (Wed.)
Mode : Online
Time : 15:00 Hrs
Registration Fee : Rs. 49 only!
Eligibility : Open to students of Classes X, XI, and XII
How to Apply?
Just follow the below steps to apply for the 8th Admission & Scholarship Test 2020.
Steps :
Step 1 : Visit the official website of Career Launcher through provided above.
Step 2 : Next, fill the registration form with the required details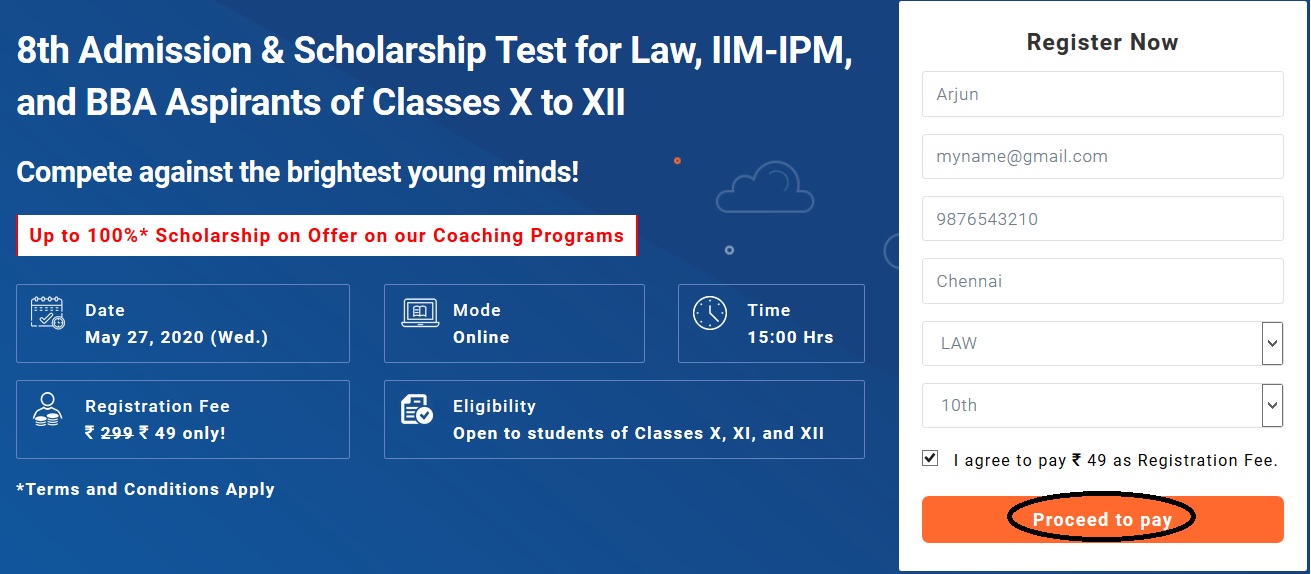 Step 3 : Tick the check box "Agree to pay Rs. 49 as Registration Fee" and click on the "Proceed to Pay" button.
Step 4 : Pay your registration fee and finally click on "Submit" button to complete your registration.
Benefits
1. Evaluate your competitive-test-taking skills :
The Test, based on syllabus you have already studied, intends to evaluate your ability to adapt to a competitive exam environment offered by the likes of CLAT, IPMAT, etc.
2. Benchmark your performance against 100,000 aspirants :
Get a clear idea about where you stand in terms of your preparations and test-taking strategy vis-a-vis that of 100,000 aspirants across the country. Identify your strengths & weakness; and develop your exam strategy accordingly.
3. Develop an understanding of the changes introduced in entrance exams :
The Admission & Scholarship Test has been carefully crafted keeping in mind the changes in paper patterns and the type of questions asked. This is a golden opportunity for you to understand and get familiar with those changes.
4. Get detailed performance analysis :
Get topic-wise, question-wise drilled-down analysis of your paper attempt. Our in-house analytical tools will derive invaluable insights about your performance; and help you improve your score.
FAQs
1. Why should I appear for the Scholarship Test?
You get to benchmark your performance vis-a-vis 100,000 of aspirants across the nation. Thus, it is the perfect rehearsal for the actual exam.
2. What will be my test venue?
It is an online mock test conducted on our aspiration.ai portal. Do note, the date of the Test is May 27, 2020 (Wednesday)
3. What all will the result comprise?
The result will comprise a detailed scorecard, percentile, and in-depth & detailed analysis of the paper by our experts.
4. When will the results be declared?
The results will be declared within 5 days of the Test.
5. How can I avail of 100% scholarship?
The terms and conditions are :
** Offer applicable only when you finish the test on the designated date and time.
** Scholarship is based on your performance in the test.
** The scholarship is applicable on MRP
** The scholarship entitles you for a fee waiver on our classroom & live online coaching programs for law, IPM, or BBA/HM/ Mass Comm. The fee waiver cannot be redeemed for cash.
** All decisions regarding the admission and scholarship test results, scholarships awarded, and fee waiver rest with Career Launcher.
In the event of any dispute or differences arising out of any of these at any point of time, the same shall be referred to the arbitration of the High Court in New Delhi only, whose decision shall be considered final and binding.
** Scholarship won't be applicable on already purchased products