ICSSR Post Doctoral Fellowships 2020-21 : Indian Council of Social Science Research
You can ask questions or answer questions about this scholarship.
Please go to the bottom of this page.
Organization : Indian Council of Social Science Research ICSSR
Fellowship Name : Post Doctoral Fellowships 2020-21
Applicable For : Scholars Below 50 Years
Applicable States : All India
Last Date : 26.06.2020 (Date is Extended)
Website : https://icssr.org/fellowship-2020-srf-pdf
ICSSR PDF
ICSSR invites online applications for Post-Doctoral Fellowships (PDF) for 2020-21 from Indian scholars.
Related / Similar Fellowship : ICSSR Senior Fellowship 2020-21
Objective
The main objective of ICSSR Post-Doctoral Fellowship is to encourage and retain young Indian social science scholars who have completed their Ph.D. degree and wish to pursue a career in teaching and research.
The broad disciplines of study within the domain of social sciences are,
Economics, Management, Commerce, Sociology, Social Work, Social Anthropology, Cultural Studies, Socio-Sanskrit Studies, Socio-Philosophical Studies, Social Linguistics, Gender Studies, Health Studies, Political Science, International Studies, Public Administration, Diaspora Studies, National Security and Strategic Studies, Education, Social Psychology, Legal Studies, Social Geography, Environmental Studies, Modern Social History, Media Studies, Library Science
Eligibility
** The scholar should not be more than 45 years of age on the last date of application.
** The scholar must possess a Ph.D. degree in any of the social science disciplines at the time of application.
** A fellow is required to affiliate himself/herself to an ICSSR Research Institute/ institutes of national importance as approved by MHRD/ government research institutes/public funded Indian university including deemed university/college having approved Ph.D. programme and requisite research infrastructure of his/her choice. Funds are disbursed through the affiliating/administering institution.
** Faculties with regular service of minimum two years in public funded universities/colleges and research institutes getting UGC pay-scales may be considered for pay protection in exceptionally meritorious cases to be decided by the expert Committee(s) of the ICSSR. The Expert Committee of the ICSSR also reserves the right to convert a fellowship proposal into a Project Proposal.
How to Apply?
Applicants can visit ICSSR's website and apply online while uploading the required supporting documents.
Hard copy of the application form with requisite documents and forwarding letter(s) of the affiliating Institute/ University/ College and/or supervisor etc. will be required at a later stage after short-listing of the proposals. ICSSR will send communication about the submission of hard copies of the documents at required stage.
Just follow the below steps to apply for the Post Doctoral Fellowships 2020-21.
Steps :
Step 1 : It is required to login to apply for any fellowship/scheme.
Step 2 : To login, use "Login for Applicant" link given on the top.

Step 3 : New applicant need to register.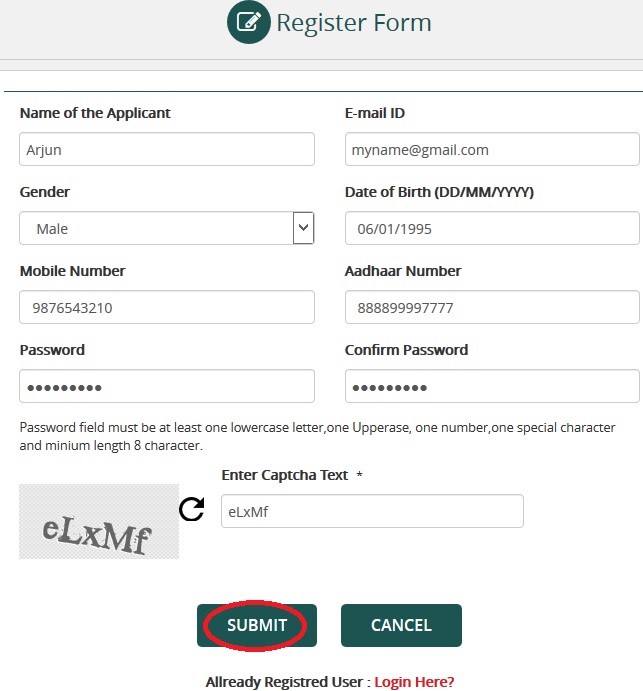 Step 4 : After successful registration you can login to your account and apply.
Step 5 : Enter your email ID as username in the login form.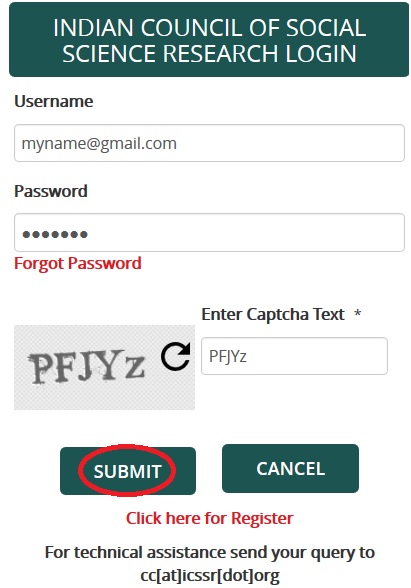 Step 6 : Links to various applications are given on the left side.

Step 7 : Fill all the fields given in the online form and upload required document in PDF format before submission of application.
Step 8 : It is recommended to save the application (Save as Draft) before uploading the documents.

Step 9 : Do not use special characters in files you upload with the application.
Step 10 : You can view your application through Dashboard, which will be accessible after login.
Step 11 : It is recommended to take print out of your application for future reference.
Step 12 : Whenever you are asked to submit hard copy of documents, please mention on the cover of envelop superscript the fellowship/scheme type you have applied and Send it by post, to the our office address – Indian Council of Social Science Research (ICSSR), JNU Institutional Area, Aruna Asaf Ali Marg, New Delhi – 110067.
Procedure for the Awards
1. Applications are scrutinized and an initial screening is done for eligibility and other conditions of the fellowship. Subject Group(s)/Expert Committee(s) short-list the eligible proposals for the next stage of interaction/presentation.
2. The short-listed applicants are then invited for an interaction/presentation (in person or through technology) before an Expert Committee.
3. After interaction, the Expert Committee/s makes recommendation for the award by the ICSSR.
Duration & Value
1. Post-Doctoral Fellowship is a full time research work.
2. The duration of the fellowship is strictly for two years.
3. The value of the fellowship is Rs.31,000 p.m. and contingency grant is Rs.25,000/-p.a.
4. Under Salary protection, a fellow is entitled to salary and allowances admissible as per rules and contingency grant of Rs.25,000/-p.a. However, special allowances like children education allowance, medical reimbursement, LTC, etc. are not admissible from ICSSR. The parent institution may, however, pay/reimburse the same as per its rule.
5. The ICSSR shall also pay the leave salary and pension contribution or contribution towards CPF and gratuity for the period for which he/she holds the ICSSR's fellowship as per rules of the parent institution.
Last Date
The last date for online submission of applications is extended till 26th June 2020.