Chandigarh University COVID-19 Warriors Scholarship Scheme 2020 : cuchd.in
You can now ask your doubts / questions.
Please go to the the bottom of this page for comments section.
Organisation : Chandigarh University, Punjab
Scholarship Name : COVID-19 Warriors Scholarship Scheme 2020
Applicable For : COVID-19 Warriors
Website : https://www.cuchd.in/scholarship/
CU COVID-19 Warriors Scholarship
Chandigarh University invites applications for COVID-19 Warriors Scholarship Scheme.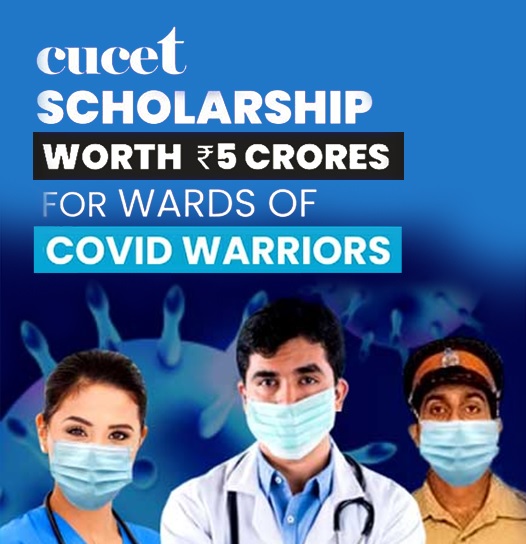 The entire world is fighting a war against corona virus pandemic but the frontline workers such as Doctors, Nurses, Para-Medical Staff, Sanitation Workers, Media Personals and Police Personals are the real time warriors who are stepping out of their homes & working tirelessly amid this pandemic crisis risking their lives to ensure that each and every one of us remains safe.
Objective
As COVID-19 warriors are everyday super-heroes who are performing Nation Duty and therefore it becomes our duty to look-after the future of their children which will be a true mark of gratitude towards their services rendered.
Chandigarh University salutes these heroes by announcing 10% reservation of seats in all the UG & PG programs offered at its campus for the wards of COVID-19 Warriors for Academic Session 2020-21.
Who Can Avail the Benefit?
Wards of following Categories of Workers (COVID-19 Warriors) can avail the benefit of the Scheme-
** Wards of Doctors working in Government/ Private Hospitals
** Wards of Nurses/ Para-Medical Staff working in Government/ Private Hospitals
** Wards of Police Personals of any State/ UT
** Wards of Paramilitary Personals
** Wards of Media Persons (Print & Electronic)
** Wards of Sanitation Workers of Municipal Committee or Corporation / Housekeeping Staff of Hospital
How to Apply?
The benefits of the COVID-19 Warriors Scholarship Scheme are available on First-Come-First-Serve Basis.
To avail the benefit of the scholarship scheme, the applicant has to fill an online special application form available with all the University Admission Counsellors along with a copy of their ID Cards or Employer Certificate from their respective organization.
Apply Online : http://cucet.cuchd.in/index.aspx?type=cuchd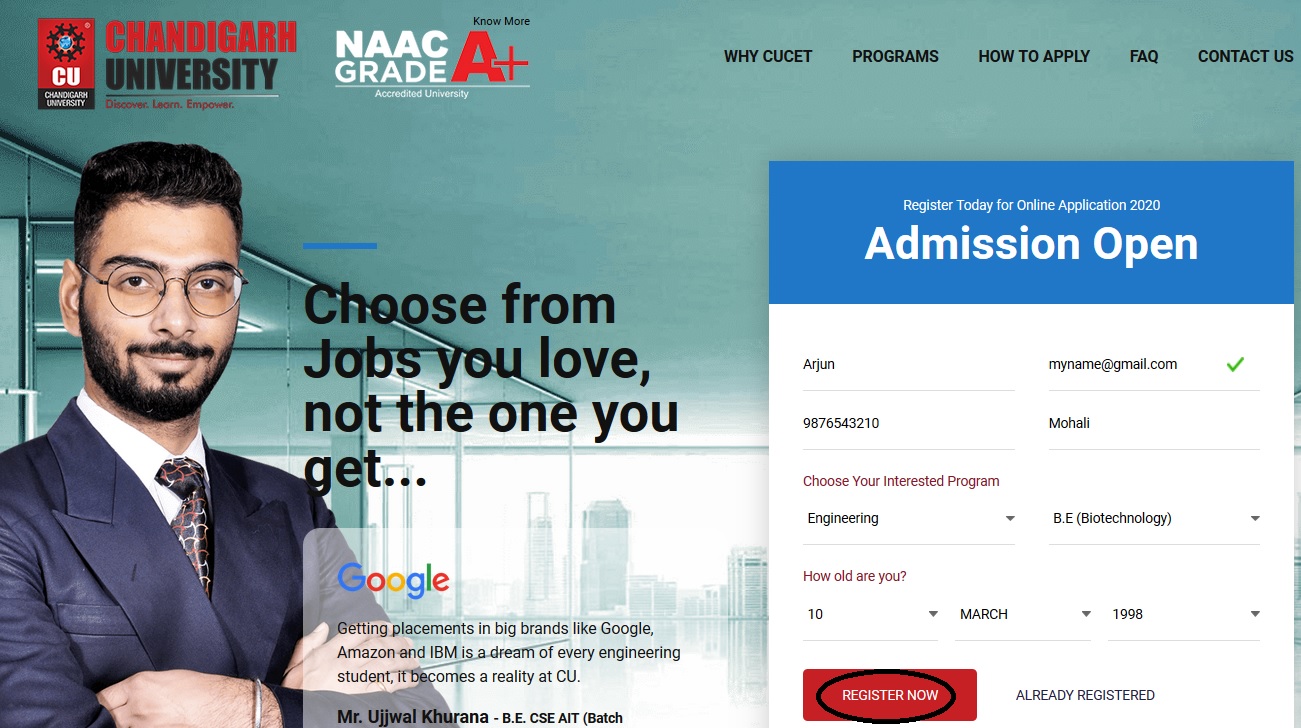 Financial Assistance
Scholarship worth Rs. 5 Crores would be disbursed under the COVID-19 Warriors Scholarship Scheme to the wards of such national heroes who would be seeking admission to any programs offered by Chandigarh University. 10% fees rebate for the entire course duration would be offered to the students admitted under this scheme.
CU Scholarships
Chandigarh University is fully committed to its Institutional Social Responsibility.
The University, besides being pioneers of quality education is proactive in uplifting the education standard and qualification of students of the nation in general and North region in particular, is ever enthusiastic to encourage and motivate bright students by providing additional benefits and facilities to shining stars and super achievers.
As a sequel to this, it is proposed to introduce a more attractive Scholarship scheme for those seeking fresh admission from Academic session 2020. To encourage good and brilliant students to acquire higher education, Chandigarh University is providing a SCHOLARSHIP to outstanding pool of students.
Contact Us :
Chandigarh University
NH-95 Chandigarh-Ludhiana Highway,
Mohali, Punjab (INDIA)