Swami Dayanand Merit-Cum-Means Scholarship 2020-21 : swamidayanand.org
Organisation : Swami Dayanand Education Foundation SDEF
Scholarship Name : MCM Merit-Cum-Means Scholarship 2020-21
Applicable For : Students of Engineering/Medical/IT/Pharmacy /Architecture
Website : https://www.swamidayanand.org/apply-scholarship
SDEF MCM Scholarship
The Foundation (SDEF) provides Merit-cum-Means Scholarships to exceptionally talented but poor students in India pursuing professional courses.
Related / Similar Scholarship : Swami Dayanand School Scholarship 2020
We fund the most talented students and help them pursue the best education in India.
Eligibility
1. The Scholarship is offered to students pursuing Engineering, MBBS, Pharmacy, IT, Architecture courses in Government or private Institutes in India.
2. Candidate must have secured 85% marks in 12th class OR has obtained Min. 25,000 Rank in JEE (Main) OR Min. 10,000 Rank in JEE (Adv)
3. Grade Point Average should be at least 7.5 in 10 points scale system.
4. The scholarship is opened to all years of UG courses.
5. Gross annual income of family of the candidate from all sources should not be more than Rs. 6.00 lacs per annum. Students having lowest family income shall be given preference in the ascending order.
6. The age limit of the applicant is maximum 25 years.
7. The candidates should not be availing or intend to avail any other financial assistance/scholarship from any other source.
How to Apply?
Just follow the below mentioned steps to apply for the scholarship online.
Online Application
Step 1 : Go to the official website of Swami Dayanand Education Foundation through the URL http://www.swamidayanand.org/

Step 2 : Then, Click on the 'Apply for Scholarship' link in the top of the home page.
Step 3 : Please read the instructions carefully before applying for Scholarship.

Step 4 : After that, Fill the application form with the required details.
Step 5 : After successful registration, the candidate will receive confirmation email along with a copy of application form.

Offline Application
If you are not able to apply online application, please download the application form from the below mentioned link and send the your duly filled application to the following address,
Download Application Form :
https://www.scholarships.net.in/uploads/pdf2020/43240-Form.pdf
Swami Dayanand Education Foundation,
C/O AG Furnace Improvements,
A-74, GF, Sector-2,
Noida-201301 (UP).
Instruction for Filling up Form
1. Scholarship applied for – Choose the name of the Scholarship you wish to apply for.
2. Name & Date of Birth – Fill your name & date of birth as printed on your Class X certificate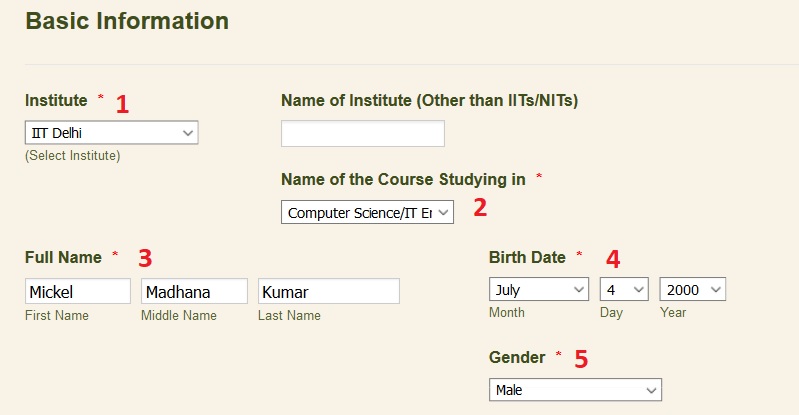 3. Email ID :
The applicant has to enter his/her own valid & functional email address which will be used for the application process and subsequent communications upon registration.
4. Educational Record :
Please fill the education details in ascending order under Education. Also mention semester wise scores of the current course i.e. B.Tech./MBBS/B.E./B.Pharm/Others under Education details. Click on add button to add more rows.
5. Rank in All India Entrance Examination – Write name of entrance examination followed by Rank attained in the examination. (For e.g. you may write JEEMain-"1234" & JEEADV-1234, NEET-12345 etc.)
6. Parent's Occupation – All the candidates are advised to give full details of parent's occupation. Incomplete details about occupation will not be preferred for Scholarship.
7. Declaration and Undertakings :
After filling the above details, your online form filling is complete. After submitting the online form, take the printout of the application and get it verified from the Dean/Principal/Head of the Institute.
Note :
** DO NOT REGISTER MORE THAN ONE APPLICATION. Duplicate applications will not be considered. For any corrections, please contact the foundation.
** Write "NA" if any details are not applicable for you.
Scholarships Offered
There are 200* scholarships offered in the following categories
** Smt. Shyam Lata Garg Scholarships – Rs. 50,000 per annum (10 Nos.)
** Sh. Anand Swarup Garg Scholarships – Rs.25,000 per annum (25 Nos.)
** Sh. Ram Lal Gupta Scholarships – Rs.20,000 per annum (40 Nos.)
** Smt. Sheela Gupta Scholarships – Rs.20,000 per annum (40 Nos.)
** Smt. Lilawanti Himatlal Desai Scholarships – Rs. 20,000 (1 No.)
** Smt. Indira Jayendrakumar Shah – Rs. 20,000 (1 No.)
** Smt. Shanti Devi Scholarships – Rs.17,500 per annum (35 Nos.)
** Sh. Ram Ji Lal Scholarships – Rs.15,000 per annum (40 Nos.)
*30% Of the total scholarships are reserved for women applicants.
Supporting Documents
1) Income certificate.
2) Copy of 10th, 12th Marksheets.
3) Copy of Rank card of entrance examination
4) Copy of Fee Receipt submitted by the student or Admission letter, in case of student who have taken admission this year.
5) Two recent passport size photograph taken in last six months.
6) Certificate of family income / BPL certificate / Certificate from local panchayat office for proof of annual family income / ITR
7) Copy of ration card or ID proofs of parents
8) Address proof/AADHAR ID
Student Helpdesk
For any queries/clarifications, you may write to scholarships [AT] swamidayanand.org or text to whatsapp no. 8448770654.