dstharyana.gov.in HSCST Fellowship Programme 2020 : Haryana State Council For Science & Technology
You can now ask your doubts / questions.
Please go to the the bottom of this page for comments section.
Organisation : Haryana Department of Science & Technology
Fellowship Name : HSCSIT Fellowship Programme 2020
Applicable For : M.Sc. or equivalent degree
Applicable State/UTs : Haryana
Application Last Date : 30.06.2020
Website : http://dstharyana.gov.in/html/whatsnew.htm
DST Haryana HSCSIT Fellowship
Online applications are invited for HSCST Fellowship Programme 2020.

Eligibility
** M.Sc. or equivalent degree in any of the subjects in above broad subject areas with minimum 55% marks; and should have qualified JRF-NET (CSIR/UGC) & LS-NET in joint CSIR-UGC Test for Junior Research Fellowship (JRF) and eligibility for lectureship (NET) held on 16.06.2019.
** Candidates availing fellowship/ financial assistance from any other source will not be eligible.
** The upper age limit for JRF shall be 28 years as on 1.1.2019 which is relaxed up to 5 years in the case of candidates belonging to Schedule Castes/Schedule Tribes, Women, Physically Handicapped and OBC applicants.
How to Apply?
Procedure for applying online application for HSCSIT Fellowship Programme
Steps :
Step 1 : Go to the following link www.saralharyana.gov.in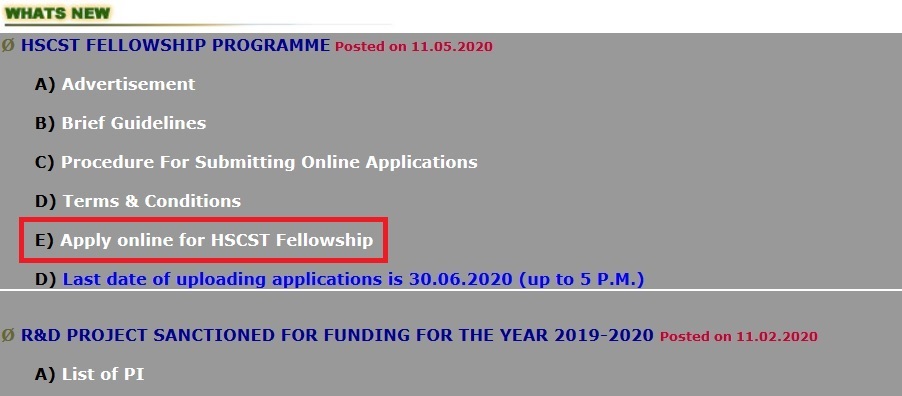 Step 2 : Click on New User/Register Here
Step 3 : Register yourself by filling all the details given there for creating Login id and Password.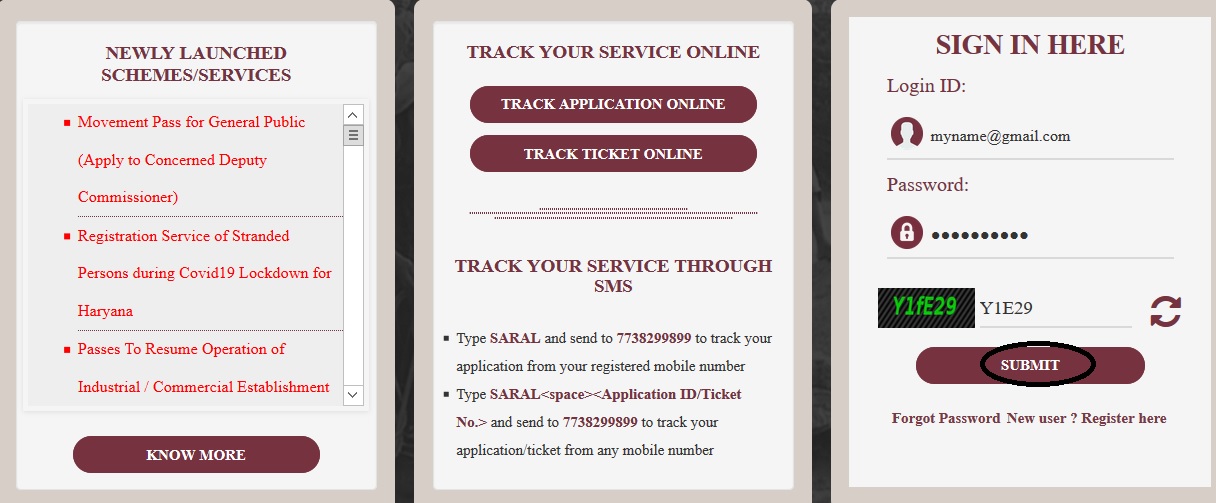 Step 4 : Verify your account by submitting verification code which is sent on your email id/registered mobile number by saral haryana through email/message.
Step 5 : Press log in. Fill user Id & password and then fill application form.
Step 6 : Press apply for services & select application form for HSCSIT Fellowship.
Step 7 : Fill all the given columns and upload all required documents by clicking (Attach Annexure) in the form.
Step 8 : Submit the e-form and you will get SARAL ID number for further communication.
After online submission of application, the applicant must obtain a print out of the submitted application for his/her record. Please don't send the application by post.
Step 9 : The last date for submitting the online application is 30.06.2020 up to 05.00 P.M.
Step 10 : The applicant own valid and functional email address & mobile number must be used for submission of the online application.
Step 11 : Please do not submit more than one application. Please ensure that all details of the application are correct before submitting. No claim shall be entertained in case of incomplete or non-submitted application.
Step 12 : Wrongly filled up application or application with lack of essential documents will summarily be rejected.
Supporting Documents
1) 10th standard certificate for age proof.
2) NET certificate
3) M.Sc. final year certificate
4) Caste certificate
5) Proof in case of physically handicapped.
6) Aadhar Card.
Notification :
https://www.scholarships.net.in/uploads/pdf2020/43225-Advt.pdf
Stipend & Tenure
** Candidates who have qualified JRF-NET (CSIR/UGC) will be given fellowship at par with CSIR/UGC in case they are not availing fellowship from CSIR/UGC for some valid reason i.e. Rs.31,000/- per month for Junior Research Fellow (JRF) and Rs.35,000/- for Senior Research Fellow (SRF).
** Candidates who have qualified LSNET, the fellowship will be given at existing rates for both CSIR/UGC with preference for CSIR i.e. Rs.18,000/- per month for Junior Research Fellow (JRF) and Rs.21,000/- per month for Senior Research Fellow (SRF).
** The fellowship will carry an annual contingency grant of Rs.20,000/- which will be provided to the University / Institution.
** Tenure of the fellowship will be 3 years extendable to 4th and 5th year as per terms & conditions of the programme. The total tenure as JRF plus SRF will not exceed five years.
Last Date
Last date of uploading applications is 30.06.2020 up to 05.00 P.M.