ICMR JRF 2020 Junior Research Fellowship : Indian Council of Medical Research
You can now ask your doubts / questions.
Please go to the the bottom of this page for comments section.
Organisation : Indian Council of Medical Research ICMR & Department of Health Research
Fellowship Name : ICMR JRF 2020 Junior Research Fellowship
Applicable State/UTs : All India
Application Last Date : 16.06.2020
Website : https://main.icmr.nic.in/what-s-new?page=1
ICMR-JRF
Online Test for ICMR Junior Research Fellowship 2020. Due to Covid-19 outbreak, the portal for filling of online application form for ICMR-JRF-2020 examination will be made live on 16.05.2020.

The Indian Council of Medical Research (ICMR), New Delhi in collaboration with Postgraduate Institute of Medical Education & Research (PGIMER), Chandigarh will hold a National level online examination for the award of Junior Research Fellowship (JRF), for Indian National candidates at Bengaluru, Bhopal, Bhubaneswar, Chandigarh, Chennai, Delhi (NCR), Guwahati, Hyderabad, Kolkata, Mumbai, Srinagar (J&K) and Varanasi on Sunday, July 12, 2020.
Eligibility
Educational Qualification :
MSc/MA or equivalent degree with minimum 55% marks for General/EWS/OBC candidates and 50% for the SC/ST and PwBD candidates in the subjects mentioned above. Candidates appearing in the final year examination in 2019-2020 session can also apply.
Age Limit :
The upper age limit for admission to the eligibility test is 28 years as on 30-09-2020 (relaxable upto five years in case of candidates belonging to SC/ST, PwBD and female candidates and three years in the case of OBC).
Number of Fellowship
A total of 150 Fellowships would be awarded. 120 fellowships in the field of Biomedical Sciences with emphasis on Life Sciences (like microbiology, physiology, molecular biology, genetics, human biology, biotechnology, biochemistry, bioinformatics, biophysics, immunology, pharmacology, nursing, zoology, botany, environmental sciences and veterinary Medicine (excluding Agriculture extension/ Soil Sciences, etc.) and thirty (30) fellowships for the work with emphasis on Social Sciences like psychology, sociology, home science, statistics anthropology, social work, public health/health economics (agriculture economics will not be considered).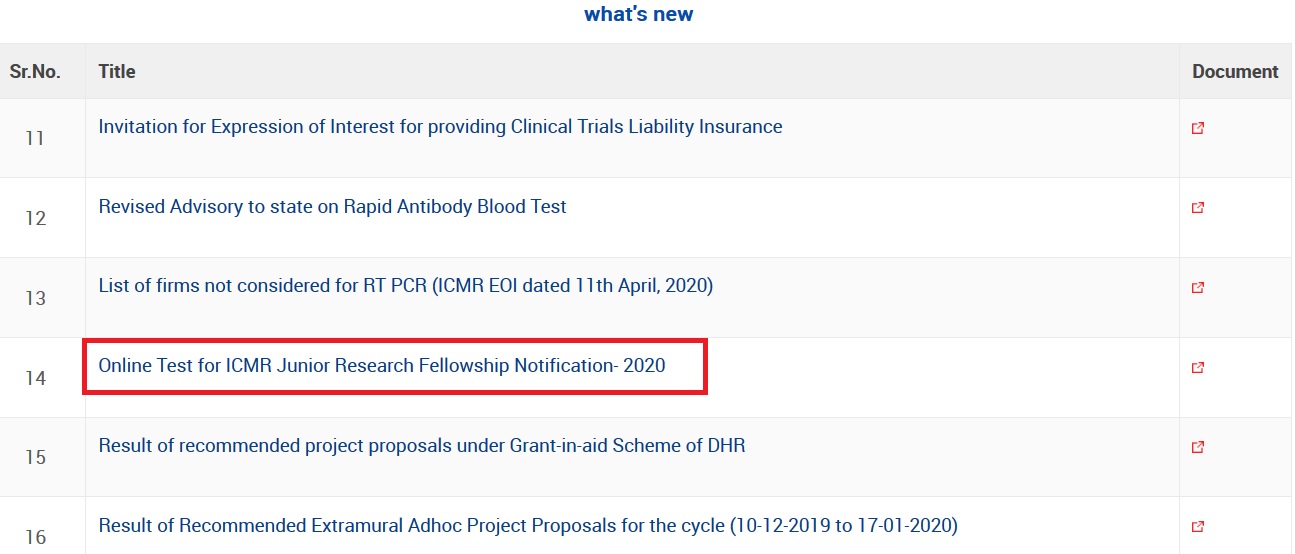 How to Apply?
** Online application form and other details will be available at both, PGIMER, Chandigarh website http://pgimer.edu.in and ICMR, New Delhi website: https://icmr.nic.in/.
** Candidates may visit the websites w.e.f. 16.05.2020. Only online application will be accepted, no other mode of submission of application will be accepted.
** Before applying, candidates are advised to go through the admission notice published in the advertisement in various Newspapers and the instructions given therein carefully.
** Fill in the application form according to the instructions given in this prospectus and the admission notice. Incomplete applications will not be considered and no correspondence will be entertained.
Registration Fee
** Rs.1500/- (General/EWS/OBC) + Transaction charges as applicable.
** Rs. 1200/- (SC/ST) + Transaction charges as applicable.
** PwBD exempted from payment of fee
Notification :
https://www.scholarships.net.in/uploads/pdf2020/43196-Advt.pdf
Method of Selection
The test will consist of one paper of 2 hours duration. The paper will consist of 2 Sections. The Aptitude Section (Section A) will have 50 questions on
(i) scientific phenomenon in everyday life;
(ii) general knowledge in sciences; and
(iii) common statistics. All these questions would be compulsory with each question carrying 1 mark.
The subject Specific Section (Section B & C) would pertain to (B) Life Sciences and (C) Social Science. The candidate may attempt questions in either of the two areas.
Each area of section B & C would have 100 questions and the candidate may attempt any 75 questions in the predesigned area of Section B or C. Candidates are required to indicate the option for Section B or C in the application form too.
Each question carries one mark. Negative marking @ 0.25 will be made for each of the wrong answer. The questions in both the sections would appear in English only.
Last Date
The last date for filling of online application form will be 16.06.2020.