IUSSTF COVID-19 Ignition Grants 2020 : Indo-US Science & Technology Forum
You can ask questions or answer questions about this scholarship.
Please go to the bottom of this page.
Organisation : Indo-US Science & Technology Forum
Scholarship Name : COVID-19 Ignition Grants 2020
Applicable State/UTs : All India
Application Last Date : May 15, 2020
Website : https://iusstf.org/
IUSSTF COVID-19 Ignition Grants
United States–India Science & Technology Endowment Fund announces a Call for Proposals under the category of Ignition Grants. USISTEF encourages out-of-the-box, innovative ideas from the community to address the COVID-19 challenge.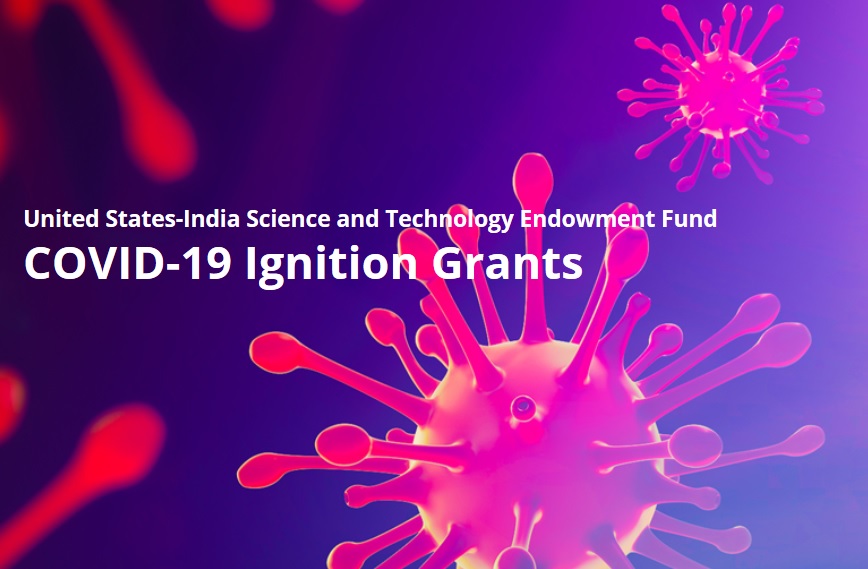 Objectives
USISTEF would select and support promising joint U.S.-India S&T based entrepreneurial initiatives that address the "development and implementation of new technologies, tools, and systems to address COVID-19 related challenges including monitoring, diagnosis, health and safety, public outreach, information and communication".
USISTEF would also consider proposals related to technologies/products that can be re-purposed to address COVID-19 in the current scenario. USISTEF encourages projects that demonstrate a high degree of innovation leveraging advances in science and technology.
Eligibility
1. Proposals must have at least one Indian and one U. S. partner for the complete duration of the proposed project.
2. The relationship between the U.S. and Indian partners must be clearly defined, including ownership of intellectual property rights for the technology proposed to be developed and commercialized.
3. At least one of the partners must be an entrepreneurial entity (preferably a small or medium- scale enterprise) and the team may include any combination of the following
** Incorporated companies including start-ups; or
** Non-incorporated entities; or
** Academic, governmental and non-governmental research institutions or their consortia
** Individuals
How to Register?
Just follow the below steps to register for COVID-19 Ignition Grants 2020.
Apply Online : https://covid19.usistef.online/login
Steps :
Step 1 : Visit the official website of IUSSTF through provided above.
Step 2 : Next click the link "USISTEF Special Call for COVID-19 Ignition Grants" under Announcements.

Step 3 : Then read the instructions carefully before you are applying.
Step 4 : After that, click on the "Registration" tab and fill the registration form with the required details.
Step 5 : Finally click on the "Register" button.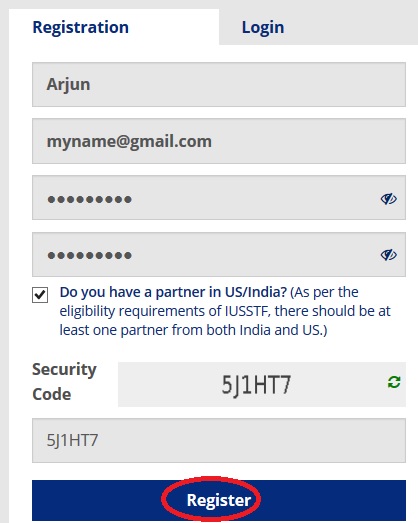 Program Structure
The Indo-U.S. Science and Technology Forum (IUSSTF) would solicit proposals under two categories
Ignition Stage I :
To help early-stage creative ideas develop a proof-of-concept and/or build a prototype [Grant support up to INR 50,00,000/- or approx.. USD 66,000/-]
Ignition Stage II :
To support a team with a workable, validated prototype and/or with the ability to repurpose existing innovative solutions to meet the COVID-19 challenge [Grant support up to INR 1,00,00,000/- or approx.. USD 133,000/- ]
Funding & Award
** It may be noted that Endowment Fund is an Indian Rupee Fund and all the awards are denominated in Indian rupees (INR) only. Awards are made in tranches according to project milestones and instalment amounts are fixed in Rupees.
For U.S. Awardees, the award is transferred after converting it to USD at the prevailing exchange rate as on the date of disbursement with no adjustment made for foreign exchange rate fluctuations.
** Awards will be released in a phased manner based on successful completion of milestones. All milestones for the awards will be specified at the time of the award.
** The Board reserves the right to limit its award to selected project activities and milestones and in doing so approve partial funding.
** The teams should indicate willingness to accept the Terms and Conditions of the Award (T&C) in case the proposal is approved.
Submission Deadline
Applications are due on May 15, 2020 11:59 PM, including approval by the Lead Partner. Please ensure that you keep enough time to submit the application.
Helpdesk
Please contact us at covid19 [AT] usistef.online, endowment [AT] indousstf.org for any query related to United States-India Science and Technology Endowment Fund for Covid-19 Ignition Grants.