IIMT IOST 2020 Online Scholarship Test : iimtindia.net
You can ask questions or answer questions about this scholarship.
Please go to the bottom of this page.
Organisation : IIMT Group of Colleges
Scholarship Exam Name : IOST 2020 IIMT Online Scholarship Test
Applicable For : 12th Passout or Result Awaited Students
Exam Date : 02.05.2020
Website : https://www.iimtindia.net/iost2020.aspx
IIMT IOST
IIMT Group of Colleges introduces an instant scholarship test that allows the students to take the exam online at the time when our country is affected by Covid-19 pandamic and provide them instant CASH SCHOLARSHIP.
Related / Similar Scholarship : Nandha Scholarship Test 2020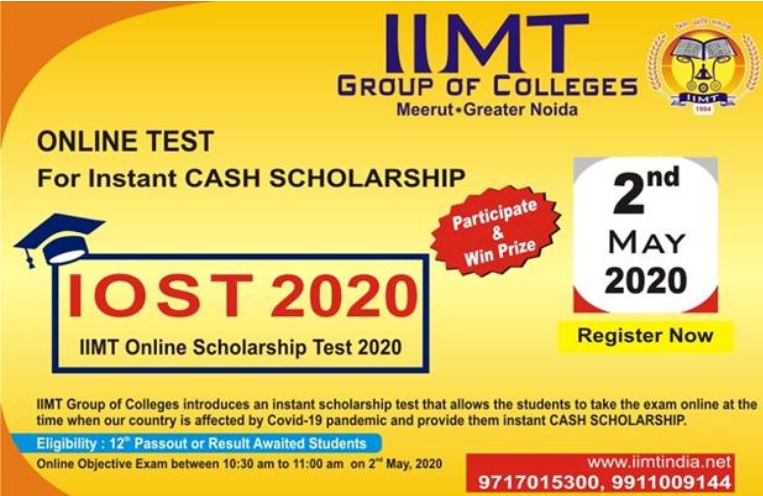 Who Can Apply?
12th Passout or Result Awaited Students are eligible to apply for IOST 2020 IIMT Online Scholarship Test.
IOST Details
Date of Online Exam : 2nd May 2020
Time of Online Exam : 10:30 a.m. to 11:00 a.m.
Mobile No : 9717015300, 9911009144
How to Apply?
Just follow the below steps to apply for IOST 2020.
Steps :
Step 1 : Visit the official website of IIMT Group of Colleges through provided above.
Step 2 : Read the instructions carefully before you are applying.
Step 3 : Next click on the "Registration" link.


Step 4 : Fill the registration form with the required details.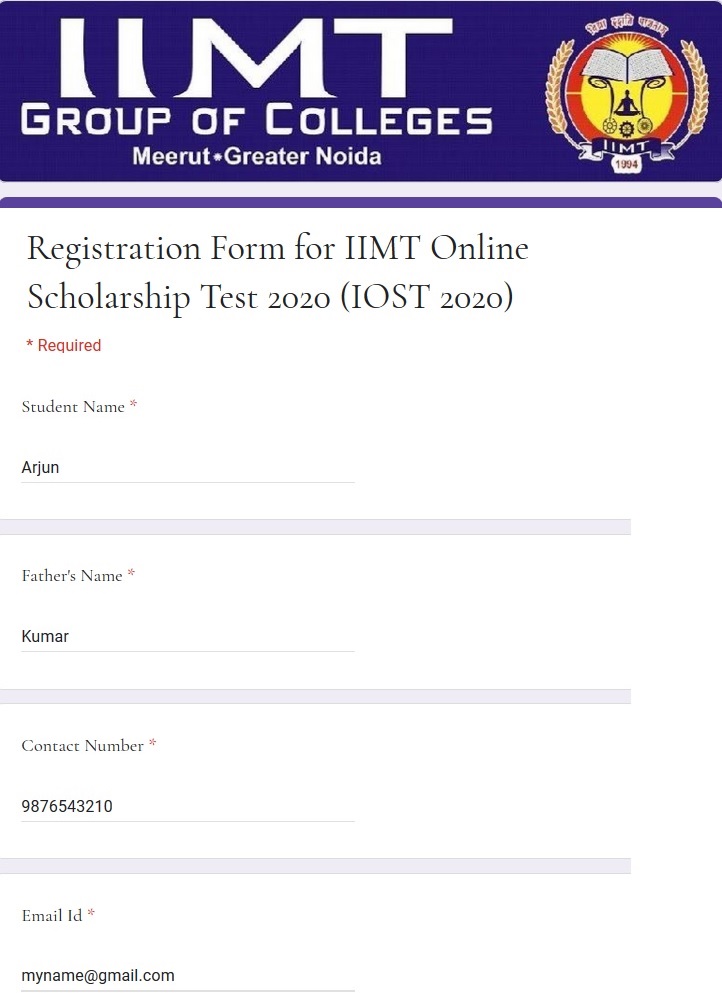 Step 5 : Finally click on "Submit" button to complete the registration.
Rules For Participation
The rules for participation are as under
1. An individual is permitted to participate only once in the quiz.
2. You are required to fill the phone no. /e-mail Id correctly during the process of registration as the url / link for the participation will be sent on that contact number/ e-mail Id.
3.The quiz is open only for XII standard appearing / to be passing out students (as the results are awaited due to Corona Breakdown) of intermediate in the year 2020, students of all state / national Boards of India.
4. Duration of the quiz will be 30 minutes (1800 Seconds) during which a maximum of 50 questions have to be answered.
5. Once the quiz is started,It will not be stopped in between under any circumstance.
6. Organizers will not be responsible for any technical glitches at the participant's side like lost entry, incomplete entry etc. Proof of submission shouldn't be considered as proof of receipt.
7. The criteria for selecting successful winners will be "Maximum Correct Answers in the Shortest Time". In case of tie, random selection will be done.
8. Prior to the announcement of results, top-scoring participants will be required to provide their parents/ guardian's proof of identity along with his or her Id proof of admit card of board exam, mentioning the address of the school.
9. Top THREE (3) scoring candidates from each stream will be invited to IIMT GROUP OF COLLEGES, GREATER NOIDA & will be awarded with the CASH PRIZE by some renowned social/ administration official.
10. If the winner doesn't respond to the phone calls or emails regarding announcement of the result within 5 days, the prize will be transferred to the next winner.
11. IIMT GROUP OF COLLEGES, GREATER NOIDA reserves the rights to cancel or amend all or any part of the quiz and/ or the terms and conditions. However, any changes to the terms and conditions or cancellation of the quiz, will be updated/ posted on the platform, if any.