Rao IIT Academy RISE 2020 Intelligence Search Scholarship Exam : raoiit.com
Organisation : Rao IIT Academy
Scholarship Name : RISE 2020 (RAO Intelligence Search Examination) Scholarship & Admission Test
Applicable For : Std VI to X Studying Students
Exam Date : 26th Apr, 3rd & 10th May 2020
Website : https://raoiit.com/rise
You can ask questions or answer questions about this scholarship.
Please go to the bottom of this page.
Rao IIT RISE
Rao IIT Academy is organizing a RISE (RAO Intelligence Search Examination) Scholarship & Admission Test 2019-20 for students passed classes VI to X.
Related / Similar Scholarship : Sarva Shiksha Scholarship Exam 2020
RISE Eligibility
Students who studying standard VI,VI,VII,VIII,IX,X can apply.
RISE Registration
Students unable to come at offline exam centres for giving the exam can also appear Online.
Step-1 : Go to the RAO RISE 2019-20 page through link https://raoiit.com/rise
Step-2 : Scroll down and click on the link 'To Register' under 'Online Exam'

Step-3 : Fill in all the relevant information and submit the button.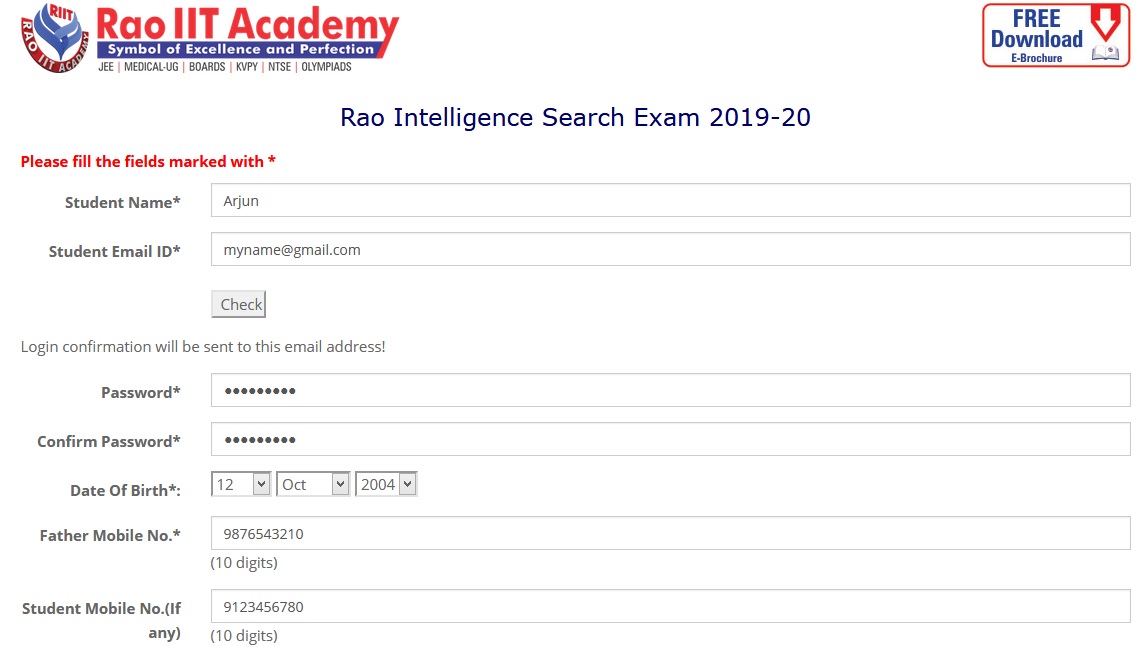 Note :
** Students giving exam in Online mode will be eligible for applicable course scholarships only.
** Cash Awards are not applicable for students giving exam in Online mode.
Registration Fees :
Online – Free
Test Details
** Online Test Dates – 26th Apr, 3rd & 10th May
** Test Timings – 11:00 AM To 01:00 PM (Online)
** Test Duration – 2 Hrs
List of scholarship awarded based on performance in the test will be declared within 1 week after the test.
Test Syllabus
Class 6 :
Science :
1. Motion
2. Light shadows & Reflection
3. Electricity and Circuits
4. Magnetism
5. Properties of Matter_Types and sorting
6. Air & Water
7. Fibre
8. Classification of Material
9. Acids, Bases and Salts
10. Metals and Non metals
11. Symbol and Chemical Formulae
12. Separation of Substances
13. Food & Its Components
14. Plants and Its Introduction
15. Reproduction in Plants
16. Living Organisms and their Surrounding
17. Body Movements
18. Water
Maths :
1. Knowing Our Numbers
2. Playing with Numbers
3. Basic geometrical ideas & Understanding elementary shapes
4. Integers
5. Fractions
6. Decimal
7. Data Handling
8. Mensuration
9. Algebra
10. Ratio & Proportion
11. Symmetry
Mental Ability :
1. Series
2. Analogy
3. Coding – Decoding
4. Direction Sense Test
5. Blood Relations
6. Non-Verbal
Class 7 :
Science :
1. Measurement
2. Motion
3. Force and Friction
4. Fluids
5. Heat
6. Light
7. Sound
8. Electricity
9. Universe
10. Symbol & Chemical Formulae
11. Air and Water
12. Physical & Chemical Changes
13. Acids,Bases & Salts
14. Chemistry In Your Daily Life
15. Fabric to Fibre
16. Classification of Elements & Periodic Properties
17. Chemical Bonding
18. Nutrition in plants
19. Nutrition in animals
20. Respiration
21. Circulation & transportation
22. Reproduction in Plants
23. Our forest
24. Weather,Climate & Adaptation
25. Water management
26. Soil
Maths :
1. Integers
2. Fractions & Decimals
3. Rational Numbers
4. Exponents and Powers
5. Algebraic Expressions
6. Linear Equations In One Variable
7. Ratio & Proportion
8. Percentage & Its Applications
9. Profit & Loss
10. Simple Interest & Compound Interest
11. Lines & Angles
12. Triangles & Congruent Triangles
13. Mensuration
14. Statistics
Mental Ability :
Section – A : Verbal Test
1. Series
2. Analogy
3. Coding – Decoding
4. Classification
5. Missing Value in the Figure
6. Direction Sense Test
7. Venn Diagrams
8. Mathematical Operations
9. Number, Ranking & Time Sequence Test
10. Sitting Arrangement
11. Blood Relations
12. Time, Clock & Calendar
Section – B : Non Verbal Test
1. Series
2. Analogy
3. Classification
4. Mirror and Water Images
5. Counting in Figures
6. Paper Folding & Paper Cutting
7. Dice and Cube
8. Embedded Figures and Dot Situation
9. Figure Matrix and Pattern Completion
Contact

Us
** If unable to register please call [09:00AM to 06:00PM] : 022-62433500 or email at itsupport [AT] raoiit.com
** For any enquiries email at rise [AT] raoiit.com