GyanDhan Loan Scholarship For Abroad Studies
Want to comment on this post?

Go to bottom of this page.
Organisation : GyanDhan
Scholarship Name : GyanDhan Loan Scholarship For Studying Abroad
Applicable For : Indian Resident
Website : https://www.gyandhan.com/gd-scholarship
GyanDhan Scholarship
Started with an aim to make abroad higher education more accessible to students, GyanDhan has helped tens of thousands of students in selecting the right financing option.

How Does GyanDhan Scholarship Work?
GyanDhan scholarship is a financial aid of a fixed amount which will be granted to students based on the merit and strength of the profile submitted.
Who Can Apply?
Students who fit in as per the below-mentioned criteria
** Students who want to pursue a 2-year postgraduate course in the US, Canada, UK, Australia, Ireland, New Zealand & Germany. Students who are in the process of applying or have applied but have not yet received an admission letter can also apply for the scholarship.
** The student must be an Indian resident with an undergrad degree from an Indian institute.
** If the student is planning to take an education loan, the application for the same must start via Gyandhan in one of the partner lenders. Our partner lenders are SBI, BOB, Axis Bank, ICICI Bank, Avanse, Auxilo, Incred, Credila & MPower Financing.
How To Apply?
The applications for the scholarship have begun
Steps :
Step 1 : Click on the start application


Step 2 : Please fill up the following
** Name [Santhosh]
** Email Id [myname@gmail.com]
** Mobile [9876543210]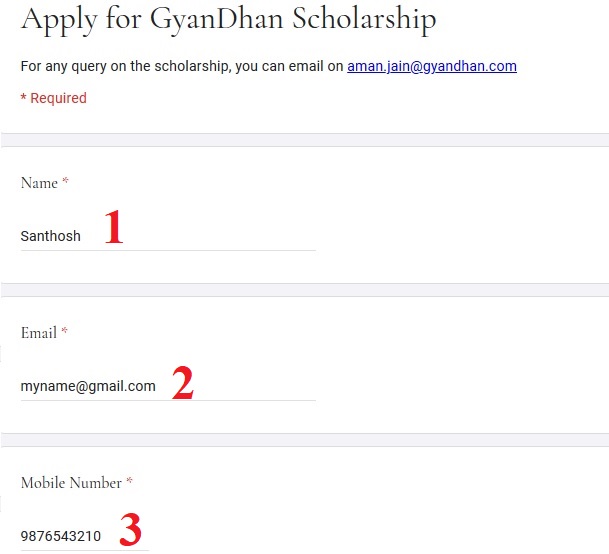 ** Target Country [Australia]
** Target College [SRS College]
** Target Course [M.E]
Step 3 : Within 24 hours of completing the first step, you will get an email to upload the documents
Documents Required
Students will be required to upload the following documents to be eligible for the scholarship –
** Offer letter from the university
** Proof of GRE/GMAT Score
** Proof of TOEFL/ IELTS Score
** Latest Resume
** Statement of Purpose in 1500 words
** Letter of recommendation (optional)
Note :
** Students will be able to upload their documents provided their loan application is in the process via GyanDhan.
** Students going for undergraduate studies, conferences, and seminars are not eligible for the scholarship.
How Will GyanDhan's Scholarship Help Students?
The loan scholarship will come in handy for the students who are taking an education loan and want to lessen the financial burden. Many times, the student doesn't get the entire amount sanctioned from the banks and in such times, this scholarship will be a boon for the student.
Selection Procedure
1. The scholarship funds will be awarded to the best and the brightest student. The selection of the same will also be rigorous and the candidates will be judged on their –
** Academic Performance
** Test Scores of GRE/GMAT/TOEFL
** Statement of Purpose and Letter of Recommendation
** Strength of the Profile Submitted
2. A selection committee will be formed to analyze the applications submitted, which will recommend the deserving students based on the above-mentioned criteria.
Contact Us :
GyanDhan
First Floor, 262, Westend Marg,
Saiyad Ul Ajaib Extension,
Saket, New Delhi,
Delhi 110030