BYJU'S BNAT 2020 National Aptitude & Scholarship Test
Rate this post:
[ Votes=

2

, Average =

1

]
Organisation : BYJU'S
Scholarship Name : BNAT 2020 BYJU'S National Aptitude & Scholarship Test
Applicable For : Class 10 to Class 11 moving students
Applicable State/UT : All India
Last Date : 20.06.2020
Exam Date : 21.06.2020
Website : https://byjus.com/bnat/
BYJU'S Scholarship Test
BYJU'S National Aptitude Test 2020. India's largest Online Aptitude & Scholarship Test for JEE / NEET*
Related / Similar Scholarship : BYJU'S BNAT 2020 For Class 11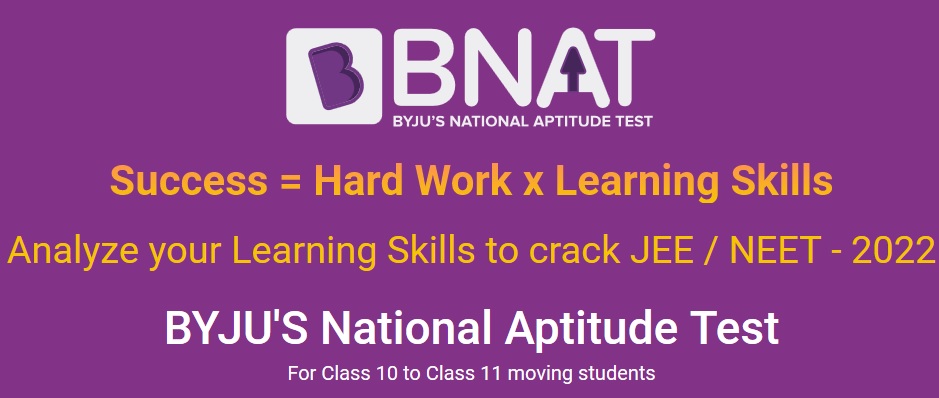 Eligibility
Any student studying in class 10 in any Board (CBSE, ICSE, state Boards, NIOS, etc.) can participate in BNAT 2020.
How to Apply for BNAT?
Just follow the below steps to apply for BNAT 2020.
Steps :
Step 1 : Visit the official website of BYJU'S through provided above.
Step 2 : Read the instructions carefully and click on the "Register for Free" button.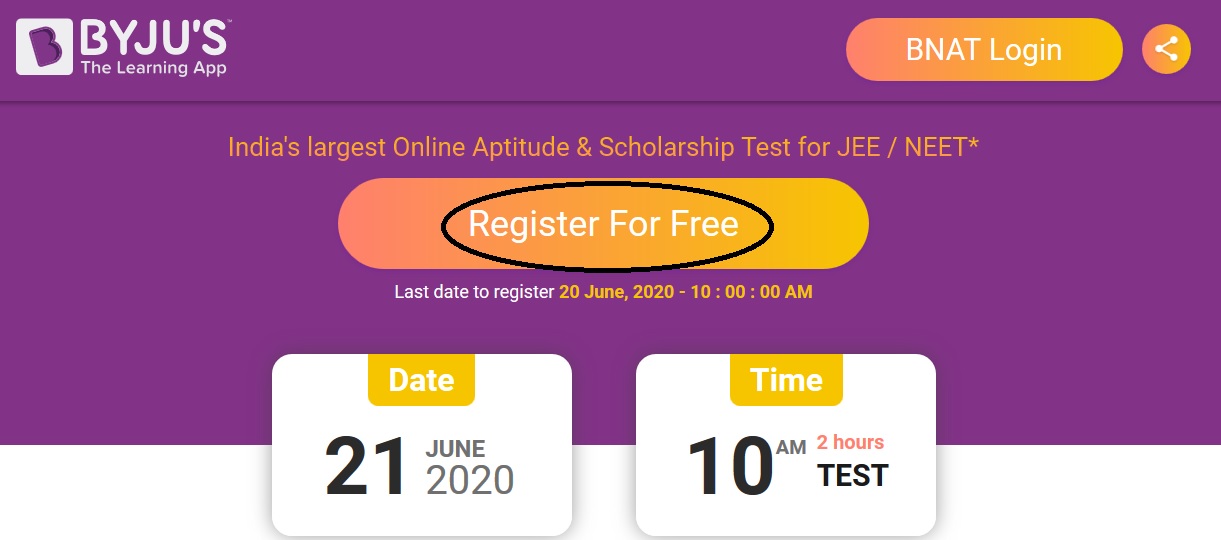 Step 3 : Register using your personal details and a valid mobile number.
Step 4 : Verify your phone number with OTP and submit
Step 5 : You have now successfully registered for BNAT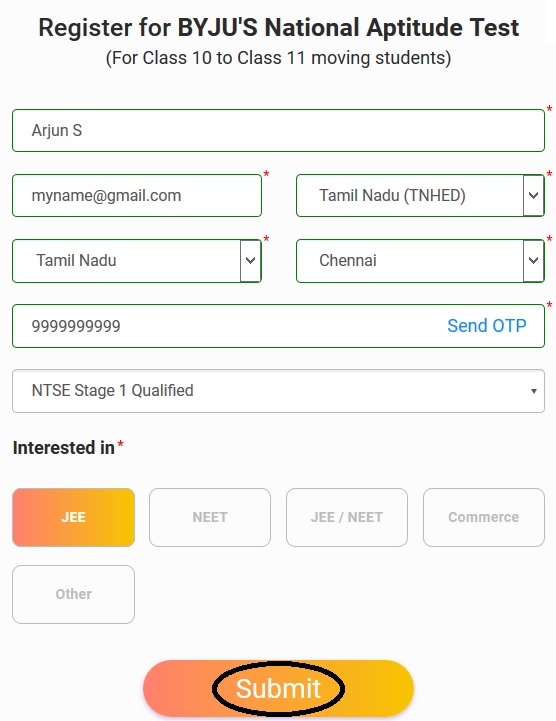 How to take BNAT?
BNAT has to be taken online. The test will be conducted on the BYJU'S website on 21st June 2020 at 10 AM. To login students must use their mobile number and the system generated password.
Benefits to Students
** Analyse your strengths and key areas of improvement with respect to the skills required to qualify JEE / NEET.
** Analyse your interests and inclinations through a psychometric test to make an informed career decision.
** Assess their understanding of basic concepts.
** Benchmark themselves against other students at the state and All-India Level.
** Understand the gaps in their preparation for future competitive exams and take corrective actions.
** Scorecard showing their Percentile, Subject-wise Analytics, and Subject-wise improvement points.
Exam Details
Exam Date : 21st June 2020
Exam Time : 10AM 2 hour TEST
Exam Mode : Online Test (Take from your home)
Registration Fee : BNAT is free and open to all eligible students.
Last Date to Register : 20th June 2020
Test Pattern
Section : 1
** Physics (40 Mins)
** Number of Questions – 20
Section : 2
** Chemistry (40 Mins)
** Number of Questions – 20
Section : 3
** Mental Ability (40 Mins)
** Number of Questions – 20
Syllabus
Physics : Duration 40 Mins
Class 9 :
Motion; Force & Laws of Motion; Gravitation; Work & Energy; Sound.
Class 10 :
Light-Reflection & Refraction; The Human Eye & The Colourful World; Electricity; Magnetic Effects of Electric Current; Sources of Energy.
Chemistry : Duration 40 Mins
Class 9 :
Matter in Our Surroundings; Is Matter Around Us Pure; Atoms & Molecules; Structure of Atoms.
Class 10 :
Chemical Reactions & Equations; Acid, Bases & Salts; Metals & Non-Metals; Carbon & Its Compounds; Periodic Classification of Elements.
Mental Ability : Duration 40 Mins
Quantitative Aptitude; Logical Reasoning; Data Interpretation.
Terms & Conditions
** BYJU'S decision on Scholarship is final. The BNAT is based on Internal parameters of BYJU'S.
** The applicant and the applicant's parents agree that BYJU'S shall not be held responsible for any loss/damage, caused to the applicant or the applicant's parent, due to the usage or placing reliance on BNAT or the BNAT results for any decision being made by the applicant's parent or the applicant.
** Applicant and applicant's parent agree that BYJU'S may use the data submitted by the applicant for its business