Next Genius Foundation 2020-21 Scholarship Program
You can ask questions or answer questions about this scholarship.
Please go to the bottom of this page.
Organisation : The Next Genius Foundation
Scholarship Name : Next Genius Scholarship Program 2020-21
Applicable For : Students Currently in Grade 12
Registration Starting Date : 04.05.2020
Application Last Date : October 2020
Website : http://www.next-genius.com/index.html
Next Genius Scholarship
Next Genius Foundation invites applications for Next Genius Scholarship Program for the year 2020-21.
Related / Similar Scholarship : Raman Kant Munjal Scholarship 2020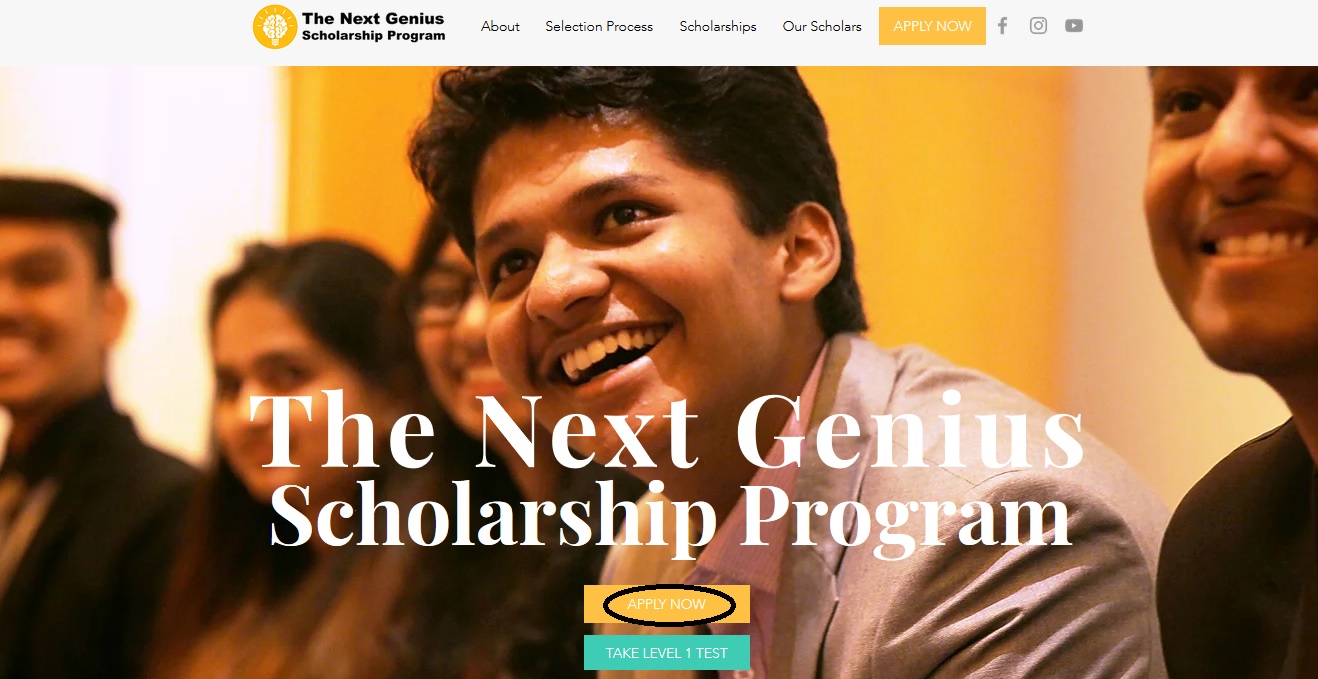 In the last 5 years, Next Genius partner colleges have awarded scholarships worth $20 million, helping 92 students to pursue their undergraduate education in the US. In 2020-21, together, we hope to award over 100 scholarships to students from India.
Applicable Colleges
This scholarship covers four years of education in a subject of their choice at one of the following colleges:
** Beloit College
** Drew University
** Ithaca College
** Juniata College
** Knox College
** Lynn University
** Millsaps College
** Muhlenberg College
** Northwestern University – Q
** Syracuse University
** Texas Christian University
** The University of the South
** Union College
** University of Rochester
** Washington College
** Wheaton College – M
** Ohio Wesleyan University
Eligibility Criteria
The following students are eligible for applying
High School Seniors :
Currently in Grade 12 (or gap year)
Citizenship :
** Indian citizen
** Indian citizens living abroad
** OCI Card Holders
** Foreign national living in India
Critical Thinking Ability :
Strong creative problem solving skills, both in academic and non-academic settings
Soft Skills :
** Strong team playing and communication skills
** Positive attitude, charisma & leadership skill
Personal Vision :
** Desire to be an active member of the Next Strong desire to study abroad at one of our partner colleges
** Genius community and give back to society
Need Aware :
Ability to pay for living costs at college for a duration of 4 years (upto INR 8 Lac per year towards housing, food, insurance, flights, books)
Selection Process
All applicants need to follow the following steps to be considered for a scholarship
Step-1 : Online Application (May – October, 2020)
** Create an account
** Log-in, fill the profile information and attempt a practice test.
** Pay registration fees of Rs.300 and submit your online application.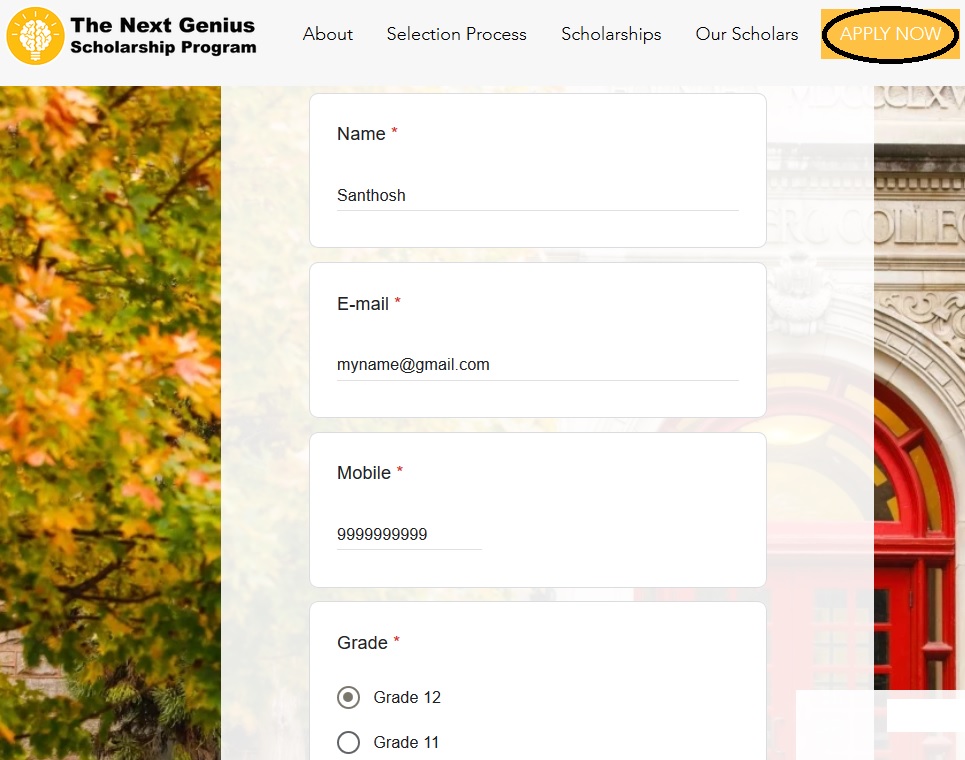 Note :
The registrations for Grade 12 students will begin from May 4, 2020.
Step-2 : Online Critical Thinking Test (Deadline October 11, 2020)
Solve an online critical thinking assessment.
Step 3 : College Selection (October 26, 2020)
Shortlisted students are provided with detailed information about the various scholarships and are invited to identify college(s) of their preference.
Step 4 : College Application (December 14, 2020)
Candidates submit a complete college application to a college of their choice.
Step 5 : Interview & Awards in Mumbai (January 23 & 24, 2021)
Candidates are invited to Mumbai for a personal interview. Scholarships are awarded in a public award ceremony.
Step 6 : Scholarship Acceptance & Enrollment (May 1, 2021)
Scholarship winners have till May 1, 2021 to confirm their acceptance. Next Genius Scholarships are Non-binding.
Scholarship Acceptance
Full Tuition Scholarship :
The Next Genius Scholarship only covers the actual tuition (fees) component of the undergraduate education. A 100% tuition fees scholarship winner will be provided a full-tuition fee waiver for only four years of their undergraduate education.
Partial Tuition Scholarship :
A partial scholarship winner would be provided a partial-tuition fee waiver for only four years of their undergraduate education. The scholarship does not offer money for actual expenses such as accommodation, food, stationery, insurance & travel.
Contact
Phone : +91 9167787851 (Mon – Fri, 10 AM to 8 PM)
Email : helpdesk [AT] next-genius.com
Postal : 803, Hubtown Sunmist, Saiwadi, Andheri E, Mumbai 400069, India