Aglasem ATSE 2020-21 Talent Search Scholarship Exam
You can ask questions or answer questions about this scholarship.
Please go to the bottom of this page.
Organisation : Aglasem Edutech Pvt. Ltd.
Scholarship Name : ATSE 2020-21 National Level Talent Search Cum Scholarship Exam
Applicable For : Students from Class 5th to 12th
Applicable State/UTs : All India
Registration Last Date : 20.06.2020 (Phase 2)
Exam Dates : 1 Nov – 31 Dec 2020
Website : https://atse.aglasem.com/2020
Aglasem ATSE
ATSE 2020 is the national level talent search cum scholarship exam.
Related / Similar Scholarship : VENS Scholarship Exam 2020
Objective
The goal of this exam is to identify hidden talent in the nation, motivate, and financially support them. It is a unique exam because students can take it from anywhere.
ATSE Eligibility
** Class – Class 5 to 12.
** Citizenship – The applicant must be an Indian national.
** Age Qualification – There is no age criteria.
** School Board – It is open to students of all school boards that are recognized in India.
How to Participate?
** Students or their parents can directly register for ATSE 2020 from this website.
** Teachers, schools, coaching, or anyone who wishes to fill multiple applications can get in touch with us by filling the Coordinator Form.
** As a "coordinator" you can then register multiple students at once.
** After registration, students will be provided with a roll number and exam date.
** On the given date, students have to simply login and take the test online or in app.

Registration Process
Steps :
Step 1 : Visit the official website through provided above.
Step 2 : Fill the form and submit it.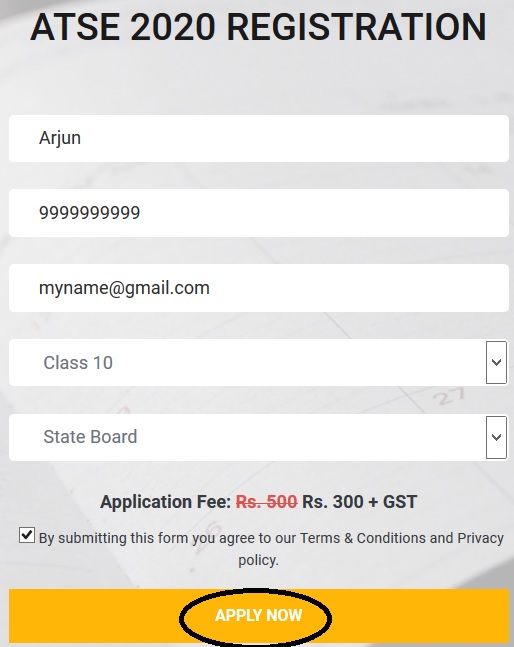 Step 3 : Fill all the major details and complete your enrollment.
Step 4 : Pay the registration charges for ATSE 2020.
Step 5 : You have been registered for ATSE 2020 successfully.
Important Dates
| | |
| --- | --- |
| Events | Date |
| Early Registration Ends | 03 May 2020 |
| Last Date to Apply (Phase 1) | 17 May 2020 |
| Last Date to pay Application Fee | 20 May 2020 |
| Phase 2 Registration Starts | 18 May 2020 |
| Phase 2 Registration Ends | 20 Jun 2020 |
| ATSE 2020 exam dates | Dec 2020 |
| Declaration of result | Jan 2021 |
Exam Pattern
It will be an online test on the following pattern.
** Duration: 1 hour
** Marking Scheme: +4 (four marks for correct answer)
** Negative Marking: -1 marks for incorrect answer will be deducted.
** Language of question paper: English
** Number of questions: 100
** Maximum marks – 400
Subjects in exam :
** For classes 05 to 10 Mathematics, Science
** For classes 11 to 12 Physics, Chemistry
Awards
A total of 400 scholarships will be awarded to top 50 students from each class. The distribution (to each class) of scholarship, rewards, certificates will be as follows.
Rank
(each class)
Cash Prize
(In INR)

Medals

Certificate

No. Of Awards

Cash Prize

1
50,000
Gold
Certificate of Excellence
8
4 lacs
2
20,000
Silver
Certificate of Excellence
8
1.6 lacs
3
10,000
Bronze
Certificate of Excellence
8
0.8 lacs
4-50
1000
–
Certificate of Distinction
376
3.76 lacs
50+
–
–
Certificate of Participation
All
Total Prize
10.16 lacs
Qualifying Criteria :
Only those candidates who score a minimum of 50% marks are only considered for ATSE 2020 Merit List Preparation.
How to Claim the Scholarship?
After the declaration of the result, the students who become eligible for the prize money and medals have to fill up an awards claim form. To be able to claim the prize money there are certain terms and conditions that must be fulfilled.
The same are mentioned via the points below :
** Awards claim form must be submitted with correct details, within the deadline. There will be no scope for editing details in the form once it is submitted.
** Award-Scholarship amount shall be transferred to the student's bank account, as per details submitted by him/her in the awards claim form.
** Award-Certificate and medals will be sent to the student at the address provided by them.
** The candidates' identity will be verified with the details provided in the application form at the time registration before finalising the claims.
** Such students who have obtained a rank, but are either disqualified due to breaking any rule during the exam, or their documents are not verified, or their awards claim form is not submitted correctly on time, shall automatically lose claim over the awards.
Note :
** No claim can be made on scholarship if a candidate fails to submit claim form before deadline.
** Cheque will not be re-issued again in any case.