KSWCFC Beneficiary List 2019-20 Mangalya & Vidya Samunnathi Merit Scholarship : Kerala
Organisation : Kerala State Welfare Corporation for Forward Communities Limited
Announcement : Scholarship 2019-20 Beneficiary List
Scholarship Name : Mangalya & Vidya Samunnathi Merit Scholarship 2019-20
Applicable State : Kerala
Website : https://www.kswcfc.org/index.php/homepage
You can ask questions or answer questions about this scholarship.
Please go to the bottom of this page.
KSWCFC Scholarship Beneficiary List
Beneficiary list of Mangalya & Vidya Samunnathi Merit Scholarship 2019-20 are published. Kindly follow the below steps to check the list.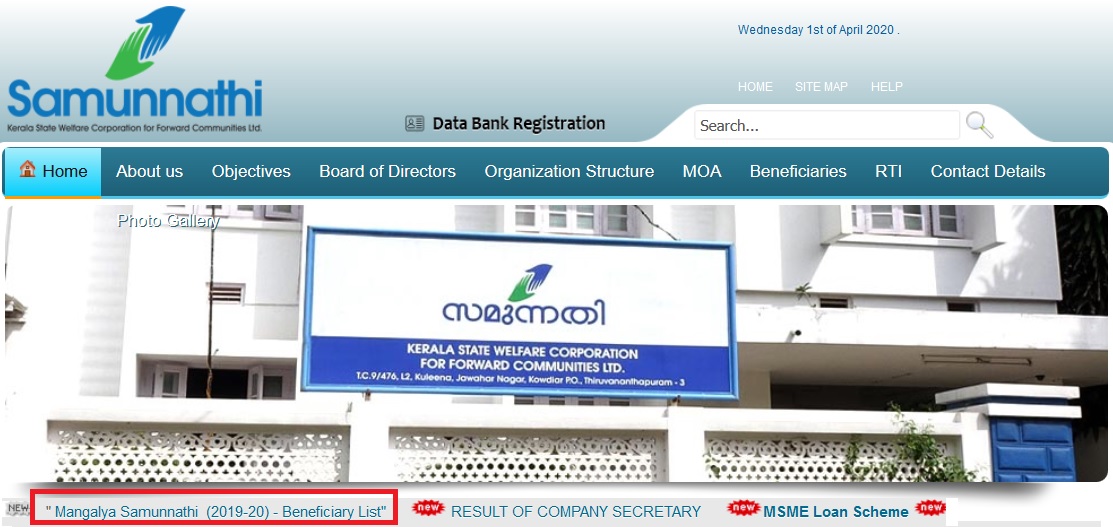 How to Check?
Step 1 : Go to the official website of Kerala State Welfare Corporation for Forward Communities Limited through the URL http://www.kswcfc.org/
Step 2 : Then click the Beneficiary list link and Select Year 2019-20.

Step 3 : Select "Mangalya Samunnathi/ Vidya Samunnathi Merit Scholarship" link to view the beneficiary list 2019-20.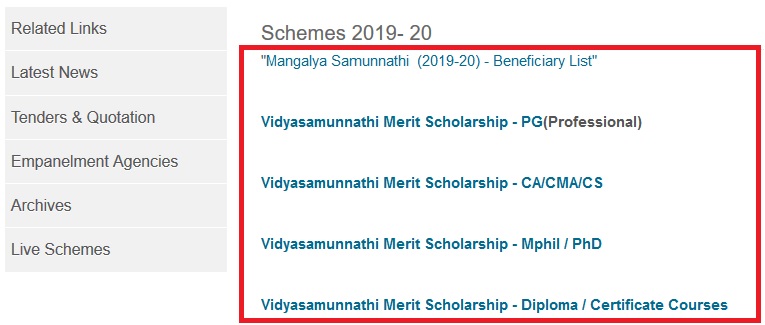 Step 4 : The list will be displayed in a PDF format. The PDF files contains the Sl.No, Application No, Beneficiary Name and Amount.
Step 5 : Please download the PDF file and Check your Application No in the list.
Selected Candidates List
Some of the selected candidates names with Application Numbers are listed below. Kindly refer the below PDF links uploaded for full candidates list.
Mangalya Samunnathi
| | | | | |
| --- | --- | --- | --- | --- |
|  Sl. No | Apl. No | Name of Applicant | Name of Married Girl | DISTRICT |
| 1 | 2 | Raveendran Nair. S | Swathi Krishna. R | THIRUVANANTHAPURAM |
| 2 | 3 | Anil Kumar. T | Karthika. A.M | THIRUVANANTHAPURAM |
| 3 | 4 | Sreeja Kumari. S | Athira. P.S | PATHANAMTHITTA |
| 4 | 5 | Gopalakrishna Kurup | Arathi Krishnan. L | ALAPPUZHA |
| 5 | 6 | Radhakrishna Pillai. C | Akhila. G. Nair | KOLLAM |
| 6 | 8 | Jayakumari. C | Sarannya. C | KOLLAM |
| 7 | 10 | Venu. S | Vandana S Venu | KOLLAM |
| 8 | 11 | Mohanachandran Nair. S | Vijayalekshmi. M.G | THIRUVANANTHAPURAM |
| 9 | 12 | Suseela | Maya. M | PATHANAMTHITTA |
| 10 | 14 | Bhaskaran Nair. V | Athulya. N | KOLLAM |
| 11 | 16 | Sreekala. B | Neethu. S | THIRUVANANTHAPURAM |
| 12 | 23 | Padmalatha. K | Keerthi. P | THIRUVANANTHAPURAM |
| 13 | 25 | Beena Kumari | Aswathy Anilkumar | KOTTAYAM |
| 14 | 28 | Jayaraman | Vidya. P. K | KOZHIKODE |
| 15 | 29 | Sasidharan. K | Haritha. M. P | KOZHIKODE |
| 16 | 30 | Geetha. K | Lekshmi. L | KOLLAM |
| 17 | 31 | Muraleedharan Nair. R | Surya. S. Nair | KOLLAM |
| 18 | 32 | Nalini. K.R | Praseetha | THRISSUR |
| 19 | 35 | Girija Kumari | Vijithi. V. Nair | KOLLAM |
| 20 | 41 | Sheeja. C.K | Sreesha. C.K | KANNUR |
| 21 | 44 | Krishnan Nair. G | Kala. K.V | THIRUVANANTHAPURAM |
| | | | | |
| --- | --- | --- | --- | --- |
| 22 | 47 | Kunjumol Sajeev | Ambika | ERM |
| 23 | 49 | Sunitha. R | Silpa Ravi | KOLLAM |
| 24 | 52 | Sasikala Kumari | Salini Sankar | KOTTAYAM |
| 25 | 53 | Ajayakumar Gopalakrishnan | Gopika | IDUKKI |
| 26 | 54 | Sreedevi. K.V | Aswathy Pradeep Kumar | ALAPPUZHA |
| 27 | 55 | G. Sivarama Pillai | Archa. S | PATHANAMTHITTA |
| 28 | 56 | Satheeshkumar. G | Sreelekshmi. L | THIRUVANANTHAPURAM |
| 29 | 57 | Syamala Kumari. K | Midhila Krishnan | ALAPPUZHA |
| 30 | 58 | Sreekumaran Nair. G | Gayathri Devi. B.S | THIRUVANANTHAPURAM |
| 31 | 63 | Muraleedharan Pillai | Sreelekshmi. S | ALAPPUZHA |
| 32 | 64 | K. Balakrishnan Nair | Soumya. M | KASARGODE |
| 33 | 66 | Kunjiraman Nair | Nimisha | KOZHIKODE |
| 34 | 68 | Haridasan Pillai | Athira. R | ALAPPUZHA |
| 35 | 69 | Krishnankutty. B | Sarannya Krishnan. K | THIRUVANANTHAPURAM |
| 36 | 70 | Radhakrishnan Nair | Aiswarya. V.R | THIRUVANANTHAPURAM |
| 37 | 80 | Prasanna Kumari. M | Divya. G | THIRUVANANTHAPURAM |
| 38 | 81 | Dhamodharan. M | Kavya. C | KANNUR |
| 39 | 82 | Rama. E | Reshma. E | KOZHIKODE |
| 40 | 84 | Satheesan. C.K | Nimisha | KANNUR |
| 41 | 85 | Surendran Pillai. T.S | Soorya | IDUKKI |
| 42 | 86 | Ambika Kumari. S | Athira. A.R | ALAPPUZHA |
| 43 | 87 | Vasanthi Amma | Reshmidas. P | KOLLAM |
| 44 | 93 | Subitha Gopalakrishnan | Chithra | ERM |
| 45 | 96 | Padmavathi Amma. S | Reshma | THIRUVANANTHAPURAM |
| 46 | 99 | Bindhu. L.R | B. Anjana Gopa Kumar | THIRUVANANTHAPURAM |
| 47 | 100 | Ramakrishnan. P | Jyothi Lekshmi | THRISSUR |
| 48 | 105 | Syamalamma. B | Anjali. M.S | KOLLAM |
| 49 | 108 | Anandavally Amma | Athulya. A | KOLLAM |
Mangalya Samunnathi Beneficiary List :
https://www.scholarships.net.in/uploads/pdf2020/42573-MS.pdf
Vidya Samunnathi
Post Graduation :
| | | | |
| --- | --- | --- | --- |
|  SLNO | Application Number | Name | Amount |
| 1 | 2019/SPG/00000202 | RUPITHA N S | 16000 |
| 2 | 2019/SPG/00001618 | SURANYA A | 16000 |
| 3 | 2019/SPG/00002265 | SUBHASH K A | 16000 |
| 4 | 2019/SPG/00000478 | PRANAV G PRADEEP | 16000 |
| 5 | 2019/SPG/00000618 | AMALU MICHAEL | 16000 |
| 6 | 2019/SPG/00000509 | VINAYABABU | 16000 |
| 7 | 2019/SPG/00001601 | AKHILA JOY | 16000 |
| 8 | 2019/SPG/00001925 | ARCHANA RADHAKRISHNAN S | 16000 |
| 9 | 2019/SPG/00001972 | SWATHI M NAIR | 16000 |
| 10 | 2019/SPG/00002024 | ANOOP K | 16000 |
| 11 | 2019/SPG/00000003 | NANDHITHA R KRISHNAN | 16000 |
| 12 | 2019/SPG/00000005 | ANILA VK | 16000 |
| 13 | 2019/SPG/00000051 | SREERAG A | 16000 |
| 14 | 2019/SPG/00000149 | SRIJINA M | 16000 |
| 15 | 2019/SPG/00000463 | PARVATHY MOHAN M G | 16000 |
| 16 | 2019/SPG/00000489 | ATHIRA V PREM | 16000 |
| 17 | 2019/SPG/00000689 | GOPIKA GOPAN | 16000 |
| 18 | 2019/SPG/00000727 | ATHIRA M | 16000 |
| 19 | 2019/SPG/00001090 | ARYAMOL A U | 16000 |
| 20 | 2019/SPG/00001233 | ALANDEV S | 16000 |
PG Beneficiary List :
https://www.scholarships.net.in/uploads/pdf2020/42573-PG.pdf
CA/CMA/CS Courses :
| | | | |
| --- | --- | --- | --- |
|  SLNO | Application Number | Name | Amount |
| 1 | 2019/SCA/00000001 | DHEERAJ V NARAYANAN | 10000 |
| 2 | 2019/SCA/00000006 | SILPA MARIAT GEORGE | 10000 |
| 3 | 2019/SCA/00000009 | JITHU JOHNY | 10000 |
| 4 | 2019/SCA/00000015 | RENJITH P | 10000 |
| 5 | 2019/SCA/00000016 | ANJU S PILLAI | 10000 |
| 6 | 2019/SCA/00000018 | ABIN SAJI | 10000 |
| 7 | 2019/SCA/00000024 | ARYA C RAJEEV | 10000 |
| 8 | 2019/SCA/00000025 | LAKSHMI M | 10000 |
| 9 | 2019/SCA/00000030 | EMIL SKARIA | 10000 |
| 10 | 2019/SCA/00000042 | CHIPPY N P | 10000 |
| 11 | 2019/SCA/00000046 | SREENIVASAN | 10000 |
| 12 | 2019/SCA/00000048 | JOBIN JOHN | 10000 |
| 13 | 2019/SCA/00000051 | SUDHEESH K | 10000 |
| 14 | 2019/SCA/00000061 | ANCY ACHANKUNJU | 10000 |
| 15 | 2019/SCA/00000071 | VYSAK K | 10000 |
| 16 | 2019/SCA/00000091 | UNNIKRISHNAN M | 10000 |
| 17 | 2019/SCA/00000094 | ARJUN J | 10000 |
| 18 | 2019/SCA/00000098 | CHRISTEENA MATHEW | 10000 |
CA Beneficiary List :
https://www.scholarships.net.in/uploads/pdf2020/42573-CA.pdf
M.Phil &PhD Courses :
| | | | |
| --- | --- | --- | --- |
|  SLNO | Application Number | Name | Amount |
| 1 | 2019/RSRCH/00000002 | KAVITHA U R | 25000 |
| 2 | 2019/RSRCH/00000014 | ATHIRA KRISHNAN | 25000 |
| 3 | 2019/RSRCH/00000030 | SREEJA DEVI P S | 25000 |
| 4 | 2019/RSRCH/00000052 | ATHIRA M V NAIR | 25000 |
| 5 | 2019/RSRCH/00000056 | SOUMYA L | 25000 |
| 6 | 2019/RSRCH/00000083 | NIDHEESH V R | 25000 |
| 7 | 2019/RSRCH/00000087 | KRISHNA PRIYA C | 25000 |
M.Phil Beneficiary List :
https://www.scholarships.net.in/uploads/pdf2020/42573-MPhil.pdf
Diploma / Certificate Courses :
| | | | |
| --- | --- | --- | --- |
|  SLNO | Application Number | Name | Amount |
| 1 | 2019/SDP/00000607 | DELNA JOSEPH | 6000 |
| 2 | 2019/SDP/00001223 | ARYA S NAIR | 6000 |
| 3 | 2019/SDP/00000038 | ALFIN JEEJO | 6000 |
| 4 | 2019/SDP/00000039 | ALDRIN JEEJO | 6000 |
| 5 | 2019/SDP/00000086 | ATHULYA ANIL L | 6000 |
| 6 | 2019/SDP/00000238 | ANANDU PRAKASH | 6000 |
| 7 | 2019/SDP/00000252 | RAHUL R | 6000 |
| 8 | 2019/SDP/00000346 | MANU MOHAN M | 6000 |
| 9 | 2019/SDP/00000352 | MANJU S | 6000 |
| 10 | 2019/SDP/00000477 | JEEVAN R P | 6000 |
| 11 | 2019/SDP/00000486 | ABHIJITH G | 6000 |
| 12 | 2019/SDP/00000494 | GOPIKA G S | 6000 |
| 13 | 2019/SDP/00000705 | SUMITHLAL S | 6000 |
| 14 | 2019/SDP/00000766 | ANAGHA M V | 6000 |
| 15 | 2019/SDP/00000770 | SHILPA L | 6000 |
| 16 | 2019/SDP/00000913 | SARANYA B S | 6000 |
| 17 | 2019/SDP/00000932 | AKHILA M M | 6000 |
| 18 | 2019/SDP/00000963 | ANANDHU M M | 6000 |
| 19 | 2019/SDP/00001007 | ARUN K B | 6000 |
| 20 | 2019/SDP/00001039 | ASWATHY G | 6000 |
Diploma Beneficiary List :
https://www.scholarships.net.in/uploads/pdf2020/42573-Dip.pdf