scholarships.wbsed.gov.in NTSE Result/Merit List 2020 : National Talent Search Examination West Bengal
Organisation : West Bengal Department of School Education
Exam Name : NTSE 2020 State Level National Talent Search Examination
Announcement : Merit List of NTSE 2020/ State Level Stage-1 Result
State Level Exam Held On : 17.11.2019
Stage 2 Exam Date : May 10, 2020
Applicable State : West Bengal
Website : https://scholarships.wbsed.gov.in/
You can now ask your question on this scholarship.
Ask here
(OR) Go to the bottom of this page for comments.
WBSED NTSE Merit List
West Bengal Department of School Education has announced the result of NTSE 2020 State Level National Talent Search Examination held on 17th November 2019.
Related / Similar Post : WBSED NMMSE Result 2019
How To Check NTSE Result?
Just follow the below steps to view the NTSE 2020 Result.
Steps :
Step-1 : Go to the official website of WBSED NTSE through URL https://scholarships.wbsed.gov.in/
Step-2 : You can find the 'Merit List of NTSE 2020' link under the 'Notice' section of Home Page.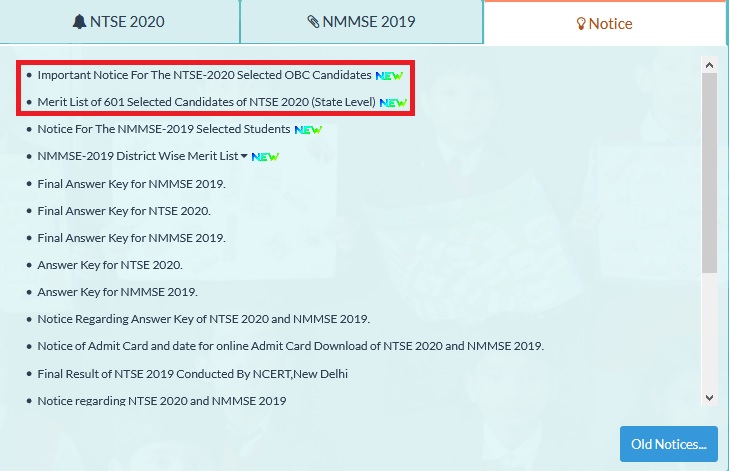 Step-3 : Click on the link to download/ view the merit list. List is available in the PDF.

(or)
You can directly go to the below link to check your result.
NTSE 2020 Merit List :
https://www.scholarships.net.in/uploads/pdf2020/42184-Ntse.pdf
PDF contains following details :
** Roll Number
** Name of the Candidate
** District
** Date Of Birth
** Address of the Candidate
** School Name And Address
** School Code
** Gender
** Area of Residence
** Caste Category
** Disability Status
** MAT Marks
** SAT Marks
** Total Marks
** Rank
Important Note :
All Provisionally selected OBC candidates have to produce national/central list current OBC certificates as per prescribed proforma given below and send it to the State by mail (helpscholarships [AT] gmail.com) with candidate's name and registration number or exam roll number within 10 days of the declaration of the result otherwise second stage NTS-II Level admit card will not be issued to these candidates by NCERT.
OBC Certificate Proforma :
https://www.scholarships.net.in/uploads/pdf2020/42184-OBC.pdf
NTSE Stage 2 Exam
The NTSE Stage 2 exam will comprise of two papers. Paper 1-Mental Ability test and Paper 2- Scholastic Aptitude Test. The NTSE 2019 Stage 2 exam will be held on May 10, 2020. There will be no paper on Language Test.
Each paper will consist of 100 questions. Also, there will be no negative marking in both the papers. Only those candidates qualifying in both the papers separately will be considered for merit.
Selected Candidates
Some of the selected Students are listed below. Kindly refer the above links to view the complete student list.
Sl.No | Roll No.| Candidate Name
1 23203103181 ARITRA MAJI
2 23205007208 SOUMYAPRABHA DEY
3 23204303006 ABHISHEK KUMAR
4 23203504300 SHIVAM MAJI
5 23205008163 ISHAN MANDAL
6 23203909067 SOUMYADEEP DUTTA
7 23203101207 AYANDEEP SHANNIGRAHI
8 23203505250 SHAMBO SAHA
9 23204303164 SOHAM RAY
10 23203409317 ARKA SAMANTA
11 23203202176 SHUBHAM JAIN
12 23203504347 ANWESHA MALLA
13 23204302255 AYAN ADHIKARI
14 23203501313 SOUVIK MUKHERJEE
15 23203505217 OLIVIA PAL
16 23203505060 ABHISHEK KUNDU
17 23204601358 BIBHABASU MANDAL
18 23203501360 SUBHAM KUMAR
19 23204302007 SAPTARSHI MUKHERJEE
20 23203107130 RIKTOM CHAI
21 23203504093 ABHIRUP DAS
22 23205106023 SUBARNO MAJI
23 23204301085 AISHINI BHATTACHARJEE
24 23203502103 SHREYAS MUKHERJEE
25 23204302056 SHUVRANEEL MITRA
26 23203505145 ISHITA MISRA
27 23203504239 DEBAPRIYA GANGULY
28 23203505318 AAYAN YADAV
29 23203505109 SAMMYABRATA NANDY
30 23203505116 ARNAB GOSWAMI
31 23203413047 ARITRA PAL
32 23204709023 PALLAB BISWAS
33 23204902107 SOUMYADEEP DUTTA
34 23204303157 NIRAVRA NAG
35 23203504180 JYOTISHKO BANERJEE
36 23204302230 ANUSKA MANDAL
37 23203505084 PRATYUSH BISWAS
38 23203505115 ADITYA ABHILASH
39 23203501486 HARSHIT SINGH
40 23203504124 PRERONA DAS
41 23203501309 SUBHADEEP SEN
42 23205007515 ARINDAM PRADHAN
43 23203409147 ANKITA ROY
44 23203504197 PRANAY CHAKRABORTY
45 23204301311 SAPTARSHI BANDYOPADHYAY
46 23204302012 CHIRADEEP JANA
47 23203601048 KOUSTAV CHOWDHURY
48 23204801035 RATUL SAHA
49 23205302145 ANIS MANDAL
50 23204302232 SHAKYA MAJUMDAR
51 23205005378 DIBYA PRASANNA RANA
52 23203501442 BIKRAMJIT GHOSH
53 23203409366 SRIJAN SAHA
54 23203405100 RAJDEEP SAHA
55 23203201095 PRIYAM TARAFDER
56 23203201455 RUDRAYAN KUNDU
57 23203504062 SUBHAM GHOSH
58 23205301145 ABHIRUP CHAKRABARTI
59 23205401089 ARNAB ROY
60 23203201348 ARITRA MAITI