WBMDFC Aikyashree State Scholarship 2020 West Bengal : wbmdfcscholarship.gov.in
You can now ask your doubts / questions.
Please go to the the bottom of this page for comments section.
Organisation : WBMDFC West Bengal Minorities Development & Finance Corporation
Scholarship Name : Aikyashree State Scholarship Scheme 2020
Applicable For : Minority Students
Applicable State : West Bengal
Website : https://wbmdfcscholarship.gov.in/main/guidelines
WBMDFC Aikyashree Scholarship
"Aikyashree" – West Bengal State Scholarships for Minority Students in West Bengal to be fully funded from the State budget from the financial year 2019-20 onwards.
Related / Similar Scholarship :
wbmdfc.org Pre Matric Scholarship 2020-21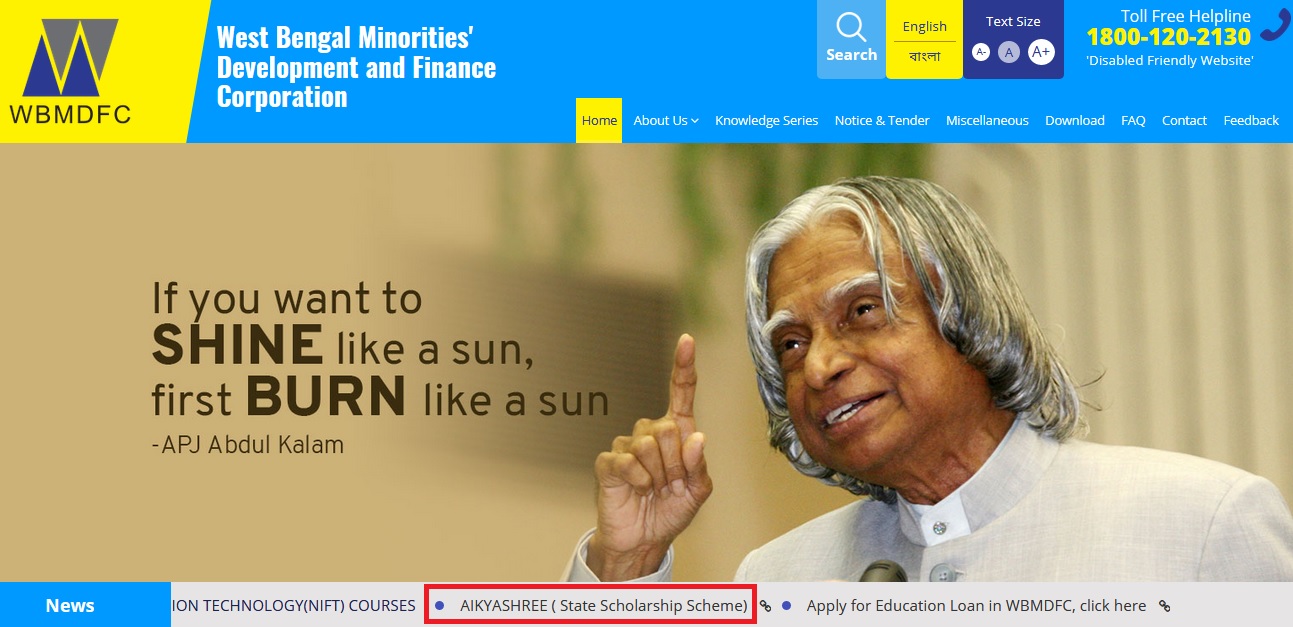 Objectives
** The primary objective of the Pre-matric Scholarship is to encourage the minority communities to send their children to schools and to prevent drop-out.
** The Post-matric scholarship intends to encourage students to continue their pursuit of higher education.
** The objective of Merit-cum-Means scholarship for professional and technical courses is to support the students to pursue professional / technical studies for consequently increasing their employability potential.
Eligibility Criteria
For Pre-matric & Post-matric Scholarship :
(i) Applicant must be a domicile of West Bengal.
(ii) Must be studying in a School/ Institution recognized by an educational Board/ Council/ University of the State/ Central Government.
(iii) Must have secured not less than 50% marks or equivalent grade in the previous final examination.
(iv) The annual family income should not exceed Rs.2 lakh.
(v) Students studying in institutes outside West Bengal will not be eligible for pre-matric or post-matric scholarship.
For Merit-cum-Means Scholarship :
(i) The applicant must be a domicile of West Bengal.
(ii) Must have got admission in a technical / professional course.
(iii) Must have secured at least 50% marks in the last Higher Secondary/ Graduation examination.
(iv) Annual family income of the student should not be more than Rs.2.5 lakh.
(v) The students who are residents of West Bengal but pursuing studies in listed institutions located outside West Bengal, as may be notified from time to time by the West Bengal Minorities' Development and Finance Corporation, are also eligible for applying.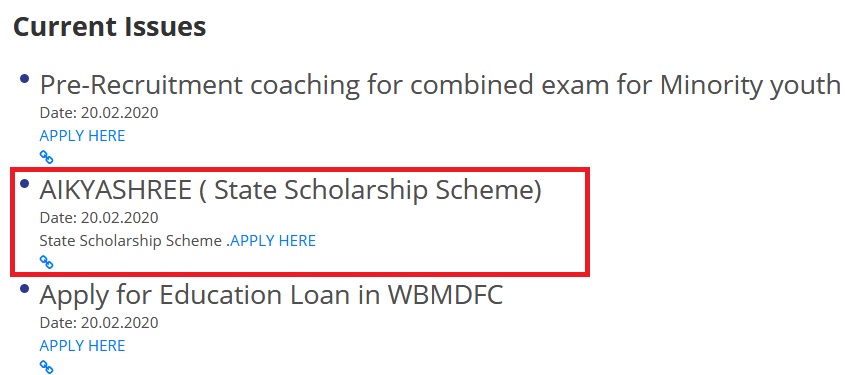 Rates Of Scholarship
Sl.
No.
Types of Scholarship
Class of Study
Day Scholars
Hosteller
 

1

 

Pre Matric

I to V
1100
0
VI toX
5500
11000
XI & XII
10200
11900
XI & XII
13500
15200
(technical &
vocational
2
Post
courses of
Matric
this level)
Undergraduate
6600
9600
& Post
Graduate
M.Phil &
9300
16500
3.
Merit-cum-Means
Medical Engineering, Management, Law, CA etc. courses
27500
33000
Selection Procedure
Scholarships will be provided to eligible students in order of merit and subject to the budgetary allocation provided by the State Government. For renewal, the applicant will be eligible for the scholarship if he/she has obtained 50% marks in his/her previous examination.
WBMDFC Scholarship Status
Just follow the below steps to track your scholarship application status,
Steps :
Step 1 : Visit the official website provided above and click on "Track an Application" link.


Step 2 : Next, Select Your District


Step 3 : Enter your Application ID and Date of Birth
Step 4 : Enter the Captcha code for verification.
Step 5 : Finally click on "Submit" button.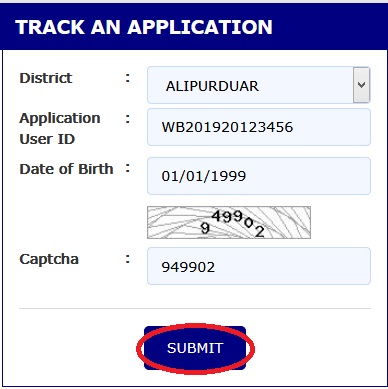 Conditions For Scholarship
** The applicant has to submit a certificate regarding family income at the time of application.
** For 'renewal' applicants, the continuance of scholarship will be subject to securing 50% marks in the previous year examination.
** Maintenance allowance will be provided to hostellers and day scholars.
** Students should be regular in attendance, for which the yardstick will be decided by the competent authority of the school.
** If a student violates school discipline or any other terms and conditions of the scholarship, scholarship may be suspended or cancelled. The State Government can also directly cancel the award if duly satisfied of the reasons of violation of these regulations governing the scheme.
** If a student is found to have obtained a scholarship by false statement, his/her scholarship will be cancelled forthwith and the amount of the scholarship paid will be recovered.
** The course/tuition fees and maintenance allowance will be credited to the student's bank account directly under Direct Benefit Transfer (DBT) mode.