educationportal.mp.gov.in NMMS 2019-20 Result : Madhya Pradesh National Means-cum-Merit Scholarship
Organisation : Madhya Pradesh Education
Announcement : NMMS 2019-20 Result
Scholarship Name : NMMS 2019-20 National Means-cum-Merit Scholarship Scheme
Applicable State : Madhya Pradesh
Exam Held On : 03.11.2019
Website : http://www.educationportal.mp.gov.in/Portal/Public/View_Circular.aspx?id=81514
MP NMMS Result
Madhya Pradesh Education Portal has been uploaded the results of NMMS 2019-20 National Means-Cum-Merit Scholarship Scheme Exam which was held on 03.11.2019.
How To Check NMMS Result?
Follow the steps below to view the result of NMMS 2019-20
Steps :
Step-1 : Go to the official website of Madhya Pradesh Education Portal through link (http://www.educationportal.mp.gov.in/)
Step-2 : Then click on the 'RSK' tab under 'Circulars' tab.
Step-3 : Scroll down to find the links of "National Means cum Merit Examination NMMS Result"

(or)
Candidates can download the results directly from the below links
NMMS 2019-20 Result :
https://www.scholarships.net.in/uploads/pdf2020/41483-NMMS.pdf
Step-4 : The result will be displayed in a PDF format.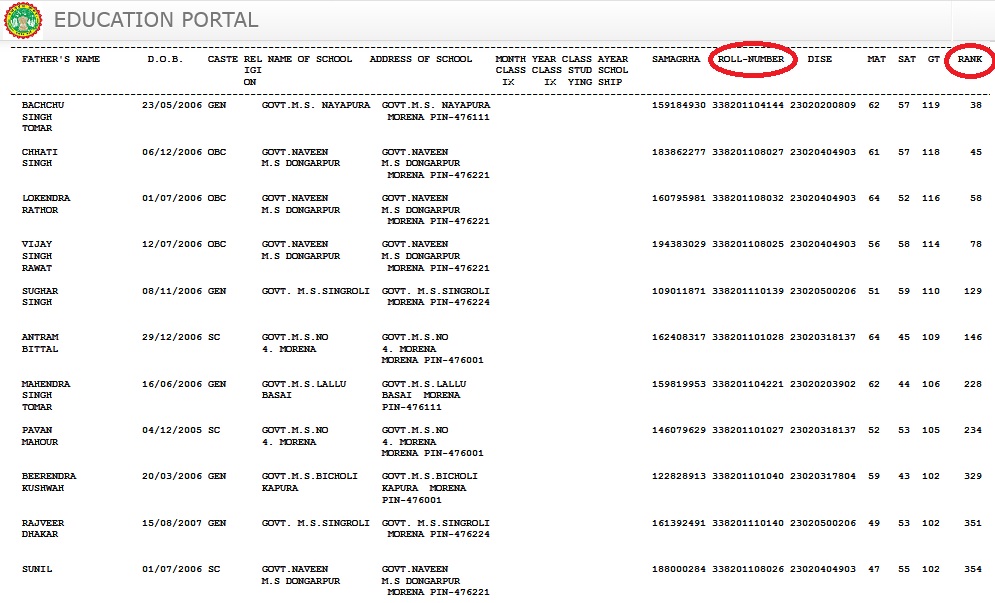 The PDF contains following details :
NMMS 2019-20 result PDF contains the following details. Candidates can check the results with anyone of the details like Roll Number, Name, Father Name, Mother Name, Date of Birth and School Name etc.
** Name
** Gender
** Address-1
** Address-2
** Bank Name
** Bank A/C No
** IFSC code
** Mobile No
** Aadhar No
** Father's Name
** D.O.B.
** Caste
** Religion
** Name Of School
** Address Of School
** Month Class IX
** Year Class IX
** Class Studying
** Samagrha Id
** Roll-Number
** DISE
** MAT
** SAT
** GT
** Rank
Selected Candidates List
Some of the selected candidates names are listed below. Kindly refer the NMMS 2019-20 result PDF links uploaded above for full list.
** Rudrapratap Singh Tomar
** Kajal
** Ankesh Rathor
** Vandna Rawat
** Vishnu Singh Sikarwar
** Harendra Bittal
** Gajraj Singh Tomar Tomar
** Shelendra Mahour
** Deepak Kushwah
** Roshani Dhakar
** Lavkush
** Sachin Kushwah
** Ashutosh Julaniya
** Vipin Sharma
** Komal Sharma
** Kshma
** Sachin Baghel
** Anurag Singh Parmar
** Abhishek Singh Sikarwar
** Piyush Tiwari
** Priya Sikarwar
** Siddhant Singh Sikarwar
** Kuldeep Sharma
** Umesh
** Rohtash Jatav
** Ashish Rathore
** Pavan Dhakar
** Ajay Sharma
** Kunal Sanehiya
** Surendra Arya
** Sandeep Jatav
** Amit Dhakad
** Shivraj Dhakar
** Monu Jatav
** Sarita Kaushal
** Nisha Dhakar
** Gaurav Dhakar
** Ravindra Baghel
** Nisha Gautam
** Girraj Parmar
** Mushkan Manjhi
** Suraj Mahor
** Muskan Chaudhary
** Ajay Singh Sikarwar
** Anchal Jatav
** Abhishek Jatav
** Sourav Jatav
** Ashish Kirar
** Somveer Singh Tomar
** Monu Rathor
** Aman Khan
** Sanjay Dhakar
** Raj Singh
** Vikash Dhakad
** Monish Khan
** Harendra Sharma
** Amit Baghel
** Aditya
** Madhu Mahaur
** Sumit Singh
Scholarship Amount
Selected candidates will receive scholarship @ Rs.1000.00 per month for four years i.e. from Class IX to Class XI subject to satisfactory academic progress and continuance in institutions of eligible category.
** For continuing the scholarship in Class X and XII the awardees should get clear promotion from Class IX to Class X and from Class XI to Class XII in the first attempt with 55% marks (relaxable by 5% for reserved category)
** The awardees must obtain a minimum of 60 percent marks in Class X (relaxable by 5% for reserved category) examination or equivalent examination for continuation of the scholarship at higher secondary stage.