Aakash SPARRK 2020 Scholarship Test
Organisation : Aakash Institute
Scholarship Name : Aakash SPARRK Scholarship Test 2020
Applicable For : Students from Class VII to X
Exam Date : 5th April 2020
Exam Fee : Rs. 500/-
Website : https://sparrk.aakash.ac.in/enroll?utm_source=connecto&utm_medium=organic&utm_campaign=sparrk20-connecto
You can now ask your question on this scholarship.
Ask here
(OR) Go to the bottom of this page for comments.
Aakash SPARRK Scholarship Exam
Aakash SPARRK is a national level scholarship exam.
Related / Similar Scholarship : Aakash iACST 2020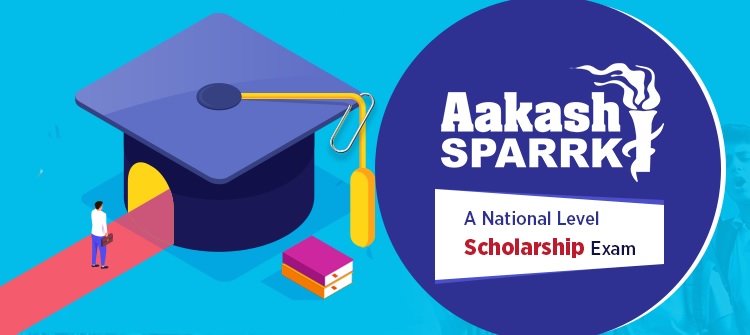 With Aakash SPARRK, comes an opportunity for School Students to compete Nationally and win scholarship up to 90% on Tuition Fee and get admission into Aakash.
Who Can Apply?
Students Moving from Class VII to VIII/ VIII to IX/ IX to X are eligible to apply for Aakash SPARRK Scholarship Exam 2020.
How to Register?
Just follow the below steps to register for Aakash SPARRK Scholarship Exam 2020.
Steps :
Step 1 : Visit the official website of Aakash Institute through provided above.
Step 2 : Please enter your mobile number to receive a verification code.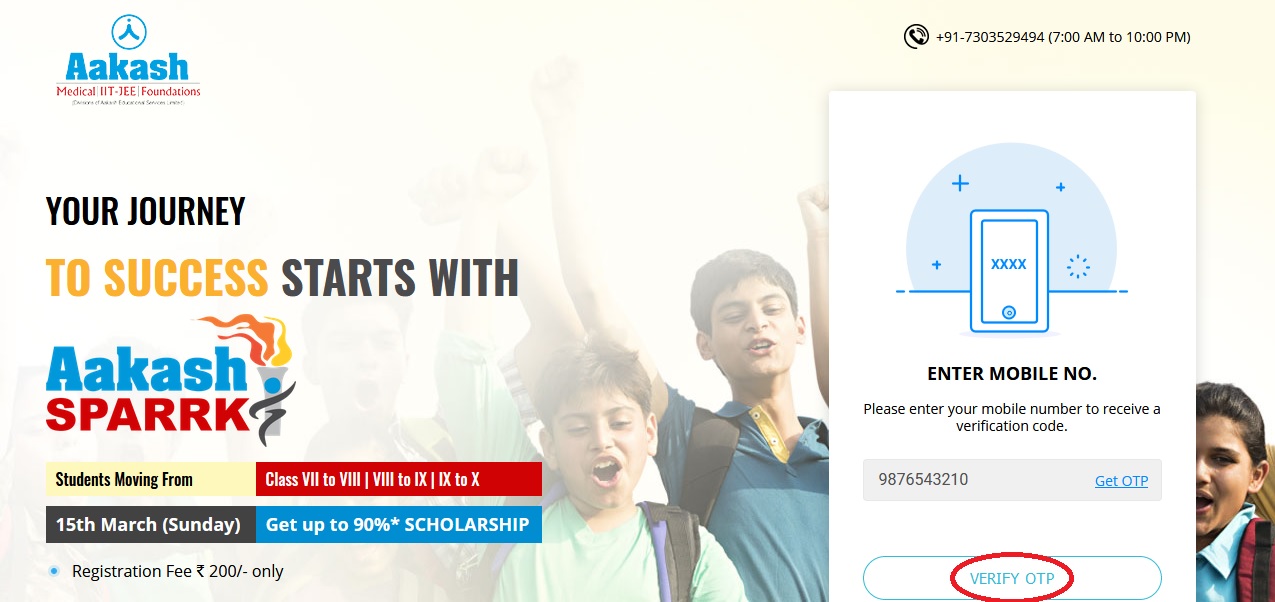 Step 3 : Fill in the OTP received to verify your mobile number
Step 4 : Fill in your details to complete your Registration
Step 5 : Complete the process by paying the exam fee
Step 6 : Registration Complete – Congratulations! You are now a SPARRK Aspirant
Exam Details
| | |
| --- | --- |
| Examination Fee | ₹ 200/- (Including GST) |
| Exam Date | 5th April 2020 (Sunday) |
| Exam Timing | Morning: 11:00 AM to 12:00 PM or Afternoon: 03:00 PM to 04:00 PM |
| Result Date | 8th April 2020 (Wednesday) |
Exam Pattern
Exam Duration
Number of Questions
Total
1hr
Physics
10
Chemistry
10
Biology
10
Maths
15
45
Sparrk Registration Benefits
** Know your Potential at All India Level across 201+ Centres
** Scholarship up to 90%
** Free Exam Analysis
** Exclusive access to Meritnation Exam Cracker Online Course to boost your preparation for School/Board exams till 31st March
** Free Access to Meritnation Online Premium Course only for students who take admission through Sparrk Scholarship for current class till 30th June
Syllabus
| | | |
| --- | --- | --- |
| Class VII Moving to Class VIII | Class VIII moving to Class IX | Class IX moving to Class X |
| Complete Syllabus of class VII | Complete Syllabus of class VIII | Complete Syllabus of class IX |
What Makes Aakash the Smartest Choice?
** Insightful Study Material
** Well-defined Academic Journeys
** Interactive Teaching Approach
** Regular Tests, Assessments and AIATS
** Parent Teacher Meetings
** Excellent & Experienced Faculty
** Board/School & Olympiad Preparation
** Enriched Solved Examples
** Disciplined and Focused Learning Environment
** Motivational Sessions
** Proven Selection Track Record
** Doubt Clearance
** Video Lecture Library (i-Tutor Lab)
** Exhaustive Question Banks
** Pan India Network
Suitable Courses
For Class 8 Students :
(Students Studying in Class VII and moving to Class VIII)
** One Year Integrated Classroom Course for Class VIII, School/Board exams & Olympiads
** Three Year Integrated Classroom Course for Class VIII to X, School/Board exams, NTSE & Olympiads
For Class 9 Students :
(Students Studying in class VIII and moving to class IX)
** One Year Integrated Classroom Course for Olympiads & Class IX
** Two Year Integrated Classroom Course for Olympiads, NTSE & Class IX & X
For Class 10 Students :
(Students Studying in class IX and moving to class X)
** One Year Integrated Classroom Course for Olympiads, NTSE & Class X
Contact Us
If you have any queries regarding the scholarship please call +91-7303529494 (7:00 AM to 10:00 PM)