manipurobcsc.gov.in 2019-20 Beneficiary List OBC Pre-Matric Scholarship : Manipur
Organisation : Manipur MOBC Minorities & Other Backward Classes
Announcement : Scholarship Beneficiary List 2019-20
Scholarship Name : OBC Pre-Matric Scholarship 2019-20
Website : http://www.manipurobcsc.gov.in/beneficiary-list-scholarship-schemes/
You can now ask your question on this scholarship.
Ask here
(OR) Go to the bottom of this page for comments.
Manipur OBC Pre-Matric Scholarship Beneficiary List
Tentative eligible list of OBC students for award of OBC Pre-Matric Scholarship, 2019-20.
Related / Similar Post : Manipur SC PMS Eligible Students List 2019-20
How to Check?
To view the eligible list of OBC Pre-Matric Scholarship 2019-20, just follow the simple steps mentioned below.
Steps :
Step 1 : Go to the official website of Manipur MOBC Minorities & Other Backward Classes through the URL http://mobcmanipur.gov.in/index.html
Step 2 : Then click on the link "Tentative eligible OBC students for award of OBC (Pre-Matric & Post-Matric) Scholarship for the year 2019-20 is declared" under the Latest Scholarship Notifications tab.
Step 3 : Next, click "Notification & List of Student: link. The student list will be displayed in a PDF format.

Step 4 : Open the PDF file and find your name in the selection list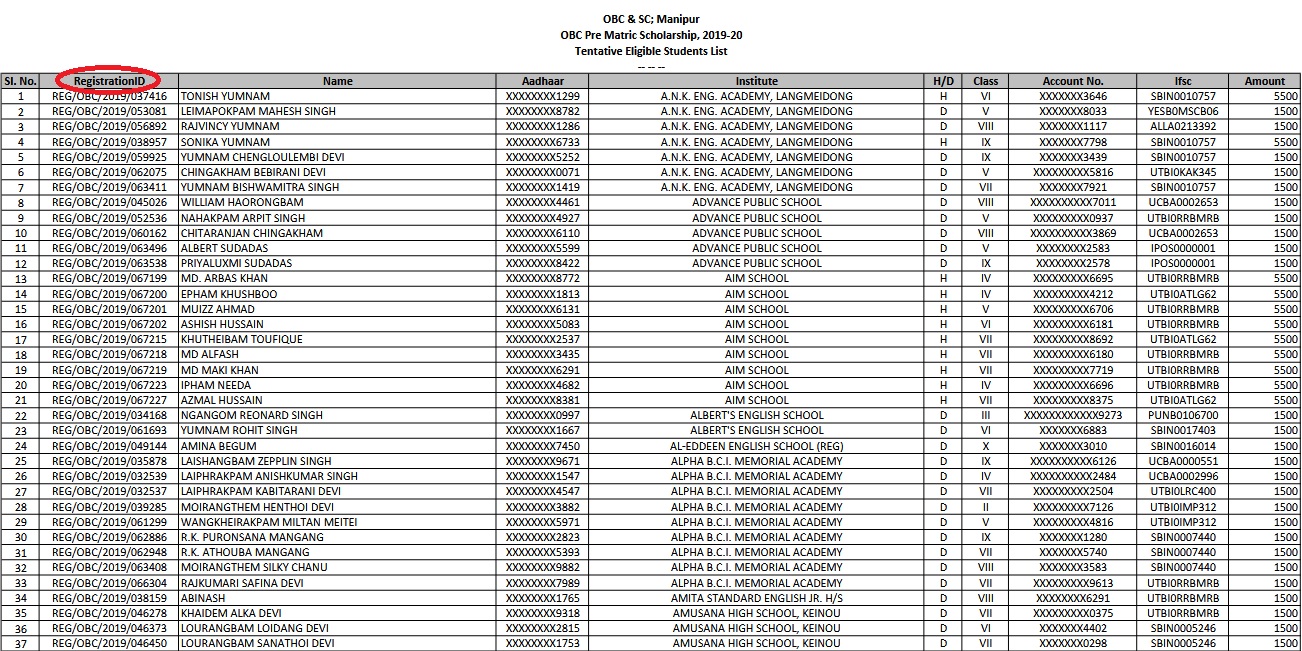 Step 5 : The PDF file contains the following details
** Registration ID
** Name
** Aadhaar
** Institute
** H/D
** Class
** Account No.
** IFSC Code
** Amount
Note :
Claims & objections, if any (including defect application), may be submitted on or before 22nd February, 2020 after which no further complaint will be entertained.
OBC Pre-Matric Beneficiary List 2019-20  :
https://www.scholarships.net.in/uploads/pdf2020/41125-OBCPre.pdf
Eligible Students List
Some of the Eligible Students names are listed below. Kindly refer the "OBC Pre-Matric Beneficiary List 2019-20" PDF links uploaded above for full list.
| | | | | |
| --- | --- | --- | --- | --- |
| Registration ID | Name | Aadhaar | Account No. | Amount |
| REG/OBC/2019/037416 | TONISH YUMNAM | XXXXXXXX1299 | XXXXXXX3646 | 5500 |
| REG/OBC/2019/053081 | LEIMAPOKPAM MAHESH SINGH | XXXXXXXX8782 | XXXXXXX8033 | 1500 |
| REG/OBC/2019/056892 | RAJVINCY YUMNAM | XXXXXXXX1286 | XXXXXXX1117 | 1500 |
| REG/OBC/2019/038957 | SONIKA YUMNAM | XXXXXXXX6733 | XXXXXXX7798 | 5500 |
| REG/OBC/2019/059925 | YUMNAM CHENGLOULEMBI DEVI | XXXXXXXX5252 | XXXXXXX3439 | 1500 |
| REG/OBC/2019/062075 | CHINGAKHAM BEBIRANI DEVI | XXXXXXXX0071 | XXXXXXXXX5816 | 1500 |
| REG/OBC/2019/063411 | YUMNAM BISHWAMITRA SINGH | XXXXXXXX1419 | XXXXXXX7921 | 1500 |
| REG/OBC/2019/045026 | WILLIAM HAORONGBAM | XXXXXXXX4461 | XXXXXXXXXX7011 | 1500 |
| REG/OBC/2019/052536 | NAHAKPAM ARPIT SINGH | XXXXXXXX4927 | XXXXXXXXX0937 | 1500 |
| REG/OBC/2019/060162 | CHITARANJAN CHINGAKHAM | XXXXXXXX6110 | XXXXXXXXXX3869 | 1500 |
| REG/OBC/2019/063496 | ALBERT SUDADAS | XXXXXXXX5599 | XXXXXXXX2583 | 1500 |
| REG/OBC/2019/063538 | PRIYALUXMI SUDADAS | XXXXXXXX8422 | XXXXXXXX2578 | 1500 |
| REG/OBC/2019/067199 | MD. ARBAS KHAN | XXXXXXXX8772 | XXXXXXXXX6695 | 5500 |
| REG/OBC/2019/067200 | EPHAM KHUSHBOO | XXXXXXXX1813 | XXXXXXXXX4212 | 5500 |
| REG/OBC/2019/067201 | MUIZZ AHMAD | XXXXXXXX6131 | XXXXXXXXX6706 | 5500 |
| REG/OBC/2019/067202 | ASHISH HUSSAIN | XXXXXXXX5083 | XXXXXXXXX6181 | 5500 |
| REG/OBC/2019/067215 | KHUTHEIBAM TOUFIQUE | XXXXXXXX2537 | XXXXXXXXX8692 | 5500 |
| REG/OBC/2019/067218 | MD ALFASH | XXXXXXXX3435 | XXXXXXXXX6180 | 5500 |
| REG/OBC/2019/067219 | MD MAKI KHAN | XXXXXXXX6291 | XXXXXXXXX7719 | 5500 |
| REG/OBC/2019/067223 | IPHAM NEEDA | XXXXXXXX4682 | XXXXXXXXX6696 | 5500 |
| REG/OBC/2019/067227 | AZMAL HUSSAIN | XXXXXXXX8381 | XXXXXXXXX8375 | 5500 |
| REG/OBC/2019/034168 | NGANGOM REONARD SINGH | XXXXXXXX0997 | XXXXXXXXXXXX9273 | 1500 |
| REG/OBC/2019/061693 | YUMNAM ROHIT SINGH | XXXXXXXX1667 | XXXXXXX6883 | 1500 |
| REG/OBC/2019/049144 | AMINA BEGUM | XXXXXXXX7450 | XXXXXXX3010 | 1500 |
| REG/OBC/2019/035878 | LAISHANGBAM ZEPPLIN SINGH | XXXXXXXX9671 | XXXXXXXXXX6126 | 1500 |
| REG/OBC/2019/032539 | LAIPHRAKPAM ANISHKUMAR SINGH | XXXXXXXX1547 | XXXXXXXXXX2484 | 1500 |
| REG/OBC/2019/032537 | LAIPHRAKPAM KABITARANI DEVI | XXXXXXXX4547 | XXXXXXXXX2504 | 1500 |
| REG/OBC/2019/039285 | MOIRANGTHEM HENTHOI DEVI | XXXXXXXX3882 | XXXXXXXXX7126 | 1500 |
| REG/OBC/2019/061299 | WANGKHEIRAKPAM MILTAN MEITEI | XXXXXXXX5971 | XXXXXXXXX4816 | 1500 |
| REG/OBC/2019/062886 | R.K. PURONSANA MANGANG | XXXXXXXX2823 | XXXXXXX1280 | 1500 |
| REG/OBC/2019/062948 | R.K. ATHOUBA MANGANG | XXXXXXXX5393 | XXXXXXX5740 | 1500 |
| REG/OBC/2019/063408 | MOIRANGTHEM SILKY CHANU | XXXXXXXX9882 | XXXXXXX3583 | 1500 |
| REG/OBC/2019/066304 | RAJKUMARI SAFINA DEVI | XXXXXXXX7989 | XXXXXXXXX9613 | 1500 |
| REG/OBC/2019/038159 | ABINASH | XXXXXXXX1765 | XXXXXXXX6291 | 1500 |
| REG/OBC/2019/046278 | KHAIDEM ALKA DEVI | XXXXXXXX9318 | XXXXXXXXX0375 | 1500 |
| REG/OBC/2019/046373 | LOURANGBAM LOIDANG DEVI | XXXXXXXX2815 | XXXXXXX4402 | 1500 |
| REG/OBC/2019/046450 | LOURANGBAM SANATHOI DEVI | XXXXXXXX1753 | XXXXXXX0298 | 1500 |
| REG/OBC/2019/046494 | LOURANGBAM SARJULATA DEVI | XXXXXXXX3551 | XXXXXXXX0469 | 1500 |
| REG/OBC/2019/046499 | KHAIDEM JOSHIKA DEVI | XXXXXXXX7903 | XXXXXXXXX8097 | 1500 |
| REG/OBC/2019/046586 | KHAIDEM POIREI SINGH | XXXXXXXX4334 | XXXXXXXXX0393 | 1500 |
| REG/OBC/2019/060306 | LOKTONGBAM SAYA DEVI | XXXXXXXX2559 | XXXXXXXXX8413 | 1500 |
| REG/OBC/2019/063741 | MANGAL THOKCHOM | XXXXXXXX2305 | XXXXXXXXX7818 | 1500 |
| REG/OBC/2019/064726 | CHANAMBAM BENERJEE SINGH | XXXXXXXX3103 | XXXXXXXX3674 | 1500 |
| REG/OBC/2019/064814 | CHANAMBAM JAMES SINGH | XXXXXXXX9159 | XXXXXXXX3636 | 1500 |
| REG/OBC/2019/064860 | CHANAMBAM INLAKYSANA DEVI | XXXXXXXX4419 | XXXXXXXX3640 | 1500 |
| REG/OBC/2019/064918 | CHANAMBAM KEBITA DEVI | XXXXXXXX3049 | XXXXXXXX3639 | 1500 |
| REG/OBC/2019/065069 | CHANAMBAM IBEMA DEVI | XXXXXXXX5173 | XXXXXXXX3637 | 1500 |
| REG/OBC/2019/065077 | CHANAMBAM INKARAJ SINGH | XXXXXXXX6652 | XXXXXXXX3647 | 1500 |
| REG/OBC/2019/065980 | MAISNAM YAIPHABA SINGH | XXXXXXXX1282 | XXXXXXXXX7962 | 1500 |
| REG/OBC/2019/033605 | BACHASPATIMAYUM MANSI DEVI | XXXXXXXX9956 | XXXXXXXXX8670 | 1500 |
| REG/OBC/2019/036785 | SHOIBAM SACHIRANI DEVI | XXXXXXXX2868 | XXXXXXXXX5220 | 1500 |
Contact/ Helpdesk
Scheme Officer (OBC&SC), Manipur may be contacted for further information during office hours or at the enquiring mail mobc-scholarships [AT] googlegroups.com