ACE Scholarship Test AST 2020 : aceenggacademy.com
You can ask questions or answer questions about this scholarship.
Please go to the bottom of this page.
Organisation : ACE Engineering Academy
Scholarship Name : ACE Scholarship Test 2020
Applicable For : Engineers
Exam Date : 23rd February 2020
Website : https://www.aceenggacademy.com/register-ast/
ACE Engineering Academy AST
ACE Scholarship Test (AST) A Ntional Level Scholarship Test For Engineers.
Related / Similar Scholarship : SarvGyan Scholarship Test 2020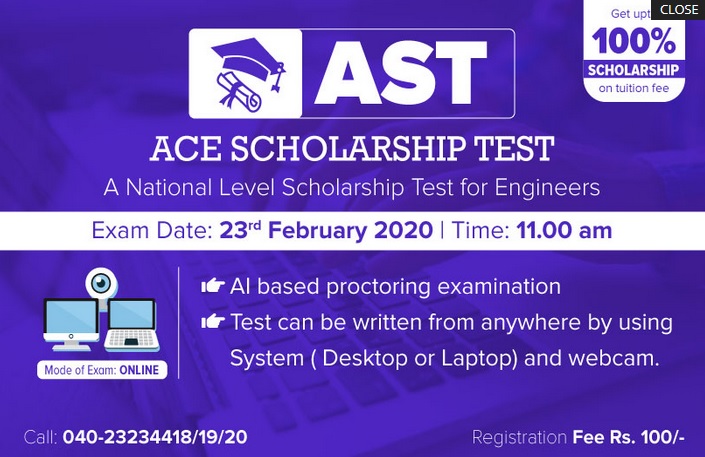 Who Can Apply?
Bachelor's degree holders in Engineering/Technology are eligible to apply for ACE Scholarship Test 2020.
How to Register?
Just follow the below steps to register for ACE Scholarship Test 2020.
Steps :
Step 1 : Visit the official website of ACE Engineering Academy through provided above.
Step 2 : Next, click on the "Register Now" button.


Step 3 : Select Your Branch & Student Type and click on "Next" button.


Step 4 : Fill the remaining details to complete your registration.
Step 5 : Pay your registration fee and finally click on "Submit" button.
AST Exam Details
Exam Date : 23rd February 2020
Exam Time : 11:00 AM
No. of Questions :50 (1M:25 2M:25)
Registration fee : 100/-
Marks : 75
Duration : 90 min
Streams : EE | EC | ME | CE | CSIT | IN | PI
Mode Of Exam : Online
* AI based pro-casting exam
* Test can be written from any where using computer (Desktop / Laptop) and webcam
* The test will have ¼ negative marking
Syllabus
2nd Year Students : Aptitude Paper
Engg. Mathematics – 20 Q
Numerical Ability – 20 Q
Verbal Ability – 10 Q
3rd \ 4th Year & passed-out Students :
EEE
ECE /IN
CSE /IT
Subject
No. of
Questions
Subject
No. of
Questions
Subject
No. of
Questions
Networks
5Q
Networks
6Q
DS,PL& Algorithm
10Q
Control Systems
5Q
Control Systems
6Q
DBMS
5Q
Analog Electronics
4Q
Analog Electronics
6Q
Computer Networks
5Q
Digital Electronics
5Q
Digital Electronics
5Q
Operating Systems
6Q
Electrical Machines
8Q
Signals & Systems
5Q
Computer Organisation
4Q
Power Systems
7Q
EDC & VLSI
5Q
Therory Of Computer
6Q
Power Electronics
6Q
Communication
8Q
Digital Electronics
4Q
Engg. Maths
5Q
Engg. Maths
5Q
Engg. Maths
5Q
Numerical / Verbal Ability
5Q
Numerical / Verbal Ability
5Q
Numerical / Verbal Ability
5Q
Allocation of Scholarships
** 1st Position (50 members) 100% Fee Waiver*
** 2nd Position (100 members) 75% Fee Waiver*
** 3rd Position (250 members) 50% Fee Waiver*
** 4th Position (400 Members) 30% Fee Waiver
** 5th Position (700 Members) 20% Fee Waiver*
** 6th Position (1000 Members) 10% Fee Waiver*
(The above given positions should achieve Min. 50% of marks in the test)
* on tuition fee
FAQs
1. What are the various modes of payment?
Payment can be made in the following forms
** By DD
** By ICICI Bank challan
** By Online payment
** By swipe machine
** By cash
** We don't advice payment by cash.
2. Different fees structure for GATE/IES why?
The syllabus of IES exam is about 30% more than that of GATE syllabus. For IES coaching general studies and Engineering Aptitude and some other technical subjects are added.
Both objective and conventional questions are to be explained in the class. Hence for IES coaching the number of hours and the study material are on higher side compared to that of GATE. Hence the fee for IES is slightlymore than that of GATE.
3. Is DD conformation link available on website?
Yes, It is available.
4. Material fee is separate or including the fee?
The Fees includes the cost of study material.
Contact
If you have any queries regarding the scholarship please contact,
Call : 040-23234418/19/20
Email: hyderabad [AT] aceenggacademy.com