MKC Scholarship Exam 2020-21 : Major Kalshi Classes
Organisation : Major Kalshi Classes Pvt. Ltd
Scholarship Name : MKC Scholarship Exam 2020-21
Applicable for : Class X – XI -XII & Graduation(Studying)
Exam Date : 12th April 2020
Website/Apply Online : https://majorkalshiclasses.com/scholarship/
You can now ask your question on this scholarship.
Ask here
(OR) Go to the bottom of this page for comments.
MKC Scholarship Test
MKC to launch Admission cum scholarship Exam for the year 2020-21. Participate & Avail up to 50% Scholarship for NDA /AF /NAVY /MNS / NDA FOUNDATION /CDS & CPF.
Related / Similar Scholarship : Avanse Academia Scholarship 2020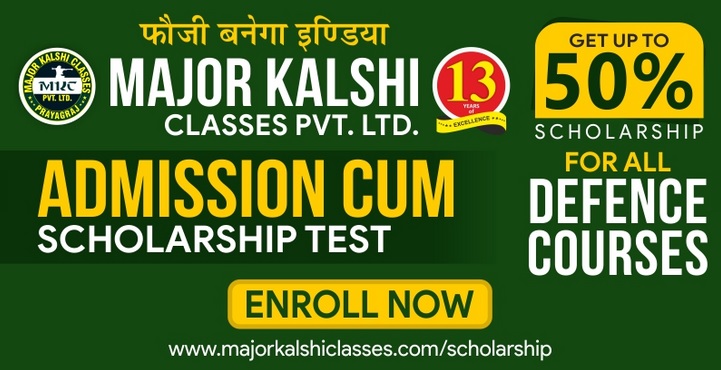 Who Can Apply?
Students of Class X – XI -XII & Graduation(Studying) are eligible to apply for MKC Scholarship Exam 2020-21.
Process For Registration
Just follow the below steps to register for MKC Scholarship Exam 2020-21.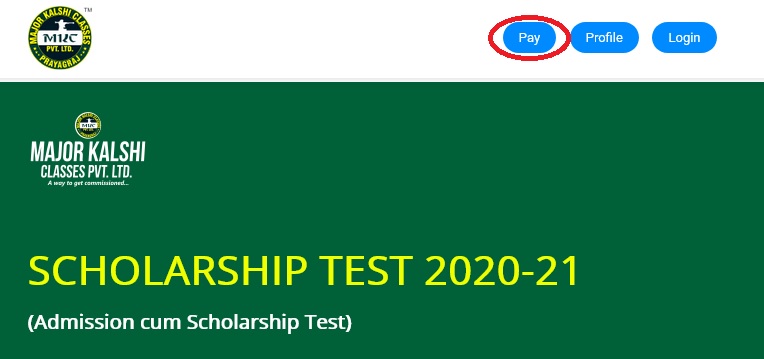 Steps :
Step 1 : Enter Authentic Mobile No & Date Of Birth
Step 2 : Pay Registration Fees Rs 525 /-

Step 3 : GET SMS Transaction ID
step 4 : Complete Your Profile Get Enrolled
Exam Schedule

Exam Centers
** Allahabad (Prayagraj)
** Varansi
** Gorakhpur
** Meerut
** Agra
** Kanpur
** Lucknow
** Bareily
** Gazipur
** Balia
** Patna
** Mumbai
** Pune
** Ranchi
** Chattisgargh
** Raipur
** Bhopal
** Indore
** Gwalior
** Ahemdabad
** Dehradoon
** Delhi
** Chandigarh
** Jaipur
Scholarship Criteria

** Up to 50% Scholarship for All Defence Courses
** Exam Fee Rs 525 (Inclusive All Tax)
** scholarship is valid for 60 Days after the date of exam
MKC Courses
NDA Foundation :
** 2Yr. Course – (Class X Studying Students moving to Class XI)
** 1Yr. Course – (Class XI Studying Students moving to Class XII)
10+2 Level Courses :
** NDA/AIRFORCE/ NAVY – (For One Year & Six Month Courses)
** MNS – (For One Year & Six Month Courses)
Graduation Level Courses :
** CDS – (For One Year & Six Month Courses)
** CPF – (For One Year & Six Month Courses)
FAQs
1. How many times any Defence Exam Notification comes?
Most of the exams are conducted twice in a year. The notification is usually issued in Dec/Jan and June/July for
** NDA,
** Army (SSC Tech, NCC Entry, TGC Entry, 10+2 TES, Jag Entry),
** Air Force (AFCAT, X and Y group),
** Navy (UES, B.Tech Entry, Executive Branch, ATC, AA, SSR, MR),
** Indian Coast Guard (AC, Navik GD, Yantrik, Navik DB)
3. CDS form also comes twice but in July/Aug and Oct/Nov
Some other forms come only once a year like TA, MNS, CPF
2. What is the age limit to appear for NDA?
15 ½ to 18 ½ while applying for it and 16 ½ to 19 ½ while joining. See the specific notification for exact date between which you should be born.
3. Is there reservation for SC/ST in defence?
Only in Indian Coast Guard and paramilitary Forces (the exam for which is conducted by SSC (SSC GD) for non officer ranks and UPSC (CPF) for officer ranks). In Indian Army, Navy and Air Force there is no SC/ST based reservation.
4. Can girls join NDA?
As of they can't. But lately it was in the news and from next exam or there after girls may become eligible to join NDA
5. Can boys join Military Nursing Services?
No its only for girls who have passed 12th in first attempt with Physics, Chemistry, Biology (Botany & Zoology) and English with not less than 50% aggregate marks as a regular student. Candidates in final year may also apply.