gokdom.kar.nic.in SSP Post Matric Scholarship 2019-20 Allotted ID Numbers to D.El.Ed Students : Karnataka
Organisation : Karnataka Directorate of Minorities
Portal Name : State Scholarship Portal (SSP)
Announcement : ID Numbers Allotted to D.El.Ed Students
Scholarship Name : Post Matric Scholarship 2019-20
Applicable For : D.El.Ed Students
Applicable State : Karnataka
Website : https://gokdom.kar.nic.in/index_en.asp
You can now ask your question on this scholarship.
Ask here
(OR) Go to the bottom of this page for comments.
GOKDOM SSP PMS Allotted ID Numbers
ID Numbers allotted to D.El.Ed students to apply under State Scholarship Portal (SSP) Post Matric Scholarship 2019-20.
Related / Similar Post :
SSP Karnataka Apply For Post-Matric Scholarship

Students Allotted ID List
Diploma in Elementary Education (D.El.Ed) students allotted ID Numbers are listed below. Kindly refer the below PDF links uploaded for full candidates ID list.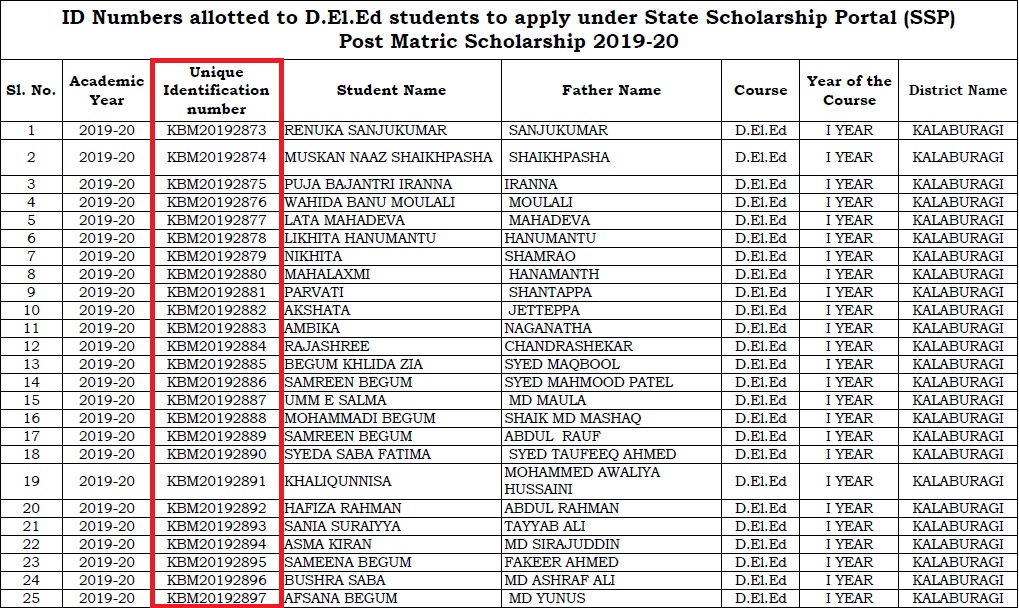 | | | | | |
| --- | --- | --- | --- | --- |
|  Sl. No. | Unique Identification number | Student Name | Father Name | District Name |
| 1 | KBM20192873 | RENUKA SANJUKUMAR | SANJUKUMAR | KALABURAGI |
| 2 | KBM20192874 | MUSKAN NAAZ SHAIKHPASHA | SHAIKHPASHA | KALABURAGI |
| 3 | KBM20192875 | PUJA BAJANTRI IRANNA | IRANNA | KALABURAGI |
| 4 | KBM20192876 | WAHIDA BANU MOULALI | MOULALI | KALABURAGI |
| 5 | KBM20192877 | LATA MAHADEVA | MAHADEVA | KALABURAGI |
| 6 | KBM20192878 | LIKHITA HANUMANTU | HANUMANTU | KALABURAGI |
| 7 | KBM20192879 | NIKHITA | SHAMRAO | KALABURAGI |
| 8 | KBM20192880 | MAHALAXMI | HANAMANTH | KALABURAGI |
| 9 | KBM20192881 | PARVATI | SHANTAPPA | KALABURAGI |
| 10 | KBM20192882 | AKSHATA | JETTEPPA | KALABURAGI |
| 11 | KBM20192883 | AMBIKA | NAGANATHA | KALABURAGI |
| 12 | KBM20192884 | RAJASHREE | CHANDRASHEKAR | KALABURAGI |
| 13 | KBM20192885 | BEGUM KHLIDA ZIA | SYED MAQBOOL | KALABURAGI |
| 14 | KBM20192886 | SAMREEN BEGUM | SYED MAHMOOD PATEL | KALABURAGI |
| 15 | KBM20192887 | UMM E SALMA | MD MAULA | KALABURAGI |
| 16 | KBM20192888 | MOHAMMADI BEGUM | SHAIK MD MASHAQ | KALABURAGI |
| 17 | KBM20192889 | SAMREEN BEGUM | ABDUL RAUF | KALABURAGI |
| 18 | KBM20192890 | SYEDA SABA FATIMA | SYED TAUFEEQ AHMED | KALABURAGI |
| 19 | KBM20192891 | KHALIQUNNISA | MOHAMMED AWALIYA HUSSAINI | KALABURAGI |
| 20 | KBM20192892 | HAFIZA RAHMAN | ABDUL RAHMAN | KALABURAGI |
| 21 | KBM20192893 | SANIA SURAIYYA | TAYYAB ALI | KALABURAGI |
| 22 | KBM20192894 | ASMA KIRAN | MD SIRAJUDDIN | KALABURAGI |
| 23 | KBM20192895 | SAMEENA BEGUM | FAKEER AHMED | KALABURAGI |
| 24 | KBM20192896 | BUSHRA SABA | MD ASHRAF ALI | KALABURAGI |
| 25 | KBM20192897 | AFSANA BEGUM | MD YUNUS | KALABURAGI |
| 26 | KBM20192898 | SALMA BEGUM | MAHMOOD SHAH | KALABURAGI |
| 27 | KBM20192899 | ARSHIYA JABEEN | SIDDIQ ANSARI | KALABURAGI |
| 28 | KBM20192900 | SUHANA BEGUM | ABDUL NAYEEM | KALABURAGI |
| | | | | |
| --- | --- | --- | --- | --- |
| 29 | KBM20192901 | SHAYESTA BEGUM | KHAJA SADRUDDIN | KALABURAGI |
| 30 | KBM20192902 | SUMMAIYA SADAF | MOHAMMEDMUQEET AHMED | KALABURAGI |
| 31 | KBM20192903 | NAUSHEEN | SHABEER AHMED | KALABURAGI |
| 32 | KBM20192904 | NEHA RUKSAR | ABDUL HAFEEZ | KALABURAGI |
| 33 | KBM20192906 | MEENAKSHI | SHIVALINGAPPA | KALABURAGI |
| 34 | KBM20192907 | LAXMIBAI | SHRIMANTH | KALABURAGI |
| 35 | KBM20192908 | DHANAMMA | KALYANAPPA | KALABURAGI |
| 36 | KBM20192909 | SHILPA | SHANKAR | KALABURAGI |
| 37 | KBM20192910 | MAMTA | NAMDEV | KALABURAGI |
| 38 | KBM20192911 | PALLAVI | TOBIAS | KALABURAGI |
| 39 | KBM20192912 | ARVINDKUMAR | DEVINDRAPPA | KALABURAGI |
| 40 | KBM20192913 | ASHWINI | MANOHAR | KALABURAGI |
| 41 | KBM20192914 | GANGOTRI | VIJAYAKUMAR | KALABURAGI |
| 42 | KBM20192915 | ASHWINI | KASHINATH | KALABURAGI |
| 43 | KBM20192916 | AKSHAYA | SHRIKANTH | KALABURAGI |
| 44 | KBM20192917 | VAIJUNATH | BASAVARAJ | KALABURAGI |
| 45 | KBM20192918 | GOUTAMI | RAJANAIK | KALABURAGI |
| 46 | KBM20192919 | SAROJINI | CHANDRASHA | KALABURAGI |
| 47 | KBM20192920 | AMBRISH | OMKAR | KALABURAGI |
| 48 | KBM20192921 | MOUNESHWARI .T. | TIMMAPPA | KALABURAGI |
| 49 | KBM20192922 | AKASH | OMKAR | KALABURAGI |
| 50 | KBM20192923 | SHARANAMMA | RANOJI | KALABURAGI |
| 51 | KBM20192924 | SUDHAKAR | RATNAPPA | KALABURAGI |
| 52 | KBM20192925 | RENUKABAI | DHARMSING | KALABURAGI |
| 53 | KBM20192926 | CHANDRAKALA | SHIVANAND WALI | KALABURAGI |
| 54 | KBM20192927 | SAGAR | OMKAR | KALABURAGI |
| 55 | KBM20192928 | BANDEMMA | SIDDANNA | KALABURAGI |
| 56 | KBM20192929 | PAVITRA | BASAVARAJ | KALABURAGI |
| | | | | |
| --- | --- | --- | --- | --- |
| 57 | KBM20192930 | SHARANAMMA | SHANKAR NASI | KALABURAGI |
| 58 | KBM20192931 | REVANSIDDAPPA | NAGANNA | KALABURAGI |
| 59 | MYM20192498 | RASHMI N | NAGARAJA SHETTY | MYSORE |
| 60 | MYM20192499 | SHILPASHREE L | LAKSHMANA | MYSORE |
| 61 | MYM20192500 | CHANDANA N | NAGARAJU K | MYSORE |
| 62 | MYM20192501 | SANDHYA G S | SUBBANNA | MYSORE |
| 63 | MYM20192502 | PRAKRUTHI G S | SHIVANNA | MYSORE |
| 64 | MYM20192503 | ANJALI S | SOMANNA | MYSORE |
| 65 | MYM20192504 | MANOJKUMAR | MADESHA | MYSORE |
| 66 | MYM20192505 | NANJUNDASWAMY | SIDDARAJU | MYSORE |
| 67 | MYM20192506 | MADHUSHREE H N | NINGARAJU | MYSORE |
| 68 | MYM20192507 | PRATHAP M | MAHADEVAIAH | MYSORE |
| 69 | MYM20192508 | LAVANYA B | BASAVARAJU | MYSORE |
| 70 | MYM20192509 | RAGHU A S | SIDDARAJU | MYSORE |
| 71 | MYM20192510 | SARASWATHI | KRISHNAPPA | MYSORE |
| 72 | MYM20192511 | MAMATHA S | SHIVAMALLU | MYSORE |
| 73 | MYM20192512 | SUCHITRA B M | MAHADEVA | MYSORE |
| 74 | MYM20192513 | NIKHITHA C M | MANJU | MYSORE |
| 75 | MYM20192514 | KISHORE H A | ANNAPPA H B | MYSORE |
| 76 | MYM20192515 | BHAVANI N | NAGENDRA | MYSORE |
| 77 | MYM20192516 | SANGEETHA H S | SOMASUNDARA | MYSORE |
| 78 | MYM20192517 | NAGALAMBIKA T S | SHIVARAJU | MYSORE |
| 79 | MYM20192518 | POOJA S N | NAGARAJU S B | MYSORE |
| 80 | MYM20192519 | KOMALA S | SIDDARAJU | MYSORE |
| 81 | MYM20192520 | MANASA A N | NAGARAJU | MYSORE |
| 82 | MYM20192521 | NAGARATHNA | SHIVAKUMARA K S | MYSORE |
| 83 | MYM20192522 | POOJA S | SHIVARAJU | MYSORE |
| 84 | MYM20192523 | NAVEENKUMAR N | NAGARAJU | MYSORE |
| 85 | MYM20192524 | VIJAYASHREE D M | MAHADEVACHAR | MYSORE |
| 86 | MYM20192525 | MAHESHWARI H G | GURUSHANKARA | MYSORE |
Allotted ID Numbers List :
https://www.scholarships.net.in/uploads/pdf2020/40436-List.pdf
SSP Helpdesk
080-44554455 : help-desk for e-Attestation / Post Matric Scholarship queries.
** Any issues related to registration of applications under State Scholarship Portal 2019-20 & e-Attestation – Post Matric (MCM) may be sent to email id gokdomssp [AT] gmail.com