Amar Ujala Atul Maheshwari Scholarship Result 2019 : amarujala.com
You can ask questions or answer questions about this scholarship.
Please go to the bottom of this page.
Organisation : Amar Ujala Foundation
Announcement : Atul Maheshwari Scholarship Exam 2019 Result
Scholarship Name : Atul Maheshwari Scholarship Examination 2019
Applicable For : Students from 9th, 10th, 11th and 12th Std
Website : https://www.amarujala.com/delhi-ncr/atul-maheshwari-scholarship-examination-2019-results-declared
Atul Maheshwari Scholarship Exam Result
The results of the Atul Maheshwari Scholarship Examination-2019 conducted by Amar Ujala Foundation have been announced.
This scholarship is being given to 36 talented but economically weaker students of regional education boards of six states.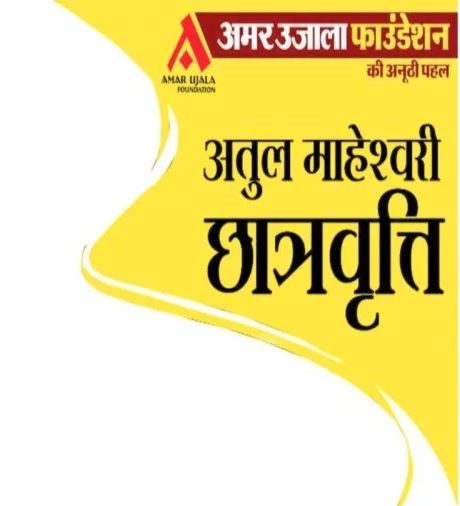 Atul Maheshwari Scholarship Selected Students
Class 9 & 10
** Alok Kumar (Roll Number 4710415, Agra)
** Manish Kumar (Roll Number 3910338, Aligarh)
** Avyakt Prakash (Roll Number 9911473, Allahabad)
** Achal Kumar (Roll Number 2210104, Lakhimpurkiri)
** Mohit Verma (Roll Number 1710094, Panchkula)
** Saurabh Kumar (Roll Number 3710042, Pauri Garhwal)
** Chetan Bhati (Roll Number 4510073, Gurugram)
** Nitya Prakash (Roll Number 4010552, Santakbir Nagar)
** Deepanshu Pant (Roll Number 4610267, Nainital)
** Arunjit Singh (Roll Number 2610004, Jammu)
** Aditya Tiwari (Roll Number 5010021, Jhansi)
** Arpit Kushwaha (Roll Number 9110860, Kanpur)
** Ravindra Kumar (Roll Number 2310747, Hardoi)
** Ayush Rana (Roll Number 9710471, Muzaffarnagar)
** Yugansh Kumar (Roll Number 3410358, Amroha)
** Nikhil (Roll Number 1110154, Narwana)
** Manish Kumar (Roll Number 5410086, Mandi)
** Sintu Kumar Yadav (Roll Number 2810370, Ballia)
Class 11 & 12
** Rahul Kumar (Roll Number 4910621, Firozabad)
** Shubh Yaduvanshi (Roll Number 3921193, Aligarh)
** Amit Kumar (Roll Number 9923024, Sant Ravidas Nagar)
** Ayush Verma (Roll Number 2211057, Lakhimpurkheri)
** Parneet Kaur (Roll Number 1710192, Panchkula)
** Rishabh Mishra (Roll Number 3510509, Dehradun)
** Vishal Goswami (Roll Number 4410407, Bulandshahr)
** Saurabh Tiwari (Roll Number 4011644, Siddharth Nagar)
** Yashvardhan Joshi (Roll Number 5210214, Almora)
** Mani Devi (Roll Number 2610093, Kathua)
** Mohit Pal (Roll Number 5011907, Jhansi)
** Ankit (Roll Number 9124187, Kanpur)
** Monu Madhesia (Roll Number 5110696, Shravasti)
** Abhishek Tyagi (Roll Number 9511145, Meerut)
** Anas Hasan (Roll Number 3211103, Moradabad)
** Karan Verma (Roll Number 1810378, Shimla)
** Shivshankar Maurya (Roll Number 2823034, Ballia)
** Tejendra (Roll Number 1110535, Narwana)
Results Analysis
30-30 thousand rupees will be given to 18 students of ninth-tenth and a lump sum scholarship of 50-50 thousand to 18 students of 11-12th standard. Soon they will be called to Delhi with one parent each and will be given honorary scholarship checks. More than 80 percent of the scholarship recipients are from rural backgrounds.
They have been selected from around 1.25 lakh applicants after verifying the written examination, interview and documents conducted in October through 21 publishing centers in six states of Amar Ujala. The scholarship recipients include 24 students from UP, four from Uttarakhand, two each from Jammu and Kashmir, Himachal Pradesh, Chandigarh and Haryana.
Scholarship will be Canceled :
Great care was taken while preparing the exam results. After several rounds of verification, the information given by some students till the last time remained wrong. The scholarship will be canceled if the information given by the 36 students who have been selected is found to be incorrect during future verification.
Scholarship Amount
After a rigorous selection process (written examination and multiple rounds of interviews), a total of 36 students are selected for this scholarship program, 18 of which were from class 9th and 10th who got Rs.30, 000/- each, 18 were from class 11th and 12th and got Rs.50, 000/- each and 2 blind students one from class 10th and one from 12th category who got Rs.30, 000/- and Rs.50, 000/- respectively.