CADD Quest 2020 Scholarship Test Tamilnadu, Puducherry & Karnataka : caddcentre.com
Organisation : CADD Centre
Scholarship Name : CADD Quest 2020 Scholarship Test
Applicable States : Tamilnadu, Puducherry & Karnataka
Exam Dates : 14th, 15th, 21st, 22nd December 2019
Website : https://www.caddcentre.com/caddquest/
You can ask questions or answer questions about this scholarship.
Please go to the bottom of this page.
CADD Quest Scholarship Test
CADD Quest 2020 "Get 200% from what you pay and lead your way towards Brighter Career opportunities."
Related / Similar Scholarship : ANALOG IAS Scholarship Test 2020
Participate in "CADD Quest 2020", win a scholarship, and get 200% from what you pay. Upskill yourself and dive deeper into the pool of new career opportunities.

How Does It Work?
To avail CADD Quest Scholarship you need to take a simple 1 hour exam. Based on your scores you can get a scholarship of upto 50% of the course fee. Plus there is an assured paid internship for 1000 test toppers.
This will get you entry into the engineering design courses that help you gain valuable skills in CAD/CAM/CAE
Exam Details
State : Tamilnadu, Puducherry & Karnataka
Date : 14th, 15th, 21st, 22nd December 2019
How to Participate?
The three-step process to participate in this contest
Step 1 :
Register yourself by filling up your details in the above-mentioned form. Hall ticket will be emailed to you. Accordingly, our team will get in touch with you with the details of the scholarship test.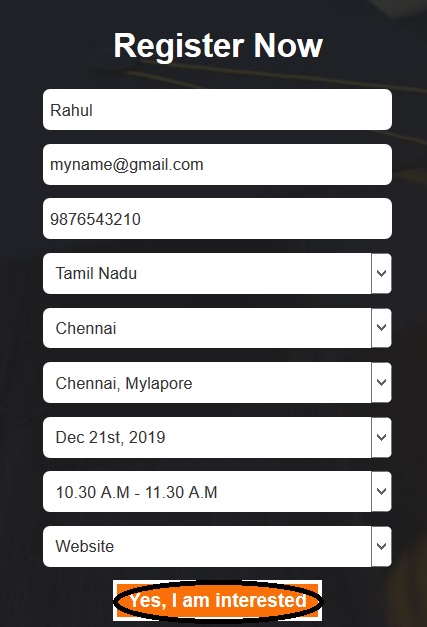 Step 2 :
Attend a 1-hour online test containing 50 objective type questions based on General Knowledge, Basic Maths, and Basic aptitude.
Step 3 :
Stand a chance to acquire advanced skills in CAD/CAM/CAE & PPM.
Where can you take the test?
Students can take up the test from any place through their desktop, laptop, or mobile phone. One can also take the test at the nearest CADD Centre
Important Notice :
For all those candidates who are taking up the test, kindly visit the nearest CADD Centre to get the password.
Scholarship Criteria
The scholarship shall be offered to the candidates based on their scores. The eligible candidates will be provided with exciting value added courses.
CADD Quest Details
CADD Quest is a scholarship initiative taken by CADD Centre about two decades ago, with the ultimate aim to provide technical skills and accordingly make more and more students industry-ready.
Over the last 20 years, approximately 6 lakh students have been benefitted by this event, and the empowerment is continuing, and you can be the next one to get benefitted by this great initiative.
About Us :
As Asia's biggest network of CAD training centers, CADD Centre Training Services is the training arm of the 30-year-old CADD Centre Group, head quartered at Chennai, India.
Founded in the year 1988, we have grown today as Asia's biggest network of skill training provider in Computer Aided Design (CAD), Computer Aided Engineering (CAE), and Project Management.
We host a wide array of courses, certifications, placement assistance and career planning tools to help students get the most from their education.
Contact Us :
CADD Centre Training Services Pvt Ltd
No. 91, Dr. Radhakrishnan Salai,
8th Floor, GEE GEE Crystal,
office No.8C & 8D,
Mylapore,
Chennai 600 004.
India.