Telangana Kalyana Lakshmi Pathakam Registration/Application Print/Status For SC/ST : Scheduled Castes Development Department telanganaepass.cgg.gov.in
Organization : Scheduled Castes Development Department
Financial Assistance Name : Kalyana Lakshmi Pathakam Registration/ Application Print/Status
Applicable For : Unmarried Girl Belonging To SC/ST/BC/EBC
Applicable State : Telangana
Website : http://telanganaepass.cgg.gov.in/KalyanaLakshmiLinks.jsp
You can now ask your question on this scholarship.
Ask here
(OR) Go to the bottom of this page for comments.
Telangana ePass Kalyana Lakshmi Pathakam
"Kalyana Lakshmi Pathakam" scheme extending financial assistance of Rs.51,000/-(Rupees Fifty one thousand only) to each unmarried girl belonging to SC/ST/BC/EBC at the time of marriage residing in Telangana State.
Related / Similar Post :
Telangana ePASS Shaadi Mubaarak Scheme Registration
Eligibility Criteria
(a) The unmarried Girl shall belong to SC/ST community.
(b) The unmarried Girl shall be a resident of Telangana State.
(c) The unmarried Girl should have completed 18 years of age at the time of Marriage.
Income Limit :
1) SC Income Limit – Rs.2,00,000/-
2) ST Income Limit – Rs.2,00,000/-
3) BC/EBC Income Limit : Urban – Rs.2,00,000/- , Rural – Rs.1,50,000/-
How to Apply?
Applicant shall apply online by accessing the official website and Click on the Kalyana Lakshmi Scheme.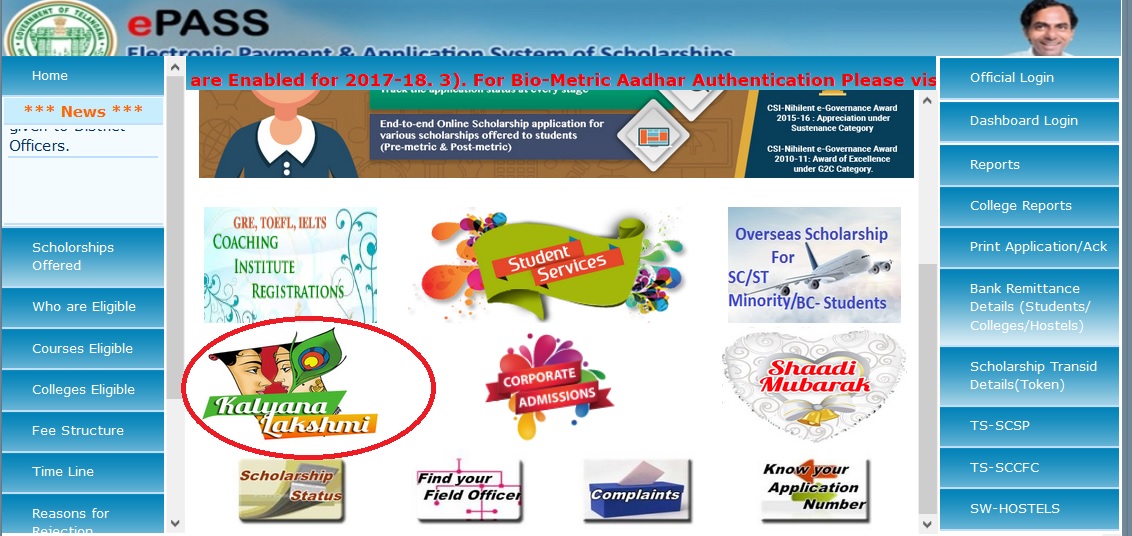 New User
If you are a new applicant click the Register link and enter the following details to complete the Registration,

Details of the bride :
Step 1 : Select SSC Details Available *YES/NO
Step 2 : Select SSC Pass Type * (If Select Yes)
Step 3 : Enter SSC Hall Ticket No *
Step 4 : Select SSC Pass Year
Step 5 : Enter Name of the bride*
Step 6 : Enter Name of the father*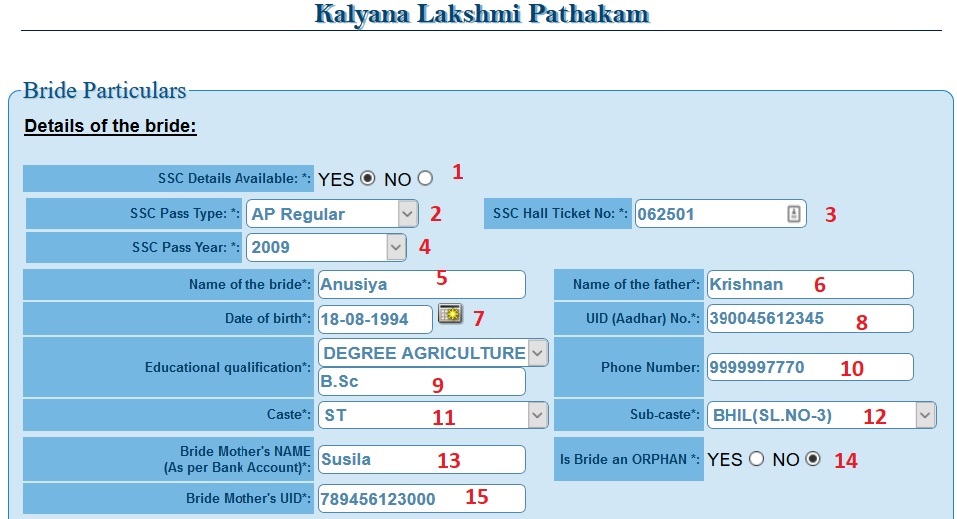 Step 7 : Enter Date of birth*
Step 8 : Enter UID (Aadhar) No*
Step 9 : Select Educational qualification*
Step 10 : Enter Bride Phone Number
Step 11 : Select Caste*
Step 12 : Select Sub-caste*
Step 13 : Enter Bride Mother's NAME(As per Bank Account)*
Step 14 : Select Is Bride an ORPHAN *- YES/NO
Step 15 : Enter Bride Mother's UID
Fill the further required details and click on the Submit button
i. Income Certificate Details,
ii. Integrated Certificate Details,
iii. Permanent Address,
iv. Bride Bank Account Details ,
v. Bride MOTHER'S Account Details, and
vi. Bride Groom Particulars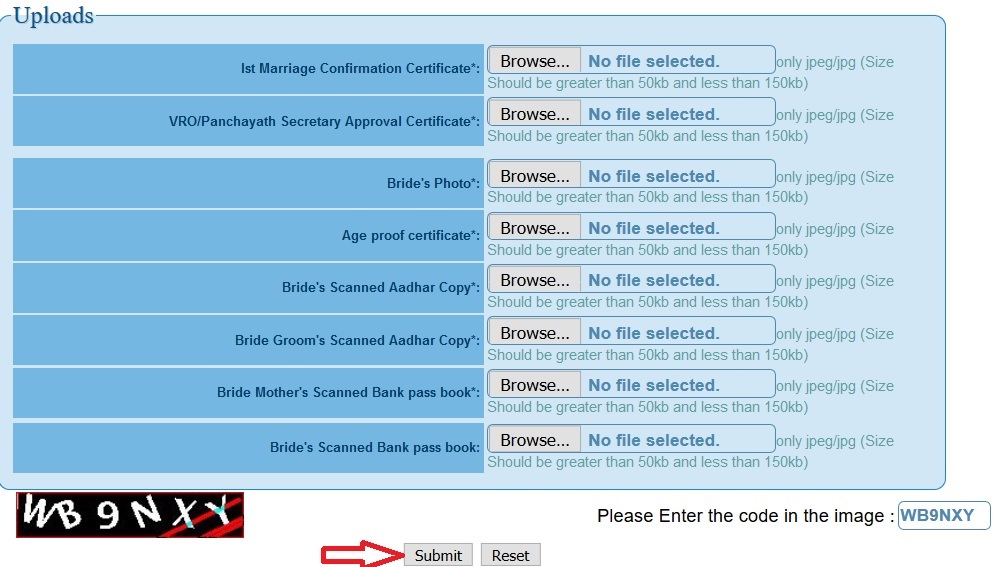 Documents Required
The following certificates shall be submitted :
i) Date of birth – Issued by the competent authority.
ii) Caste Certificate – Issued by the Competent authority.
iii) Income Certificate (the certificate shall be latest and shall not be older than 6 months from the date of marriage).
iv) Aadhaar card of the bride and bride groom to be scanned and uploaded (if available)
v) A scanned copy of the first page of Bank Pass Book.
vi) Wedding Card (if available).
Check Application Status
To Print or Check your Application Status follow the below steps,
Step 1 : Enter Bride's UID (Aadhar) No.
Step 2 : Enter Phone Number
Step 3 : Click on the 'Get Print' button