wbmdfcscholarship.gov.in WBMDFC SVMCM 2019-20 Swami Vivekananda Merit-cum-Means Scholarship : West Bengal
Organisation : WBMDFC West Bengal Minorities Development & Finance Corporation
Scholarship Name : SVMCM 2019-20 Swami Vivekananda Merit-cum-Means Scholarship
Applicable For : Students of Class XI and XII, UG, PG & Technical/ Professional Courses
Applicable State : West Bengal
Application Last Date : 15.11.2019 (Date is Extended)
Website : http://wbmdfcscholarship.gov.in/
You can ask questions or answer questions about this scholarship.
Please go to the bottom of this page.
WBMDFC SVMCM
Applications are invited from Minority students for scholarship for the year 2019 under " SWAMI VIVEKANANDA MERIT CUM MEANS SCHOLARSHIP SCHEME FOR MINORITIES" for providing financial assistance.
Related / Similar Scholarship : WBMDFC TSP 2019-20
Who Can Apply?
1) Applicants must be domicile of West Bengal and has been continuing education in institutes situated in West Bengal.
2) Applicants must be continue his/her study in educational institutions of West Bengal after passing out in Current year i.e.2018 from the State Board/Council of Secondary/Higher Secondary and Madrasah Education.
3) Students must belong to Minority Community (Muslim / Christian / Sikh / Buddhist / Parsee & Jain).
4) Annual family income not exceeding Rs. 2.5 lakhs (Certificate to be issued by an Officer not below the rank of Joint BDO).
How to Apply?
Just follow the below steps to apply for the Swami Vivekananda Merit-cum-Means Scholarship 2019-20.
Steps :
Step 1 : Go to the official website through provided above.
Step 2 : Click on "New Registration" button on the home page.


Step 3 : Fill up all information under "Student Information" section.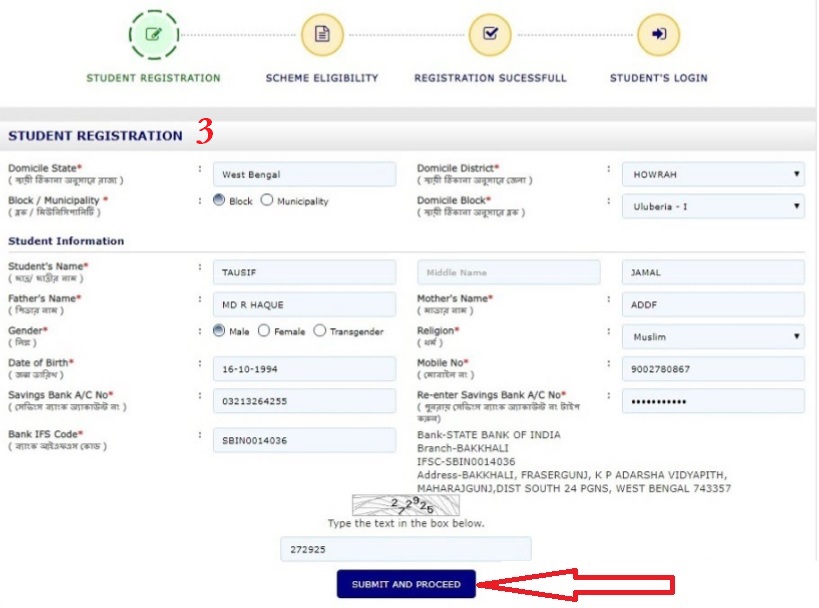 Step 4 : Fill up scheme eligibility column and click on "Submit & Proceed" button.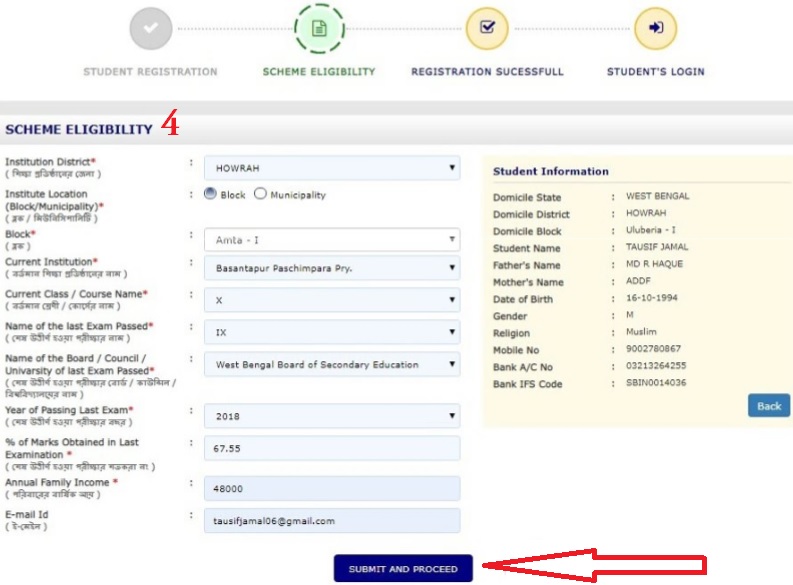 Step 5 : Check Your Relevant Scholarship Scheme & Process Accordingly
Step 6 : Note Your User ID And Check Email Inbox /Mobile For Retrieving Password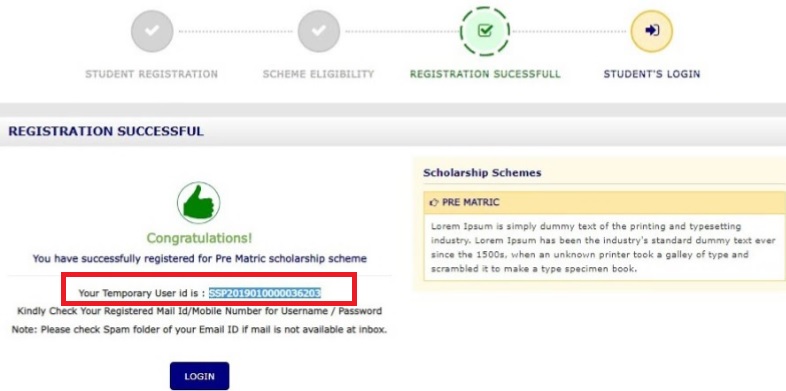 Step 7 : Login with Your User Id & Password on "Student Log-In"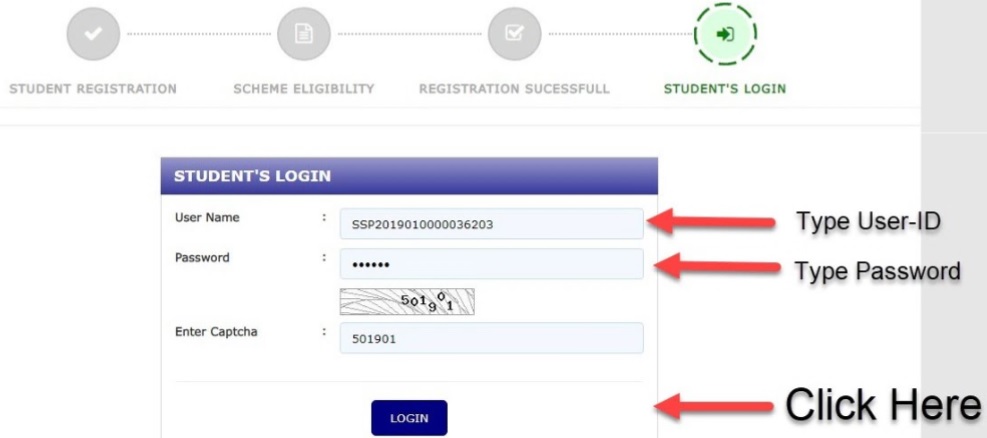 Step 8 : Change Your Password For Next Step (Mandatory)
Step 9 : Fill Up Details Under "Basic Information" Option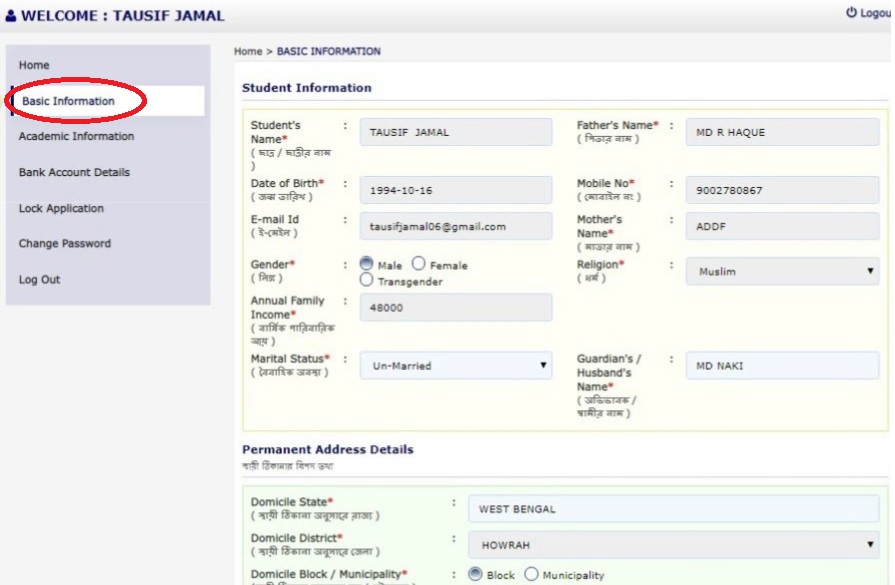 Step 10 : Fill Up details under "Academic Information " Option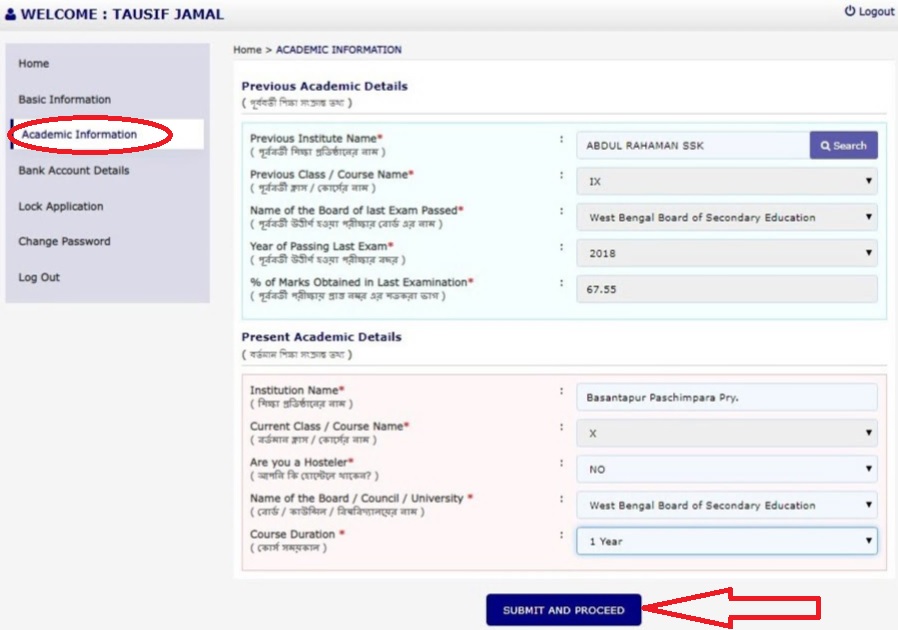 Step 11 : Fill Up " Bank Account Information" & Verify
Step 12 : Verify Complete Application Under "Pre-View" Option before Final Submission by Pressing "Final Submit" Button

Step 13 : Finally take Print Out Copy Of Application From "Print Application Option"

Step 14 : Print Out copy of The Application Along With Photocopy Of Bank Pass Book Containing Bank Account No And IFS Code & submit it to the concern Institute .
Track Application Status
Follow the below steps to track your application,
Steps :
Step 1 : Visit the official website through the URL provided above.
Step 2 : Click on "Track Application" button in the menu bar.


Step 3 : Next Select Your District [Coochbihar]
Step 4 : Enter Your Application ID [WB2019201234567]
Step 5 : Enter the Captcha code
Step 6: Finally click on "Submit" button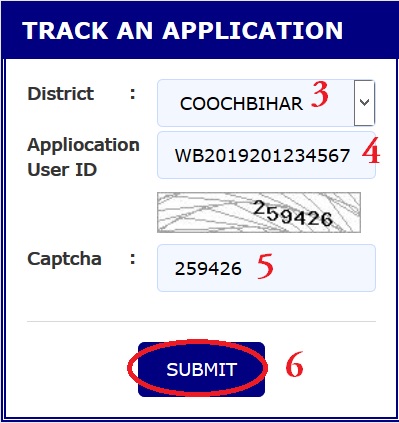 Documents Required
Following documents are to be uploaded at the time of filing online application
(i) Both side of the Mark sheet of the last examination.
(ii) Admit card of madhyamik or equivalent examination.
(iii) Income certificate in the prescribed format
(iv) First page of bank pass book mentioning clearly the A/C no. and IFSC details
(v) Voter Id/Aadhaar card etc.
(vi) Recent Photograph(size must between 100 to 120KB)
(vii) Institute verification form duly authenticated by the Head of the Institution (HOI) in the prescribed format.
Judging Criteria
The total family income for the prospective scholars will be not more than Rs. 2,50,000/- per annum.
Merit Judging Criteria
Candidates whose family income is not more than Rs. 2,50,000/- per annum will be judged according to their academic merit in the under noted manner.
For HS – level :
The minimum qualifying marks for being considered for award of scholarships will be 75% in aggregate, in Madhyamik Pariksha, and the total marks obtained in the Madhyamik Parkisha excluding pass marks in the additional subject, if any, will be the sole criterion for consideration.
For Diploma – level :
Students who are enrolled after passing out in Secondary (M.P) examination or its equivalent in 2017 for first year Diploma (Polytechnic) course and after passing out in "West Bengal State Council of Vocational Education and Training " courses, which is equivalent to H.S Examination for 2nd year Diploma(Polytechnic) courses on lateral entry basis, will be eligible to apply.
For UG – level :
The minimum qualifying marks for being considered for award of scholarships will be 75% in aggregate, in the H.S. Examination conducted by the W.B. Council of H.S. Education/Madrasha Siksha Parishad. For the UG (Arts), UG (Commerce), UG (Science) separate merit lists will be prepared.
SVMCM Last Date

Last Date of receiving online application for Swami Vivekananda Merit-cum-Means Scholarship has been extended upto 15th November 2019.
HelpDesk
Candidates can contact the Help Desk for resolution of the technical problems
Toll Free no : 1800-120-2130
Technical Helpdesk : 6290875550