karepass.cgg.gov.in 2019-20 Fresh Hostel Registration Karnataka ePASS : Backward Classes Welfare
Organisation : Karnataka Backward Classes Welfare Department ePASS
Scholarship Name : 2019-20 Fresh Registrations For Hostel Applications
Applicable For : Students belongs to Backward classes and SC,ST Category
Applicable State : Karnataka
Application Last Date : 16.09.2019 (Date is Extended)
Website : https://karepass.cgg.gov.in/Logout.do
You can now ask your question on this scholarship.
Ask here
(OR) Go to the bottom of this page for comments.
Karnataka ePASS Fresh Hostel Registration
2019-20 FRESH Registrations are NOW OPEN for HOSTEL Applications (Professional Hostels) – All Professional Courses.
Who Can Apply?
1. Candidate should be a permanent resident of the Karnataka State.
2. Candidate should have 75% attendance.
3. Candidates should belong to Backward Class, Category I, 2A, 2B, 3A, 3B, Scheduled Caste and Scheduled Tribes.
4. Parents Income Limit :
** For SC / ST candidates – Up to 2.50 lakh per year.
** For backward castes and PWD candidates – up to 1 lakh per year
How to Apply?
Just follow the below steps to Apply online for Fresh Hostel Registration 2019-20.
Step 1 : Go to the official website of Karnataka Backward Classes Welfare Department ePASS website provided above.
Step 2 : Then, scroll the pages down and Click the 'Fresh Hostel Registration' link under 'Student Zone'

Step 3 : After that read the instructions carefully, tick the check box to accept the rules and Click on the "Apply Now" button.

Step 4 : Please enter the following details to complete your Hostel Registration.
1. Select Student Applying for [Fresh/Renewal]
2. Select Are you a Citizen of INDIA?* [Yes/No]
3. Select SSLC Pass Type – Karnataka State Board/ CBSE/ ICSE/ Other State Board
4. Enter your SSLC Register(Hall Ticket) No. [012345]
5. Select SSLC Pass year [2019]
6. Enter your Date Of Birth [15-01-2004]
7. Select Other SSLC State
Step 5 : Next fill the remaining details to complete your online registration.
Note :
The student should certify copies of the online application and the self-attested copies of the uploaded enrollment by the Principal of the concerned college, by submitting the mandate to the concerned Taluk Backward Classes Welfare Officers by 03.09.2019 .
Documents Required
The original copy of the following documents should be uploaded online.
1. Caste and Income Certificate from the Tahsildar / Sub-Tahsildar (once earned income certificate is valid for 5 years, caste certificate is permanent) and (Income Certificate is not accepted for employment).
2. Transfer Certificate issued by the concerned school and college
3. Aadhaar card or EID. Number per,
4. SSLC Scorecard and previous Class / Course Scorecard.
5. First page of the Bank Passbook.
6. If the student is a disabled / blind student, a certificate from the concerned authorities.
7. Student photo (only JPG can be uploaded with max. Of 30 kb.)
8. Residence confirmation letter from Gram Panchayat / Local bodies.
Check Hostel Application Status
To check you hostel application status select 'Hostel Application Status' under Student Services in the home page.

Step 1 : Enter your Hostel Application No [2019A0123456]
Step 2 : Enter your Date of Birth [15/01/2004]
Step 3 : Click Get Status button.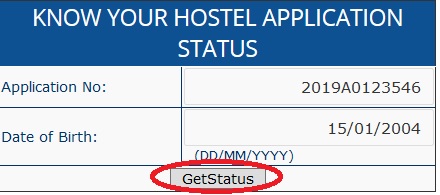 Selection Process
** Candidates will be selected on the basis of class and course available seats and marks.
** Local students of the respective district will be given first priority
** If the student's points are equal, the distance to the student's own space will be taken into consideration.
** If eligible students are not admitted to the student hostel, such student applications will be made available on grants and will be considered on merit basis, under the Vidyasiri-Meals and Housing Assistance Scheme
Instructions
** Students applying for the post-SSLC course (1st PUC, 1st Diploma, 1st ITI etc.) are required to obtain SATS (Student Achievement Tracking System) from the school in the previous class.
** Only students who have not yet completed the results are allowed to click the Complete Result Awaited button on the online application.
** If you submit a caste and income certificate in a single letter, fill in one of the caste or income clauses in the application form.
** Students must submit Aadhaar number when applying for the scholarship. If the Aadhaar number is not available, enter the EID number.
Contact/Helpdesk
In case of technical difficulties when submitting an application please contact bcwd.hostels [AT] karnataka.gov.in with e-mail.