nagpuricai.org Late Smt. Sunita Devi Suresh Kumar Agrawal Scholarship : Nagpur Branch of WIRC of ICAI
Organization : Nagpur Branch of WIRC of ICAI
Scholarship Name : Late Smt. Sunita Devi Suresh Kumar Agrawal Scholarship
Applicable For : CA Final Students
Application Deadline : 10th August For May Examination & 10th February For November Examination
Website : http://www.nagpuricai.org/
You can now ask your question on this scholarship.
Ask here
(OR) Go to the bottom of this page for comments.
Nagpur ICAI Scholarship Scheme
The Nagpur Branch of WIRC of ICAI is pleased to announce the starting of scholarship scheme "Late Smt. Sunita Devi Suresh Kumar Agrawal Scholarship" for CA Final Students as Merit-cum-need based scholarship, twice a year.
Related : Nagpur Institute of Science Sukhdevji Maharaj of Saongi Memorial Scholarship 2015 : www.scholarships.net.in/3783.html
The students are requested to apply in prescribed Scholarship Application Form.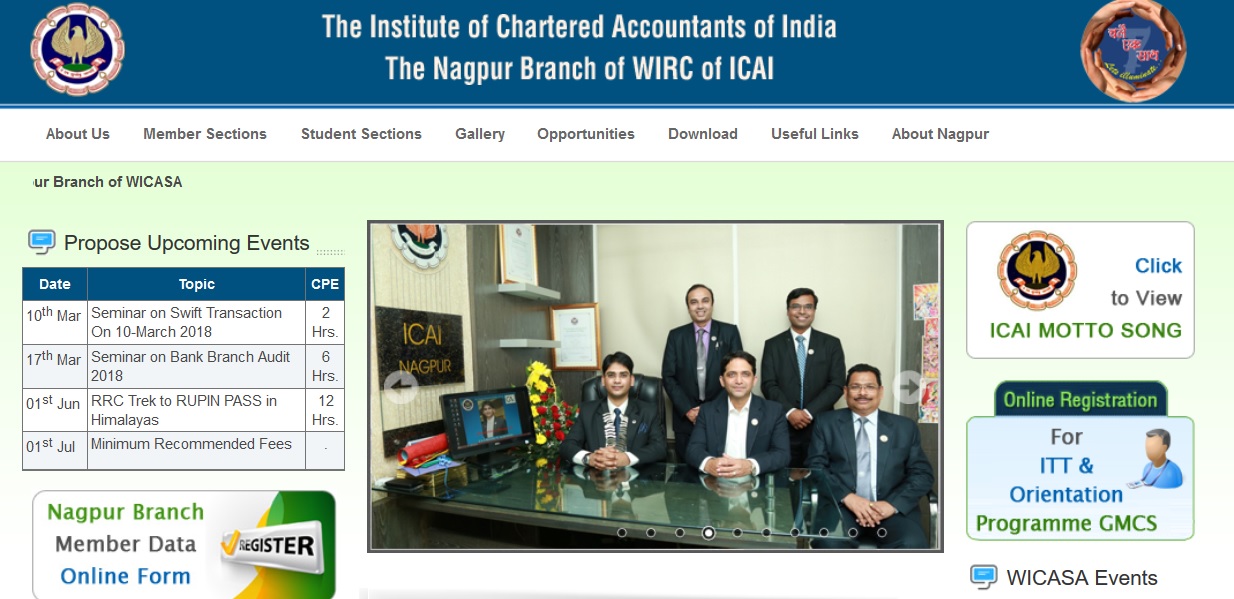 Scholarship Awardees
The details of scholarship and the criteria applied for selection of application are as under :
Scholarship Awarded: –
Number of Scholarship : 02
Scholarship Period of Scholarship (months): 06
Amount (p.m) : 1000/-
Eligibility
In Case of Rank Holder from Nagpur Center Qualifying in CA IPCC Examination:
a) Any Student
i) Who qualifies CA IPCC Examination from Nagpur center
ii) Whose name appear in the Merit list of Rank holders
iii) And His/ Her parents total income is not more than Rs.1,80,000/— per annum is eligible to apply for award of Merit — Cum – Need based scholarship. The student who would be selected for scholarship will be granted Rs. 1000/- pm for 6 months. Total two scholarships will be awarded every year.
In Case of No Rank Holder from Nagpur Center Qualifying in CA IPCC Examination :
a) In case if there is no rank holder from Nagpur center, the scholarship would be given to the student who has secured the highest marks in the CA IPCC examination from the Nagpur center in aggregate & qualifies under other basic eligibility criteria as given in point 2 (a).
Submission of Scholarship Form
The duly completed scholarship form in the prescribed format should reach to the Branch Chairperson, before the last date i.e 10th August for May examination i.e October ~ March Term and 10th February for November Examination i.e. for the April — September Term
Application Form : https://www.scholarships.net.in/uploads/3659-Nagpur.pdf
Student Login
Please enter the following details for Login,
Step 1 : Enter Full Name
Step 2 : Enter First Name
Step 3 : Enter Father Name
Step 4 : Select Course
Step 5 : Enter Reg. No. ICAI
Step 6 : Enter Birth-Date (dd-mm-yyyy)
Step 7 : Click Student Login button.

About us :
One of the most vibrant branches of ICAI with the theme "Profess to Prosper". Has a modest beginning in the year 1949 with 6 members. Has grown into a Big Family with about 1200 plus members and 5000 students at Nagpur.
Contact us :
Nagpur Branch of WIRC of ICAI
"ICAI BHAWAN", 20/1,
Dhantoli, Nagpur – 440 012.
Maharastra, INDIA.?
Phone No. : (0712) – 244 3968
Email ID : nagpur [AT] icai.org