Google PhD Fellowship Program India 2019
Organisation : Google India
Fellowship Name : Google PhD Fellowship Program 2019 India
Applicable For : Undergraduate, Postgraduate and PhD students
Applicable State/UTs : All India
Application Last Date : 12th April 2019
Website : https://ai.google/research/outreach/phd-fellowship/
You can now ask your question on this scholarship.
Ask here
(OR) Go to the bottom of this page for comments.
Google PhD Fellowship Program
Google PhD Fellowships directly support graduate students as they pursue their PhD, as well as connect them to a Google Research Mentor.
Related : Ravi Sankaran Foundation Inlaks Fellowship Program 2019 : www.scholarships.net.in/36126.html

Who Can Apply?
** Applicants must be enrolled in a full-time PhD program at a university in Africa or India.
** Applicants enrolled in an undergraduate or masters program must be current, full-time students at an African or Indian university.
** Google employees, and their spouses, children, and members of their household are not eligible.
** Students that are already supported by a comparable industry award are not eligible.
How to Apply?
Just follow the below steps to apply for the Google PhD Fellowship Program 2019.
Steps :
Step 1 : Go to the official website of Google through provided above.
Apply Online :
http://cseduapplication.withgoogle.com/applications/phdfellowshipindia2019/
Step 2 : Next read the instructions carefully and click on "Apply" link.
Step 3 : Fill the application form with the required details and click on "Save" button.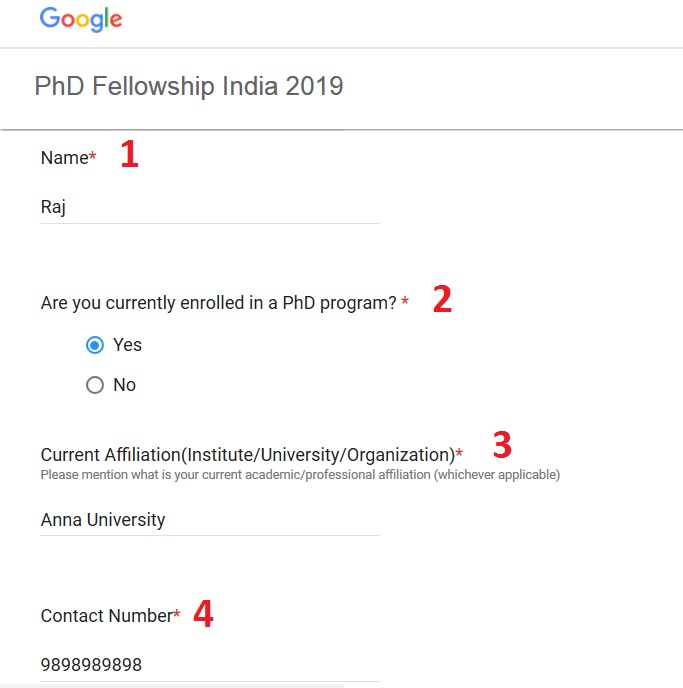 Step 4 : Then fill the remaining details to complete the application.
Documents Required
You'll need the following documents in order to complete an application
** Applicant's resume with links to publications (if available)
** Available transcripts (mark sheets) starting from first year/semester of Bachelors degree till date
** Research statement of purpose (maximum two pages)
** Three letters of recommendation from those familiar with the applicant's work (at least one coming from the thesis adviser in case of current PhD students).
If the recommendation writers want to send the letter separately, they can mail it directly to research-in [AT] google.com with the subject "Recommendation for [applicant-name]"
Fellowship Benefits
Students receive named Fellowships which include a monetary award. The funds are given directly to the university to be distributed to cover the student's expenses and stipend as appropriate.
India :
** Up to 4 year Fellowship
** US $50K to cover stipend and other research related activities, travel expenses including overseas travel
** Google Research Mentor
FAQs
1. Who should submit the applications?
Materials must be submitted by chairs of the department from eligible universities, or their designated contact. In India and Africa, students may apply directly during the application window.
2. Can students apply directly for a Fellowship?
Students must be nominated by an eligible university in order to be considered, except in India and Africa where students may apply directly
3. How are Google PhD Fellowships given?
Any monetary awards will be paid directly to the Fellow's university for distribution. No overhead should be assessed against them.
4. Will the Fellowship recipients become employees of Google?
No, there will not be any employee relationship (except as an intern) between Fellowship recipients and Google.
5. After award notification, when do the Google PhD Fellowships begin?
After Google PhD Fellowship recipients are notified, the Fellowship is effective starting the following school year.
Application Last Date
The Google India PhD Fellowship program application window for 2019 is now open until Friday, 12th April 2019 at 11:59:59 PM IST.
Helpdesk
If your question has not been answered by a FAQ, email phdfellowship [AT] google.com