tanscst.nic.in Student Project Scheme Results 2018-2019 : Tamilnadu State Council For Science & Technology
Organization : Tamilnadu State Council For Science & Technology
Announcement : Student Projects Scheme 2018-2019 Results
Fellowship Name : Student Project Scheme 2018-19
Applicable For : Research Scholars
Applicable State : Tamilnadu
Website : http://www.tanscst.nic.in/index.html
You can now ask your question on this scholarship.
Ask here
(OR) Go to the bottom of this page for comments.
TANSCST Student Projects Scheme Results
Tamilnadu State Council For Science & Technology had announced the results for Student Projects Scheme 2018-2019.
Related : SDAT Tamilnadu Sports Scholarship Scheme 2018-19 : www.scholarships.net.in/35716.html

How to Check Results?
Just follow the below steps to check your Student Projects Scheme 2018-2019 Results.
Steps :
Step 1 : Go to the official website of TANSCST through provided above.
Step 2 : Next click on the "Student Projects Scheme(2018-2019) Results-Science Stream / Student Projects Scheme(2018-2019) Results-Engineering Stream" link under News & Events section.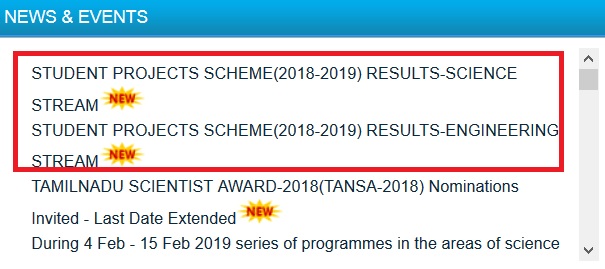 Step 3 : The result will be displayed in a PDF format. You can download the pdf file and check your name in the list.
Step 4 : The PDF file contains the following details,
** Guide Name & Address
** Title of the Project
** Student(s) Name
** Code
** Amount. Rs.
Approved Students List
Some of the selected students names are listed below. Kindly refer the below PDF link to view the complete list of selected students.
Science Stream
No

.

Guide Name & Address

Title of the Project

Student(s) Name

Amt. Rs.

1
S.Kalaivani
Assistant Professor
Shri sakthikailassh
Women's College
Salem-636003
Biological control of leafminer (Aporaerem amodicella L.) in groundnut field against chitinase producing microorganism from soil
A Athira
7500/-
2
Dr D Arulbalachandran
Assistant Professor
Dept. of Botany
Periyar University
Salam- 636011
Screening of drought tolerance rice genotypes in varied arid regions of western Tamilnadu
M Ramya
P shanumuga Priya
V Sivaranjani
7500/-
3
B Narenthiran
Dept. of Mech. Engg.
Karpagam Academy of Hr.Educaton
Coimbatore – 641021
Design and fabrication of water filter using CNT/AGNW
P Ramkumar
M Giri raja
M Manikandan
S Vinith Kumar
7500/-
4
Dr. G. Ayyappadasan
Assistant Professor
Dept. of Biotechnology
KS Rangasamy college of Technology
Namakkal-637251
Design and development of sprouted multi chamber for the formulation protein rich poweder as a ready to serve for adolescent girls
Ramya. S
7500/-
5
Dr R Selvakumar
Associate Professor
Dept. of CSE
Adhi College of Engg. And Tech
Kancheepuram – 631305
iABIG: improved agriculture – best innovation for generations
N Kala
G Geetha
M Punitha
E saranya
7500/-
6
Dr R Durai singh
Professor
Regional Research Station
Aruppukottai-626107
Evaluation of planting methods and weed management practices in SRI raised under puddled and un – puddled field conditions
Nandhini Y
7500/-
7
Dr K Chinnusamy
Professor,Dept. of ECE Velammal Inst. Of Technology
Panchetti-601204
Thiruvallur Dt.
Farmer to customer e-trade
B Ganasankari
N R Abarna
M Muthu Manjula
7500/-
8
Dr. A. Joshi and Palaniraj. A
Professor
Dept. of Information Technology
Panimalar Institute of Technology
Chennai-600123
Farmers toy
Antony Dhanapaul. V
Anand. B
Cesho Jephil. A
Bhuvanesh. M
7500/-
9
Dr K S K Sasikumar
Associate Professor
Dept. of Mechanical Engineering
Kongu Engineering College
Perundurai-638052
Design and development of coconut leaflet midrib separator
M.Gokulnath
P Jagan
S Gowthaman
7500/-
10
Mr.D.Dinesh Kumar
Asst. Professor
Dept. of EIE
St.Joseph's College of Engineering
Chennai- 119
Wireless pollution monitoring and pest eradication in Agriculture for Eco-friendly
K Tharanitharan
S Varun
7500/-
11
Mrs.S.Sangeetha
Assistant Professor
Dept. of CSE
SNS College of Technology
Coimbatore -641035
Smart Agriculture using WSN and IoT
R Nithya
R Nandhini
S Nandhini
P Nivedha
7500/-
12
Prof.K.S.Vairavel
Associate Professor
Dept. of EEE
Bannari Amman Inst. of Technology
Sathyamangalam-638401
Remote controlled device for coconut plucking in agriculture sector
R Sathish Kumar
Nithish Kumar M
7500/-
13
Mr.S.Ravi Shankar
Assistant Professor
Faculty Management Builders Engineering College
Kangayam-638108
A study on public opinion towards rain water harvesting with special reference to Tirupur district.
K Tamilselvan
P Vasudevan
7500/-
14
Ms.Jeyamani Divya Christodoss
Professor
Dept. of Food Chemistry
Loyola college
Chennai-600304
Impact of bio and chemical fertilizers on the nutrient content and antioxidant activity of certain green leafy vegetables and formulation of soup mix powders incorporating the dried leaf powder
Afra Fathima A
7500/-
15
Mr D Maran
Assistant. Professor
Dept. of ECE
SRM-TRP Engineering College
Tiruchirappalli-621105
Ultrosonic pest control system using raspbery Pi
M Siva Priya
P Suvetha
R thanga Arthi
R Vanishree
7500/-
SPS Result 2018-19 Science Stream :
https://www.scholarships.net.in/uploads/pdf2019/36331-SPSRS.pdf
Engineering Stream
Chemical Engineering :
No

Guide Name & Address

Title of the Project

Student(s) Name

Amt. Rs.

1
Dr. S. Venkatesan
Associate Professor
Dept. of Petrochemical Technology
Anna University (BIT Campus)
Tiruchirappalli – 620024
Deep desulfurisation of liquid fuels using ionic liquids
Abirami R
Saranya R
7500/-
2
Dr.N. Samsudeen
Assistant Professor
Dept. of Chemical Engineering
National Institute of Technology
Tiruchirappalli – 620015
Design of a controller for enhancing the hydrogen production in microbial electrolysis cell
Amal Premkumar K P
7500/-
3
K Chithra
Associate Professor
Dept. of Chemical Engineering
A.C.Tech, Anna University
Chennai-600025
Experimental Studies on Residual vaccum oil viscosity reduction
K Zeliyan
7500/-
4
Dr P Mullai
Professor
Dept. of Chemical Engineering
Annamalai University
Chidambaram-608002
Bitumen binding with lignin for road construction – An eco-friendly approach
J Iyyappan
7500/-
5
K P Bhuvana
Associate Professor
Dept. of Plastics Technology
Central Institute of Plastics Engineering and Technology
Chennai-600032
Development of long lasting polymer material for floater systems to install photovoltaic panels in water bodies
Aakshai Kumar G
Gayathri V
Priya S
Rathimalar S
7500/-
6
N Subramanian
Assistant Professor
Dept. of Chemical Engineering
Kongu Engineering College
Erode-638060
Biodegradable plastic from mixed Starch
Haritha S R
Chandra Choodan K
Dravid
Madhusudhanan K
7500/-
7
Raj Kumar A
Assistant Professor
Dept. of Petrochemical EngineeringSVS College of Engineering
Coimbatore-642109
Efficient Removal Of Acid And Base Dye From Aqueous Solution Using A Nanocomposite Of Polypyrrole grafted Sodium Alginate And Incorporated Bentonite
Mohamed Yasar I
7500/-
8
Dr J B Veeramalini
Assistant Professor
Dept. of Chemical Engineering
Vel Tech High Tech
Dr.Rangarajan Dr.Sakunthala Engineering College
Chennai-600062
Comparative study and oxidative stability of various natural antioxidant potentials in essential oils
V N Kavya
N U Yuvasri
7500/-
9
P Induja
Assistant Professor
Dept. of Chemical Engineering
Erode Sengunthar Engineering College
Erode-638057
Synthesis Of Microcrystalline Cellulose, Silica And Imparting Their Properties To Bioplastic Produced From Wheat gluten And Fish Scale
G Ashwin
A john
S Manikandan
Honey Sree Laya
7500/-
10
P. Rajitha
Assistant Professor
Dept. of Chemical Engineering
The Kavery College of Engineering
Salem – 636453
Production of biodiesel from Microalgae
Lakshmipathi R
Gurunathan P
Marivignesh A
Ramkumar M
7500/-
SPS Result 2018-19 Engineering Stream :
https://www.scholarships.net.in/uploads/pdf2019/36331-SPSRE.pdf