Mody University MUSAT Scholarship cum Admission Test 2019 : modyuniversity.ac.in
Organisation : Mody University
Scholarship Name : MUSAT 2019 Mody University Scholarship cum Admission Test
Applicable For : Students seeking admission in UG/PG courses
Applicable States/UTs : All Over India
Registration Last Date : 22.04.2019
Exam Date : 28th & 29th April 2019
Website : http://www.modyuniversity.ac.in/
You can now ask your question on this scholarship.
Ask here
(OR) Go to the bottom of this page for comments.
Mody University MUSAT
Applications are invited for MUSAT 2019 Mody University Scholarship cum Admission Test .
Related : Sharda University SUAT National Entrance & Scholarship Test 2019 : www.scholarships.net.in/35657.html
MUSAT Scholarship Details
Students taking the MU SAT can win up to a 100% waiver on the tuition fee, based on their performance in this computer based test.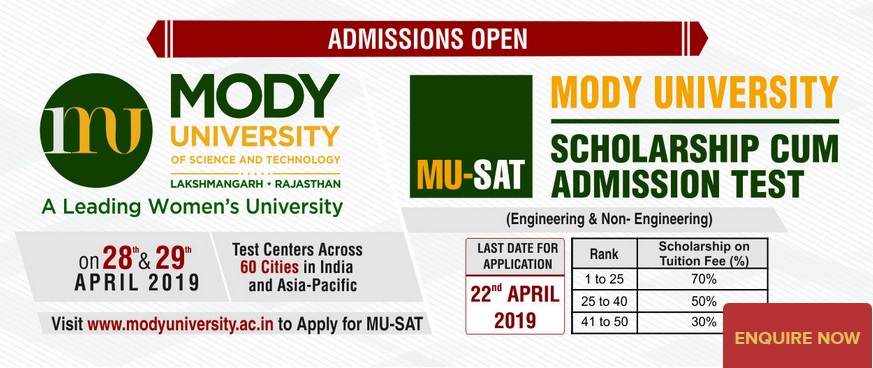 MU SAT will be based on the syllabus of the relevant qualifying exams and aptitude for the subject. The test offers an opportunity for every young aspirant keen to join Mody University.
** 1st Rank – 100% Scholarship
** 2nd  Rank – 80% Scholarship
** 3rd  Rank – 70% Scholarship
** Rank 4-5: 50% Scholarship
** Rank- 6-10: 30% Scholarship
** Rank- 11-25: 20% Scholarship|
** Rank- 26-50: 10% Scholarship
How To Apply?
Just follow the below steps to apply for MUSAT 2019.
Steps:
1) Register
2) Locate the city
3) Book The Examination Slot

Register :
Go to the below link for registration.
Apply For MUSAT 2019 Here :
http://mody.servergi.com:8088/olamody/Student/Welcome
New Registration :
If you are a new user, then click on the 'New Registration' link and fill the form and press the 'Next' button to proceed further to complete the MUSAT 2019 online application.
Login :
If you are a registered user then, go to the 'Already Registered' link and then enter your Enquiry ID and Mobile Number in the space provided and hit the 'Continue' button.
MUSAT Test Centers
| State | City |
| --- | --- |
| Uttar Pradesh | Agra, Allahabad, Lucknow, Bareilly, Gorakhpur, Varanasi |
| Uttarakhand | Dehradun, Haldwani |
| Jammu | Jammu |
| Chandigarh | Chandigarh |
| Punjab | Bathinda |
| Haryana | Hissar |
| Bihar | Patna, Bhagalpur |
| Jharkhand | Ranchi |
| Madhya Pradesh | Bhopal, Indore |
| Chhattisgarh | Raipur |
| Delhi | Delhi |
| Rajasthan | Jaipur, Lakshmangarh, Udaipur, Kota, Sri Ganga Nagar, Alwar, Bhilwara,Banswara |
| Andhra Pradesh | Vijayawada |
| Telangana | Hyderabad |
| Gujarat | Ahmedabad |
About MU-SAT :
Mody University of Science and Technology (MUST), a premiere women's university for higher education, research and learning, provides a unique opportunity to students across India  to secure admission in both undergraduate and postgraduate programmes being offered by Mody University across various disciplines through a common admission gateway- the Mody University Scholarship cum Admission Test (MU-SAT).
This online computer based national level test provides opportunity to a student to be part of vibrant student community at MUST with just a few clicks from her city.Through MU SAT, a student can register herself to pursue a chosen programme in any of the seven schools under Mody University.
She has the opportunity to select from a vast array of career-oriented programmes like Animation, Films & TV Production Fine Arts, Agricultural Sciences, Physiotherapy, Medical Lab Technology, Airport & Airline Management, Mass Communication, Travel & Tourism, Forensic Science and Food & Nutrition, Performing Arts from disciplines like Arts and Humanities, Science, Engineering and Technology, Law, Management Studies, Architecture and Design to name just a few of the available choices.
Contact/ Helpdesk
For assistance please contact on 1800-102-4000 (Toll Free)