IIT Guwahati Institute Post-Doctoral Fellowship Programme 2019
Organisation : IIT Guwahati
Fellowship Name : Institute Post-Doctoral Fellowship Programme 2019
Applicable For : PhD degree holders
Last Date : 11.03.2019
Website : https://online.iitg.ernet.in/ipdf/
You can now ask your question on this scholarship.
Ask here
(OR) Go to the bottom of this page for comments.
IIT Guwahati Institute Post-Doctoral Fellowship
IIT Guwahati invites applications for Institute Post-Doctoral Fellowship 2019. Under this scheme, IPDF will carry out advanced research at IIT Guwahati with a faculty member of IIT Guwahati as a mentor.
Related : IIM Ranchi Post-Doctoral Fellowship 2019 : www.scholarships.net.in/35146.html
IPDF Eligibility
** PhD degree holders with first class or equivalent in preceding degree and having consistently a good academic record.
** From the PhD thesis or Post-Ph.D. work, at least two research publications in refereed journals / conference proceedings.
** Not completed five years from the date of completion of PhD programme.
** A PhD student who has submitted thesis but not completed the PhD programme can also apply. However, such candidate is expected to complete the PhD programme and submit provisional or original PhD degree certificate within 6 months from the date of joining as IPDF.
** A PhD degree holder from IIT Guwahati is eligible to apply only after gaining one year of post-Ph.D. relevant experience and the (opted) mentor is other than his/her PhD supervisor(s).
** Age Limit – Maximum Age is 35 years. It can be relaxed by 5 years for women, reserved category and PWD candidates.
** Both Indian and Foreign nationals are eligible to apply for IPDF.
IPDF Online Application
Just follow the below steps to apply for the Institute Post-Doctoral Fellowship 2019.
Steps :
Step 1 : Go to the official website of IIT Guwahati through provided above.
Step 2 : Read the guidelines carefully and click on the "Apply Now" button


Step 3 : If you are not registered, Please click register link and fill the required details to complete the registration.
Step 4 : Already registered user, Sign in with your registered email id and password.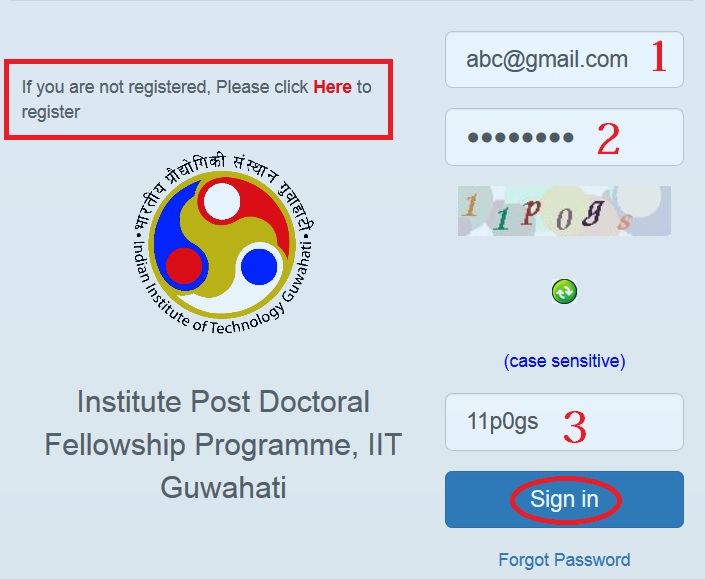 Step 5 : Next fill the remaining details and upload the necessary documents to complete the application.
IPDF Benefits
The IPDFs are eligible for the following
1. Fellowship Amount :
(a) For an IPDF who has submitted PhD degree certificate – Between Rs.40,000 – 50,000 consolidated pay (depending upon the experience and qualification)
(b) For an IPDF who has not submitted PhD degree certificate – Rs.35,000 consolidated pay.
(c) An annual increment of Rs.5000/- is granted based on the satisfactory performance as per the assessment report of the PAC subject to the following conditions
** After the increment the consolidated pay is to be less than or equal to Rs.50,000/-
** After the increment, if the consolidated pay amount exceeds Rs.50,000/-, then the consolidated pay will be fixed as Rs.50,000/- and it will remain same further.
Guidelines :
https://www.scholarships.net.in/uploads/pdf2019/36176-GL.pdf
2. Contingency Grant :
Contingency grant for IPDFs will be provided as below
** 1st and 2nd Year of the PDF programme – Rs.50,000/- [Lapsable]
** 3rd Year of the PDF programme [if extension is granted] – Rs.50,000/- [Lapsable]
IPDF Last Date
Last date for receipt of completed online application form is 11-03-2019
Helpdesk
** For any clarification, the candidate may write to ipdf [AT] iitg.ac.in
** For any technical issues please write to ipdf [AT] iitg.ac.in