FIITJEE Curate Admission cum Scholarship Test 2019
Organisation : FIITJEE
Scholarship Name : Curate Admission cum Scholarship Test 2019
Applicable For : Students of Class XI (JEE 2021 Aspirants)
Registration Deadline : 20.04.2019 (Online) | 14.04.2019 (By Post)
Exam Date : 21st April 2019
Website : http://curate.fiitjee.com/
You can now ask your question on this scholarship.
Ask here
(OR) Go to the bottom of this page for comments.
FIITJEE Curate Admission cum Scholarship Test
FIITJEE's CURATE – Admission cum Scholarship Test – a gateway that will not only ensure your speedy preparation but also hone & refine your current Talent as per the requirement of JEE, ultimately leading you to achieve your Dream Rank in JEE 2021.
Related : FIITJEE FTRE Talent Reward Exam 2019 : www.scholarships.net.in/30164.html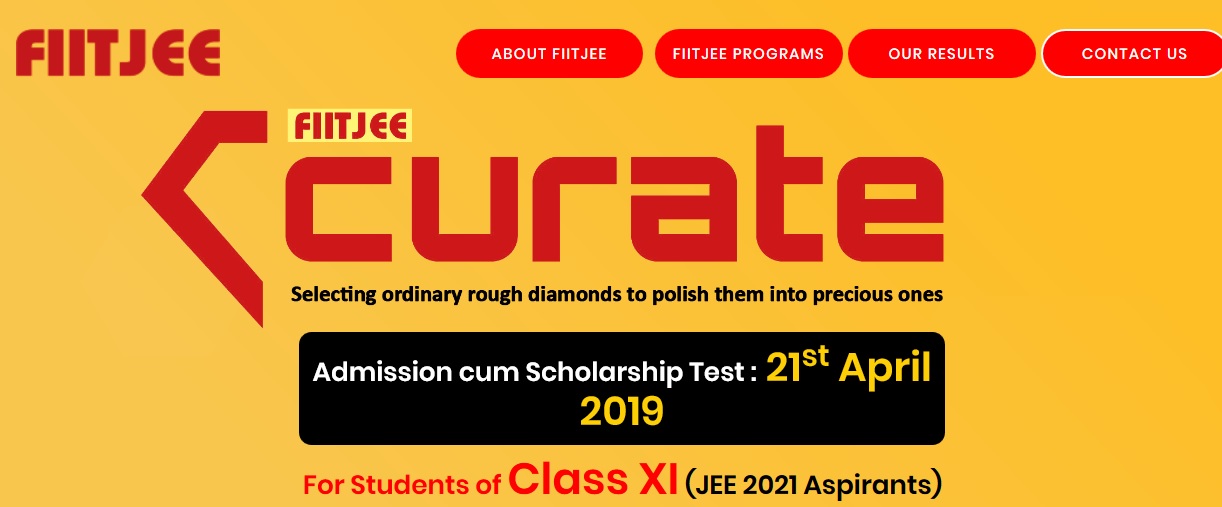 Curate Eligibility
For Students of Class XI (JEE 2021 Aspirants)
Registration Fee
| | | | |
| --- | --- | --- | --- |
| Till 12th Mar 2019 | 13th Mar to 14th Apr 2019 | 15th to 18th Apr 2019 | 19th & 20th Apr 2019 |
| Rs. 500/-* | Rs. 1000/-* | Rs. 2000/-* | Rs. 5000/-* |
How To Apply?
Students can apply in both offline as well as online mode.
Offline Registration
1. For Offline Registration, collect the Paper Application Form from your nearest FIITJEE Centre.
2. Fill in your complete details in the Paper Application Form and submit it in person at nearest FIITJEE Centre along with the prescribed Test fee in cash, a copy of your Aadhar Card & two passport size photographs.
3. You can also post / courier your Paper Application form along with a DD/Pay Order with a copy of your Aadhar Card and two passport sized photographs to nearest FIITJEE Centre.
Online Registration
Online Payment Mode :
1. Log on to our online services management portal www.fiitjeelogin.com with your existing username / password or Create a new Account (New Students).
Register/Login : https://www.fiitjeelogin.com/

2. Update your profile and proceed for online registration.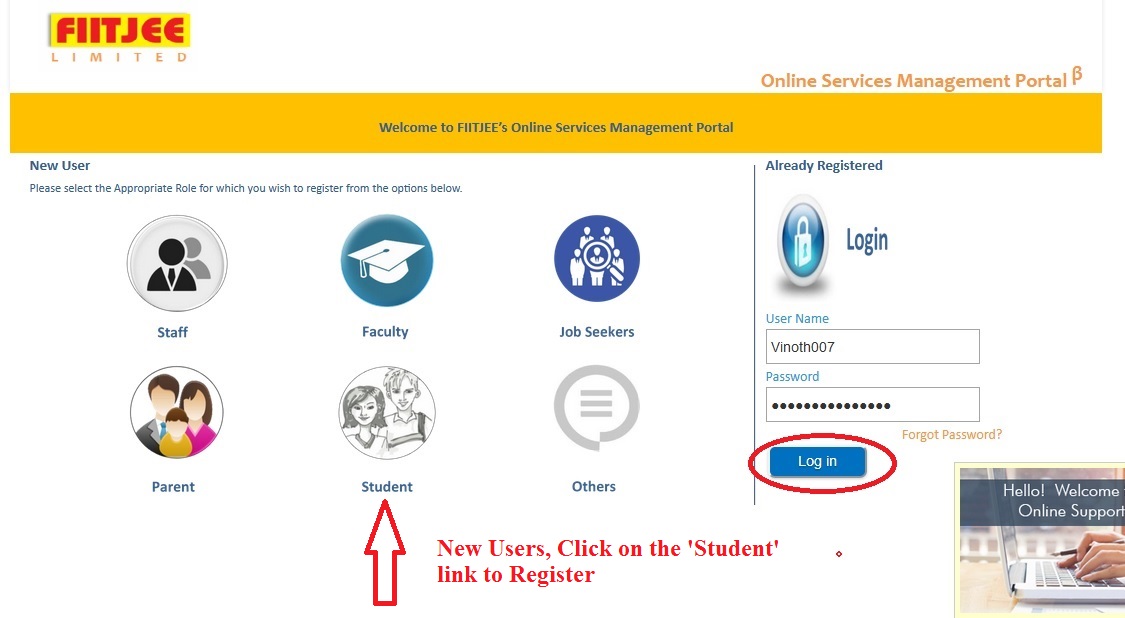 3. If you are already registered for a previous test or Enrolled in a FIITJEE Program, use 'Add Registration Number'/ 'Add Enrollment Number' utility before updating your profile.
4. You have an option to pay the test Fee using Master / Visa / Amex (Credit / Debit Cards) or through NEFT, IMPS and Paytm.
5. Once your payment is successfully done, you can download the Hall ticket from the same online portal.
e-Application Mode :
1. Follow the same steps as the online payment mode except for the payment.
2. Choose e-Application mode in the payments options.
3. Take a printout of your e-Application and submit it in person with the test fee in Cash at the nearest FIITJEE Centre and collect your Hall Ticket.
4. You can also send this e-Application by post or courier to your nearest FIITJEE Centre along with the Test Fee (to be paid through Demand Draft / Pay Order*).
5. Your Hall Ticket will be emailed to you in this case.
Note :
The DD / Pay Orders should be in favour of FIITJEE LTD. Open Test, Aptitude Test etc. A/C, payable at respective locations mentioned against the list of Test Centres given in the Information Booklet handed over along-with Paper Application Form.
Test Schedule & Pattern
For Students of Class XI

Paper 1 (3 hours)
(Aptitude Test, Physics, Chemistry & Mathematics)
:
9:00 am
–
12:30 pm
Paper 2 (3 hours)
(Physics, Chemistry & Mathematics)
:
1:30 pm
–
4:45pm
Important Dates
Last Date to Register :
** In Person / Online Mode – One Day before the respective Test Date
** By Post – One week before the Test Date
Exam Date : 21st April 2019
Result Declaration Date : Friday 26th April 2019