Wellcome Trust DBT India Alliance Science Media Fellowship 2019 : indiaalliance.org
Organisation : Wellcome Trust/ DBT India Alliance
Fellowship Name : India Science Media Fellowship 2019
Applicable For : Indian journalists
Applicable State/UTs : All India
Application Deadline : 28th March 2019
Website : https://www.indiaalliance.org/news/301
You can now ask your question on this scholarship.
Ask here
(OR) Go to the bottom of this page for comments.
India Alliance Science Media Fellowship
Call for applications for India Science Media Fellowships 2019. The India Science Media Fellowships 2019 is a joint venture of the Wellcome Trust/DBT India Alliance (India Alliance) and Nature India to encourage coverage of science in the Indian media.
Related : JNCASR DST Overseas Visiting Fellowship in Nano-Science & Technology 2019 : www.scholarships.net.in/35921.html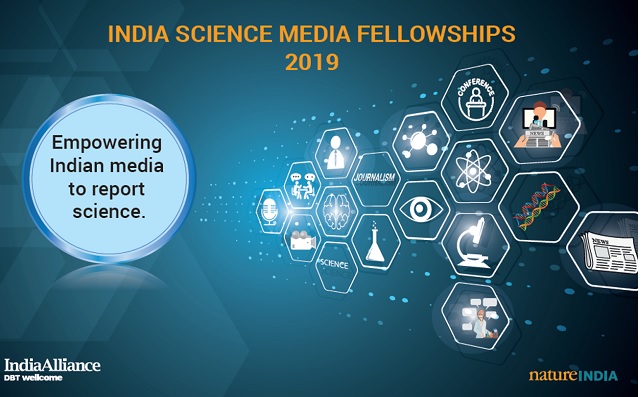 ISM Fellowship Eligibility
** The 2019 fellowship is open for Indian journalists to report on life sciences, specifically around biomedicine, application-based or basic biological research and health
** Professional journalists, including freelancers, in print, broadcast or new media in English or any Indian regional language, with at least three years of demonstrated experience in writing on science or related issues.
Fellows who choose to write in a regional language should be proficient in written English too.
ISM Fellowship Apply Online
Just follow the below steps to apply for the India Science Media Fellowship 2019.
Steps :
Step 1 : Go to the following link [http://www.bit.do/ISMF2019]
Step 2 : Read the instructions carefully and click on the "Next" button

Step 3 : Fill the application form with the required details and upload the necessary documents.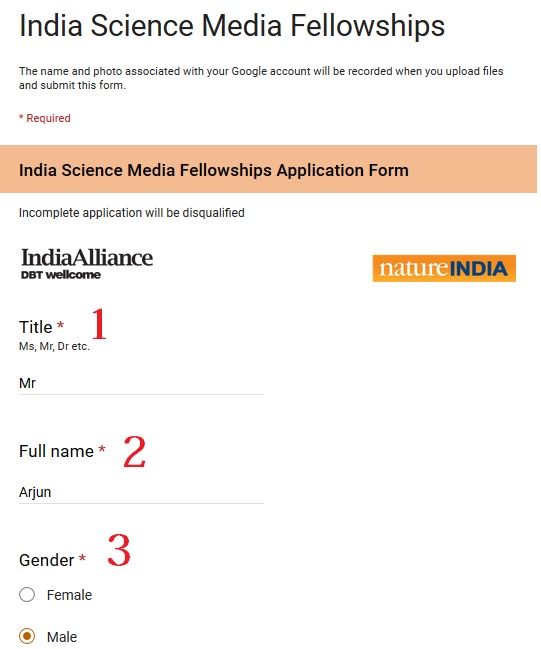 Step 4 : Finally click on "Submit" button to complete the application.
Note : Use ONLY Google Chrome to submit this form.
ISM Fellowship Themes
Applicants can choose to focus on life sciences, biomedicine, application-based or basic biological research, and health.
Media fellows can look at ongoing research in laboratories and centres of higher learning, scientific conferences or peer reviewed science and elsewhere for their story ideas during the fellowship. Possible story sources and mentors will be discussed during the workshop.
ISM Fellowship Criteria
Fellows must produce at least FIVE stories (each 1000 words or more) on the selected topic.
Two short news items (500 words each) will constitute one story, and if a fellow opts to produce only news stories then TEN stories will be required for completion of the fellowship.
Similar guidelines will be issued for any selected radio, television or multimedia journalists.
ISM Fellowship Details
The Fellowship is meant to cover expenses to be incurred for field travel, research and writing/broadcasting. This will be paid in two instalments; one at the beginning of the fellowship and the other on completion of publishing the required number of stories.
Fellows will be invited for a two-day orientation workshop in New Delhi. They will have the opportunity to connect with science and communication experts and mentors to deliberate on nuances of communication and dynamics of impactful reportage.
The cost for travel and accommodation for the grantees to participate in the orientation workshop will be met by the organisers.
Fellowship Benefits
** The fellowship will provide a grant of INR 100,000 to five grantees selected through a nation-wide call for applications.
** Selected fellows will have the opportunity to create a strong body of work by publishing or broadcasting stories in their respective media outlets.
ISM Fellowship Deadline
Last date to apply for India Science Media Fellowship is 28 March 2019. Selected applicants will be notified within 15 days.
Helpdesk
For enquiries, please write to ISMfellows [AT] gmail.com