Phyzok PBISE Merit List 2019 : Pre-Board International Scholarship Examination
Organisation : BITS-Pilani Dubai Campus, PBISE
Announcement : PBISE 2019 Merit List
Scholarship Name : PBISE 2019 Pre-Board International Scholarship Examination
Applicable For : CBSE, ISC Grade 12 Students
Result Announcement Date : Feb 28, 2019
Website : https://www.phyzok.com/pbise-merit
You can now ask your question on this scholarship.
Ask here
(OR) Go to the bottom of this page for comments.
Phyzok PBISE Merit List
Scholarship details will be sent to the merit holders by 10th March, 2019. If not received, kindly write to pbise [AT] phyzok.com.
Related / Similar Post : Phyzok PBISE 2019-20
How To Check PBISE Result?
To view the Merit List of PBISE 2019 Pre-Board International Scholarship Examination, kindly follow the mentioned steps below.
Steps :
Step-1 : Go to the official website of BITS-Pilani Dubai Campus, PBISE through the URL https://www.phyzok.com/pbise
Step-2 : Then click on the "Check Merit List" link in the home page.


Step-3 : Enter your name in the relevant box to find your result.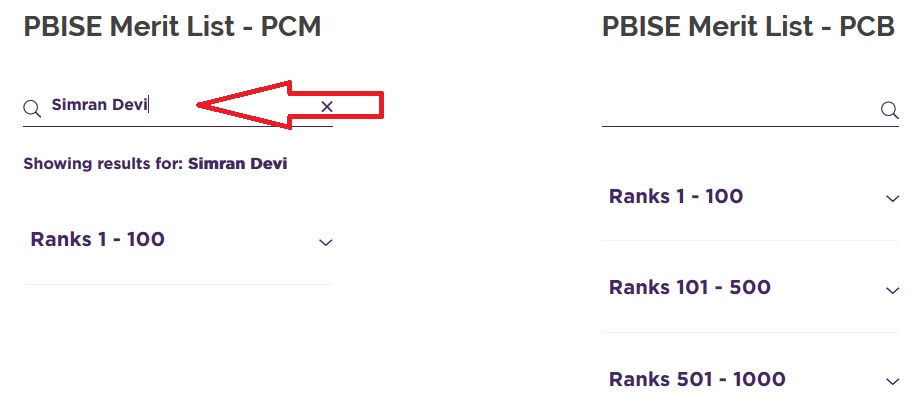 PCM Merit List
Ranks 1-100 :
Mr. Gollapalli Sairam (gsmr**88@gmail.com)
Mr. Manas Badanikai (m*t**gs@gmail.com)
Ms. Kriti Malik (n*lm*l*k67@gmail.com)
Mr. Ritik Suhag (r*t*ks*h*ggs@gmail.com)
Mr. Sourabh Kajla (kh*tr*643.kg@gmail.com)
Mr. Subodh Dhabalia (s*b*d*175@gmail.com)
Mr. Tushar Singh (b*t*sh*rs*ngh@gmail.com)
Mr. Gaurav Varma (v*rm*g**r*v297@gmail.com)
Mr. Achyut Mishra (*w*dh*shm*shr*2@gmail.com)
Mr. Jai Kawar (r*th**ms*ngh@gmail.com)
Mr. Ojas Dillikar (*j*s.d*ll*k*r47@gmail.com)
Mr. Debabrata Bera (d*b*br*t*b*r*12345@gmail.com)
Mr. Ronak Dhoot (r*n*kdh**t4@gmail.com)
Mr. Shivam Agrawal (s*ty*m99075@gmail.com)
Mr. Chennu Ganesh T.V.M Sai (bkch*nn*@gmail.com)
Mr. Sandeep Yadav (s*nd**p314y*d*v@gmail.com)
Ms. Simran Devi (s*nj*n*d*ndy*n@gmail.com)
Mr. Devansh Gautam (g**t*m.d*v765@gmail.com)
Mr. Shivam Deswal (sh*v*md*sw*l1106@gmail.com)
Mr. Sukhdeep Singh (s*khsr*n1519@gmail.com)
Mr. Satish Kumar Kanojiya (y**rg*l*.c*@ail.com)
Mr. Siddhant Bhardwaj (s*ddh*nt.bh*rdw*j267@gmail.com)
Ms. Sumanpreet Kaur (g*rd**pm*ng*68@gmail.com)
Mr. Nishant Vidhuri (n*sh*ntv*dh*r*0987@gmail.com)
Ms. Ekta Sangwan (s*ngh*mb*r1977@gmail.com)
Ms. Navdeep Kaur (*rsh*kkp@ymail.com)
Ms. Veda Rutvija (jv*d*v*g**sh*@gmail.com)
Mr. Bikramjeet Singh (v*ckynb*79@gmail.com)
Mr. Deepanshu Sharma (d*v*nd*r.561972@gmail.com)
Mr. AK Gautam (c*pt**n*k77@gmail.com)
Mr. Aryan Singh (*ry*ns*nghcr**t**n@gmail.com)
Mr. Jay Sethi (j*y@sethifamily.net)
Mr. Kashish Jivani (k*sh*sh2002@gmail.com)
Mr. Kulbhushan Sharma (kbsh*rm*27122001@gmail.com)
Mr. Manoj Shakthi Raj (msrl*b123@gmail.com)
Mr. Dinesh R (d*n*rd541@gmail.com)
Mr. Hemanshu Soni (s*n*.h08@rediffmail.com)
Mr. Tharaneswaran Velmurugan (th*r*n*sw*r*n5@gmail.com)
Mr. Gopinath M (g*p*s*sh*l143@gmail.com)
Mr. Jagadeesh. A (j*g*d**sh.n*n*.0567@gmail.com)
Mr. Ritish Bansal (r*t*shb*ns*l@5gmail.com)
Ms. Vijaya Sundari A (*vsg*ng**@gmail.com)
Mr. Rishantraj R (r*sh*nthrr448@gmail.com)
Mr. Vikramsingh Ghatage (v*kr*ms*nghgh*t*g*04@gmail.com)
Mr. Bhavya Mehta (bh*vy*m*ht*765@gmail.com)
Mr. Pakshal Secretry (n*l*shs*cr*try@gmail.com)
Ms. Shruti NK (shr*t*10701@gmail.com)
Mr. Kanishk Tyagi (k*n*shktyg@gmail.com)
Mr. Sukhraj Singh (s*khr*js883@gmail.com)
Ms. Achal Ninawe (*mk*rp*r9@gmail.com)
Mr. Adit Jindal (*d*tj*nd*l27@gmail.com)
Mr. Harsh Narayan (h*rshn*r*y*n8502@gmail.com)
Mr. Usneek Singh (j*gr**p_k*w*@yahoo.com)
Ms. Vidushi Gupta (v*d*sh*g08@gmail.com)
Mr. Ayush Rana (*y*shr*n*.*r55@gmail.com)
Mr. Kalisytharth S.K (k*l*r*j*ns@yahoo.com)
Mr. Sajag Swami (s*j*gsw*m*@gmail.com)
Mr. Toshant Narula (rkn*r*l*1969@gmail.com)
Mr. Pranav Pothapragada (p.pr*n*vn*r*y*n@hotmail.com)
Mr. Vishnu Priyan.R (sr*g*72@yahoo.com)
Mr. Shivam Patidar (sh*v*mp*t*d*r6116@gmail.com)
Mr. Yash Kapoor (s.y*shk*p**r@gmail.com)
Mr. Ankit Joon (j**nr*j*sh1@gmail.com)
Mr. Rahul Chaudhary (r*h*l.*rz**@gmail.com)
Mr. Sukrit (cs*kr*t99@gmail.com)
Mr. Vaibhav Mahapatra (v**bh*v.m*h*p*tr*@outlook.com)
Ms. Anmol Kaur (v*l*nt*n*k**104@gmail.com)
Ms. Lavanya Gupta (l*v*ny*g*pt*.*nd**n@gmail.com)
Mr. Abhijeet Kumar (*bh*j**tk2606@gmail.com)
Mr. R Sumedhan (b*bb*r*d*sh66@gmail.com)
Mr. Shubham Jadhav (sh*bh*m*j1537@gmail.com)
Mr. Ameya Parekh (p*r*kh*m*y*@hotmail.com)
Mr. Vinay Kakkad (*mk*kk*d@gmail.com)
Mr. Aditya Sawant (*d*ty*s*w*nt7775@gmail.com)
Mr. Saladi Vamsi Krishna (svsr*n*v*s*r**s*l*d*@gmail.com)
Mr. Sanchit Gupta (s*nch*tg*pt*456@gmail.com)
Mr. Sougandh Krishna K S (s**g*ndhkr*shn*ks@gmail.com)
Mr. Srivatsan Rajmohan (n*g*s*1964@hotmail.com)
Mr. Tanishq Midha (t*n*shq20*s@gmail.com)
Ms. Nikita Sharma (sh*v3527@gmail.com)
Ms. Shruti Singh (r*j*shch**dh*ry@gmail.com)
Mr. Muhammad Aqeel (n.m*h*mm*d*q**l@gmail.com)
Mr. Skanda S Shastry (jy*th*.sk*nd*21@gmail.com)
Mr. Arun D A (d*@lntecc.com)
Mr. R K Raj Surya (r*js*ry*1012@gmail.com)
Mr. Raja Veera Venkata Sai Dinesh (d*n*shrvvs@gmail.com)
Mr. Ruchir Kumbhare (r*ch*rk*mbh*r*@outlook.com)
Mr. Shreyas Dodamani (dr*j*sh*kh*r@gmail.com)
Mr. Ayan Gupta (g*pt*.*y*n05@gmail.com)
Mr. Harjot Singh Mayal (m*y*lh*rj*t30@gmail.com)
Mr. Luvya Nagpal (l*vy*n*gp*l@yahoo.com)
Mr. Om Pathak (*mp*tth*k@gmail.com)
Mr. Amarpal Singh Basra (*m*rp*l.2501@gmail.com)
Mr. Chirag Hegde (h*gd*.ch*r*g7@gmail.com)
Mr. Shreyas Sajilal (shr*y*s.s*j*l*l@gmail.com)
Mr. Siddharth Hattila (h*rshv_h*tt*l*@yahoo.com)
Mr. Vaasu Bhatnagar (v4v**s*@gmail.com)
Ms. Geethasree Velampalli (g**th*sr**2002@gmail.com)
Mr. Kishan Gupta (kg931761@gmail.com)
Mr. Neel Popat (n**lp*p*t242@gmail.com)
Mr. Yashovardhan Raniwala (y*sh*r123@gmail.com)
PCB Merit List
Ranks 1-100 :
Mr. Chelson Lairenmayum (ch*ls*nl**r*nm*y*m3473@gmail.com)
Ms. Asha Sherine A (n*wl*f**r*l@gmail.com)
Ms. Satwinder Kaur (ch*t*nb*d*7010@gmail.com)
Ms. Sonia Aishdeep Kaur (g*rm**ts*ngh@gmail.com)
Ms. Bhanu Kakria (v*r*nk*t*r**1991@gmail.com)
Ms. Jashanjot Kaur (j*ss*m**n725@gmail.com)
Ms. Hamita Preet Kaur (pr**th*m*t*21@gmail.com)
Mr. Vobis Rani (v*b*sr*n*636@gmail.com)
Mr. Nilay Agarwal (*g*rw*l.n*l*y@gmail.com)
Mr. Sriram V (l*c*f*rsr*r*m@gmail.com)
Ms. Swathika K (t*vkmr@gmail.com)
Mr. Anbuvanan Ambulinambi (*nb*v*n*n2002@gmail.com)
Mr. Karan Udani (k*r*n.*d*n*13@gmail.com)
Ms. Priyanka Pottigari (pr*y*nk*.p*tt*g*r*@gmail.com)
Mr. Navkar Mehta (n*p*m*ht*15@gmail.com)
Mr. Saurav Shah (s**r*vsh*h1224@gmail.com)
Mr. Samyak Bharwad (s*my*kb001@gmail.com)
Mr. Taranpreet Singh (t*r*ngh*tr*0708@gmail.com)
Mr. Jaspal Singh (j*sp*ls*ngh1682@gmail.com)
Ms. Keerthana Sudheer (k*th**ndn*nd*@gmail.com)
Mr. Hariprakash K J (l*th*jp1970@gmail.com)
Mr. Rashidul Azad (m*nn***55555@gmail.com)
Mr. Kalyan Venkata Anish Namburi (nkv*n*sh02@gmail.com)
Mr. Shashank Basty (b*sty.sh*sh*nk@gmail.com)
Ms. Chandikha P V (v*jk*m.mp@gmail.com)
Mr. Kartikeya Lunawat (krl*n*w*t@gmail.com)
Ms. Anchal Kumari (*nch*lr*y886@gmail.com)
Ms. Kashish Singla (v*r*nd*rs*ngl*11@gmail.com)
Ms. Malavika Shivakumar (m*l*skb03@gmail.com)
Ms. Yashvi Bansal (y*shv*b*ns*l100@gmail.com)
Ms. Diya Narang (n*r*ngd*y*44@gmail.com)
Mr. K J Gautham Kumar (jkm**rthy12@gmail.com)
Mr. Arayaman Raghuwanshi (ds*ngh961974@gmail.com)
Mr. Bhavya Ahuja (bh*vy*kr*shn*2001@gmail.com)
Mr. Pranav Singhai (p*rthpr*n*v20@gmail.com)
Mr. Satvik Yadav (sk@royalcorptravel.com)
Mr. Sahil Azad (m*ss**sgr**t123@gmail.com)
Mr. Honeyjot Singh (h*n*ybh*t**51@gmail.com)
Mr. Urvish Jain (*rv*shj**n54@gmail.com)
Ms. Manjot Kaur (j*gs**rs*ngh@gmail.com)
Ms. Subha Shree (*lg*n*shr*m@gmail.com)
Mr. Bhavya Goel (bh*vy*g**l38@gmail.com)
Mr. Sarthak Meshram (s*rth*km*shr*m0816@outlook.com)
Mr. Nayan Chugh (n*y*nch*gh21@gmail.com)
Ms. Megha Srinidhy (sh*v*pr*y*m*r*@gmail.com)
Ms. Kamalnoor Kaur (ch*h*lb*lj**t9@gmail.com)
Mr. Ankan Pramanik (*nk*n2r*k*@gmail.com)
Mr. Harshiv Khanna (h*rsh*vkh*nn*7@gmail.com)
Mr. Harshpreet Singh (h*rshpr**t24703@gmail.com)
Ms. Monishaa P B (psb*l*r*j@gmail.com)
Ms. Neha Sunil (snc*s*t@gmail.com)
Mr. Yesh Kumar Gupta (y*sh*ff*c**l52@gmail.com)
Ms. Akkshaya Rajesh (r*j*shd*n*@gmail.com)
Ms. Kashish Mishra (1006k*sh*shm*shr*@gmail.com)
Ms. Swetha Raghavendran (r*gh*v*ndr*n73@rediffmail.com)
Ms. Tanaya Khanna (dkh*nn*_77@yahoo.in)
Mr. Chinmay A V (sy*m*l*.srk@gmail.com)
Ms. Astha Kumari (*sth*k*m*r*126@gmail.com)
Ms. Sakshi Ghosarwade (s*ksh*gh*s*rw*d*303@gmail.com)
Ms. Shruti Balachandar (bbcsk_1999@yahoo.com)
Ms. Sowmya Meduru (g*v*nd*r**m@yahoo.com)
Ms. Mehakpreet Kaur (m*h*k2481@gmail.com)
Mr. Bikramjeet Singh (b*kr*mg*ll020@gmail.com)
Mr. Nishita Goyal (g*y*lcp72@gmail.com)
Ms. Mehak Kukreja (m*h*kk*kr*j*269@gmail.com)
Ms. Nitika . (s*dh*rdh*w*n25@gmail.com)
Mr. Girish Chugh (g*r*shc.*nd**@gmail.com)
Mr. Sarthak Vats (mkv*ts@gmail.com)
Ms. Manmeet Kaur (p*mm*nj@gmail.com)
Ms. Priya Sharma (d*vr*jsh4370@gmail.com)
Mr. Pragadeshwar A (w*rpr*g*d*sh17@gmail.com)
Mr. Seshadri M P (v*j*y*l*kshm**ndc*@yahoo.com)
Ms. Priyanshi Shrivastava (s*nj**v_shr*v*st*v*71@yahoo.com)
Ms. Satyarini Mohanraj (s*ty*d*vy*m@gmail.com)
Mr. Vaishnav Jayakrishnan (v**shn*v200@gmail.com)
Ms. Diya Ann Jose (j*s*.np*l@yahoo.co.in)
Mr. Mohit Kumar (r*mkm*r2000@gmail.com)
Ms. Veena Venkataraman (vv**nys@gmail.com)
Ms. Mitanshi Aggarwal (m*th*nsh*@gmail.com)
Ms. R Soundarya (s**nd*ry*293@gmail.com)
Ms. Sezal Dadwal (b*ngr*786@gmail.com)
Mr. D.Santhosh Kumar (**thm*k*sr2027@gmail.com)
Mr. Mohammad Farmanullah (kmg**s*100@gmail.com)
Mr. Purushottam Boro (p*r*b*r*@gmail.com)
Mr. Yugdeep Gautam (s**m*g**t*m2007@gmail.com)
Ms. Jayvizshnavi A R Raja Jeyachandra Bose (*r*j*jcb*s*@yahoo.co.in)
Ms. Vrasti Mallya (vr*st*m*lly*94979@gmail.com)
Ms. Armanjot Kaur (*rm**ns*dh*14112000@gmail.com)
Mr. Ganeshbaburao D.P (g*n*shb*b*r**00@gmail.com)
Mr. S.Hari Haran (dr.h*m*m*l*th*@gmail.com)
Mr. Vishwa Kolappan (r*m*_k*l*pp*n@yahoo.com)
Ms. Ramanpreet Kaur (t*lw*nd*r270@gmail.com)
Mr. Muneeb Arsh Ansari (*rshm*n**b@gmail.com)
Mr. Sameer . (s*m**rhp26@gmail.com)
Ms. Harneet Kaur (r*sh*sch**lpgk@gmail.com)
Ms. Hassrat Kaur Sran (j*st_*d*@ymail.com)
Ms. Thendral V (v*nk*td*vs*n@yahoo.co.in)
Mr. Puneet Matta (p*n**t.m*tt*26@gmail.com)
Ms. Amy Deborah Rupavathy (*mypr*nc*01@hotmail.com)
Ms. Lakshika Juggal (l*ksh*k*2201@gmail.com)
Ms. Ruth Eunice Dalmeida (r*th.**n*c*23@gmail.com)