Einstein Public School PTSE Pratapgarh Talent Search Scholarship Examination 2019 : einsteinpublicschool.edu.in
Organisation : Einstein Public School
Scholarship Name : Pratapgarh Talent Search Scholarship Examination PTSE 2019
Applicable For : Class X Board Appearing Students
Registration Last Date : 05/04/2019
Exam Date : 14/04/2019
Website/Apply Online : http://www.einsteinpublicschool.edu.in/scholarship/index.php
You can now ask your question on this scholarship.
Ask here
(OR) Go to the bottom of this page for comments.
Einstein Public School PTSE
Einstein Public School invites applications for Pratapgarh Talent Search Examination-2019 for class X students.
Related : Einstein Public School Grameen Pratibha Khoji Pariksha Scholarship GPKP 2019 : www.scholarships.net.in/35906.html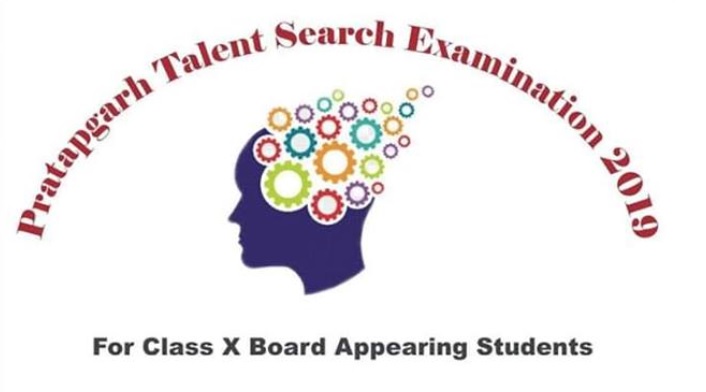 PTSE Application
Just follow the below steps to apply for Pratapgarh Talent Search Scholarship Examination PTSE 2019.
Online Form
Steps :
Step 1 : Go to the official website of Einstein Public School through provided above.
Step 2 : Read the instructions carefully and click on the "Apply Online" link in the menu bar.

Step 3 : Next select "Apply online for Pratapgarh Talent Search Examination 2019" link
Step 4 : Fill the application form with the following details
** Input your Name* [Karthick]
** Select Your Gender* [Male/Female]
** Input Your School Name* [AAA School]
** Input board* [State Board]
** Enter Your Date Of Birth* [2005/05/02]
** Enter Your Mother's Name [Lakshmi]
** Enter Your Father's Name* [Kumar]
** Enter Your Mobile* [9876543210]
** Enter Your Email * [abc@gmail.com]
** Enter Your Permanent Address [XXX]
** Upload your passport size image using "Browse" button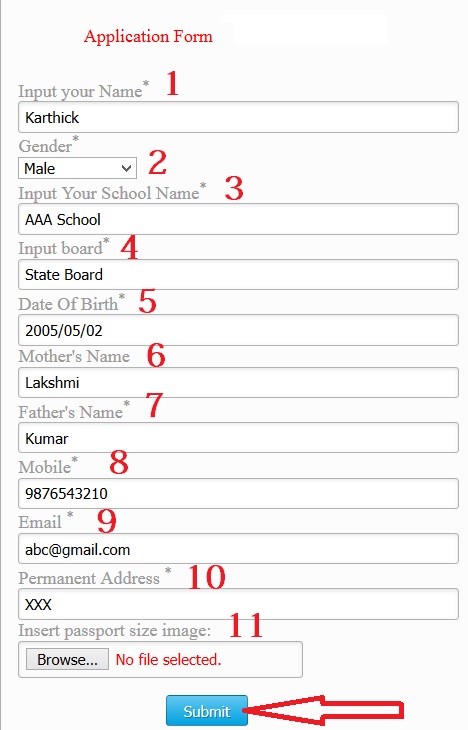 Step 5 : Finally click on the "Submit" button to complete the application
Offline Application
Steps :
Step 1 : Students can get the application form from school office or can download from the official website.

or you can directly download it from below mentioned link.
Download Application Form :
http://www.einsteinpublicschool.edu.in/scholarship/download.php
Step 2 : Fill the application form with the required details and submit it to the head of the department before the last date.
Note : Application fee is Rs 100/.
Instructions
** Candidates must bring the photo I-cards issued by the present school as proof of identity
** Report to the venue before an hour of the commencement of the exam
** Candidates shall not allowed to leave the examination hall for any reason, once the exam commences.
** Do not bring any type of electronic gazettes
** Please bring Blue/Black Ball Point Pen to attempt answers. Candidates are not allowed to share or borrow stationery items from other candidates
** The answer sheet is supposed to be submitted to the invigilator at the end of the test.
** Only eligible candidates are allowed to appear in the test. If they are found not eligible in any case, their candidature will be cancelled automatically.
Scholarship Amount
Top ten winners will be awarded a scholarship of Rs 1000/ per month for two years.
PTSE Important Dates
** Last date to register for PTSE is 05/04/2019
** Date Of Exam is 14/04/2019
About Us :
Einstein Public School is striving to be one of the prestigious schools in India. Founded as a public school in 2006, in Lalganj Ajhara, in Pratapgarh district of Uttar Pradesh, it is a rural centric, service oriented institution run by Shanti Devi Manav Vikas Sansthan.
Einstein Public School is affiliated to the Central Board of Secondary Education ( CBSE), the largest educational board in the country.
Helpline
If you have any query please call 8726687656,9793816210